August 18th: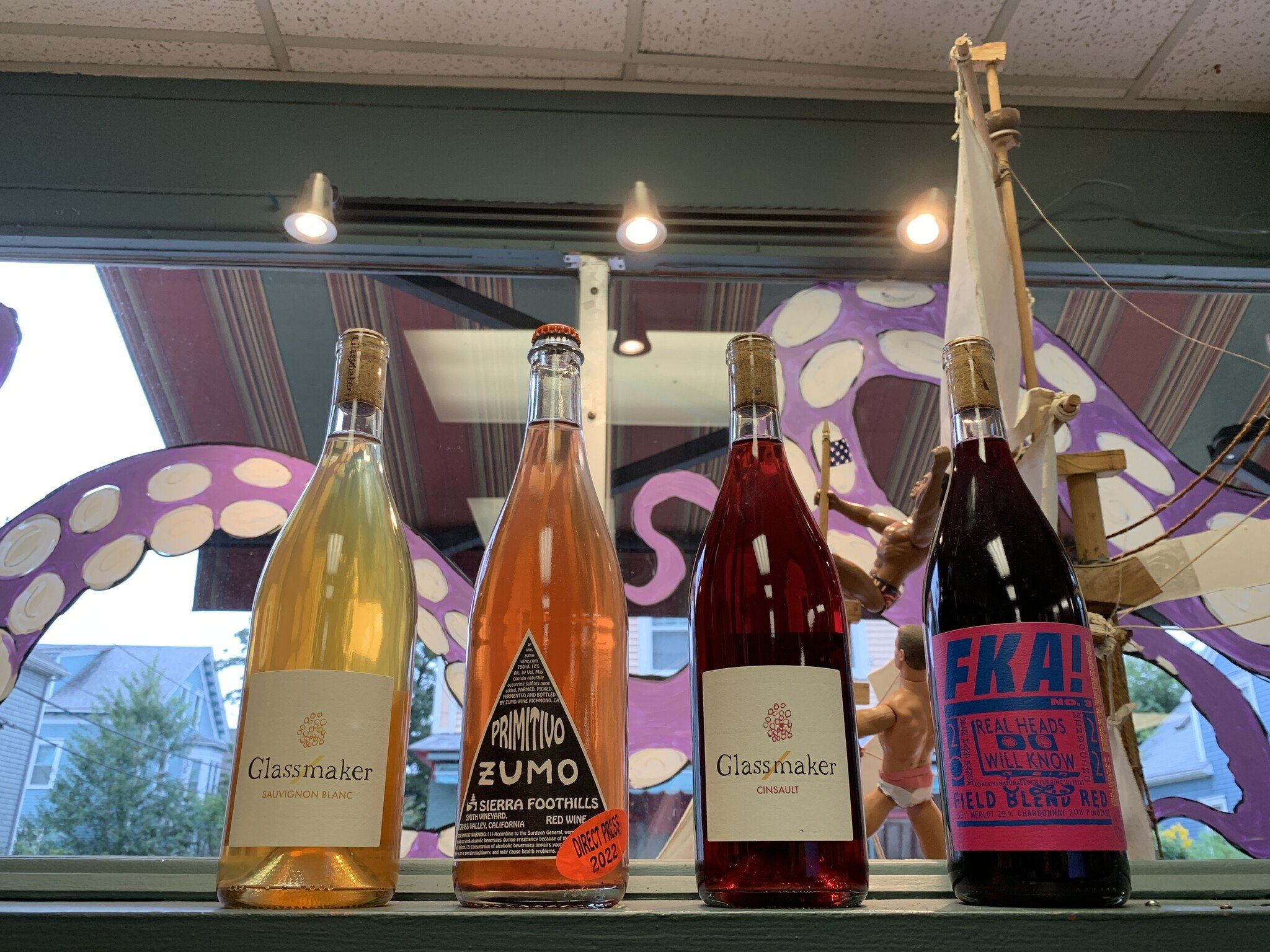 Jamie from Craft Cellars will be in the shop with four lo-fi California wines.
Click on wines for notes/descriptions.
Glassmaker Mendocino Skin Contact Sauvignon Blanc 2022  $29.99
Zumo Primitivo Sierra Foothills Direct Press redish/rosé-ish 2022 $31.99
Glassmaker Lodi Cinsault 2022 $29.99
Subject to Change Open Hand Ranch FKA! Mendocino Red 2022 $29.99
August 11th: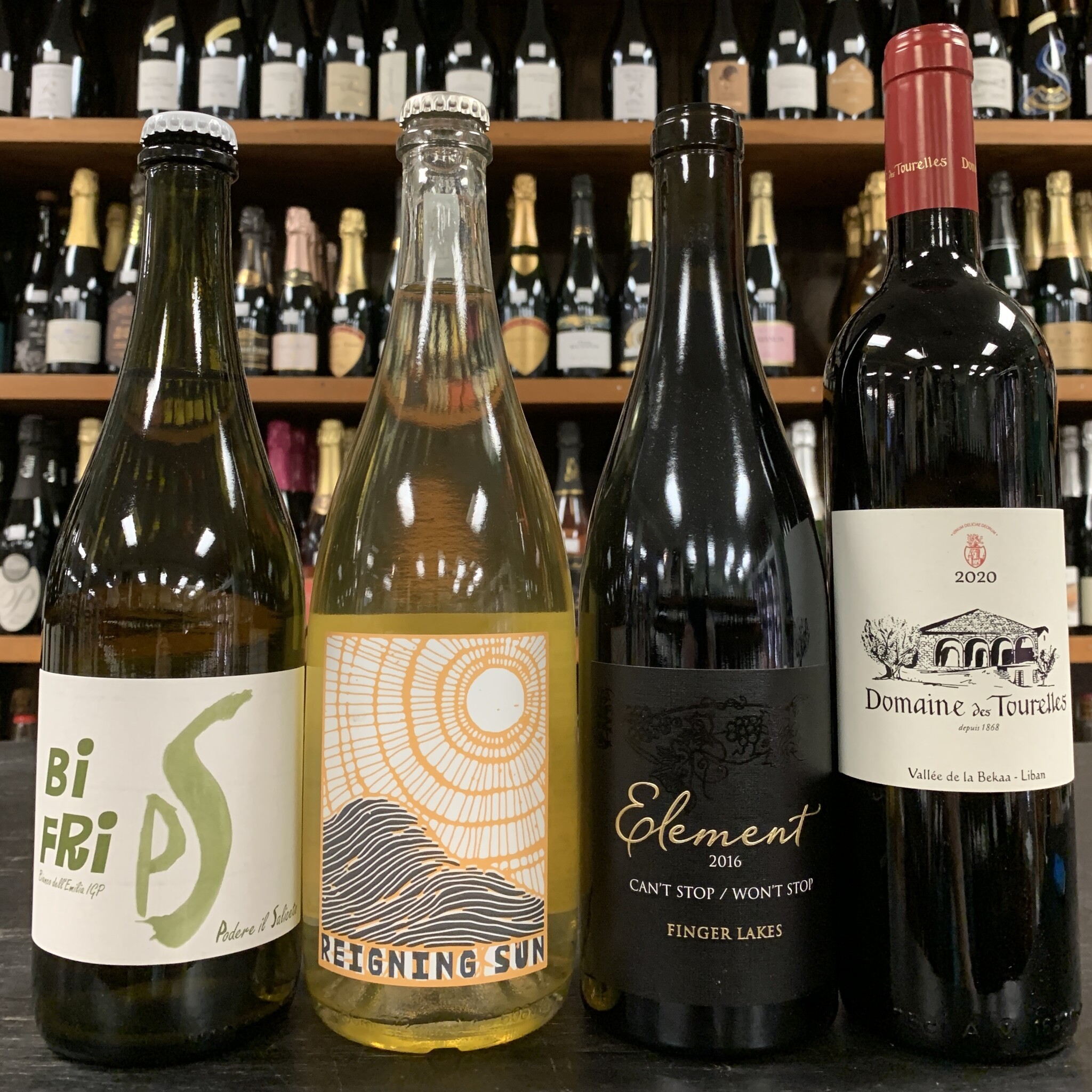 Podere Il Saliceto Bi Fri $25.99
This frizzante is produced by Gian Paolo Isabella (most well-known as a decorated Muay Thai champion) and his brother-in-law Marcello. They founded this organically farmed, 4 hectare estate in 2005, in the tiny village of Campogalliano, on the outskirts of Modena (Emilia-Romagna region). They are dedicated to working with traditional local grapes such as Lambrusco di Sorbara and Salamino, but they also work with the less common Malbo Gentile, from which they make an oaked, savory wine capable of aging for up to a decade. This wine is not that.
Bi Fri is Sauvignon Blanc & Trebbiano made via natural primary fermentation in stainless steel, and secondary fermentation in the bottle with must from the original harvest. Minimal added sulfur and no filtering or fining. It's fizzy, refreshing, mineral-driven, citrus-zesty, & dry. It's a perfect little starter, really gets the juices flowing!
The Blacksmith Reigning Sun White 2022, So. Africa $18.99
Tremayne Smith was studying to be chef when he changed course and decided to pursue winemaking instead. After gaining experience at South African wineries Sijinn and Mullineaux, as well as numerous internships abroand, be became head winemaker at Fable Mountain Vineyards, an organically farmed, isolated property high up in the Tulbagh region, about two hours from Cape Town. In 2014, he founded his own personal label, The Blacksmith, which focuses heavily but not exclusively on Rhone varietals, which do well in the heat of the Western Cape. Tremayne works closely with farmers in remote locales, often sourcing fruit from very old, low-yielding vineyards in Paarl, Wellington, and Slanghoek. In the cellar, the wines are fermented with native yeast and very little sulphur is added. Tremayne takes a minimalist approach while understanding that the wine isn't going to make itself; he endeavors to make wines that are low abv, full of bright aromatics and fresh, crunchy fruit, but that also have a bit of structure and grip.
Reigning Sun is Chenin Blanc, Muscat d' Alexandrie, and Semillon. The majority of the blend is sustainably grown Chenin from Paarl, the Muscat d'Alexandrie (Hanepoot) comes from further east in Slanghoek; the Semillon is grown in the Swartland.
Fermentation occurs naturally (and separately) after an initial pressing, then continues in concrete and stainless steel. Once the primary fermentation is complete the components are blended together and further matured in neutral vessels.
This is a joyful little white. The aromatics lean toward white flowers and tropical fruit; on the palate it's tropical fruit again, as well as pears, peaches, juicy citrus, and vibrant acidity. We get a touch of RS that would make this wine a perfect pair for spicy foods, crispy BBQ pork, or with your standard brunch fare or late summer picnic in the park. Shhhh, there are no rules anymore ;-)
Element Can't Stop/Won't Stop Finger Lakes Red 2016 $31.99
We last had this wine over a year ago and we had no idea there was more, otherwise we would have scooped it up at the time. This is a most peculiarly delicious wine that defies all retail rules: a New York red blend that's over $30 on the shelf but somehow sold almost10 cases? Yup. It's compelling! We're linking to our site for the full producer bio, because there's too much info, but here's the lowdown on the wine:
Can't Stop/Won't Stop is a blend of Cabernet Franc, Pinot Noir, Syrah, Gamay, Merlot, and a touch of Blaufränkisch. It's vinified in neutral barrique and then aged for 18 months in neutral 318L puncheon. This wine can be enjoyed in its youth when the fruit flavors are bright and forward, or now, as it ages, and the tertiary, earthy aromas are coming to the fore, mingling with chocolate and baking spices. The tannins are pleasant and refined, and the acidity is still vibrant; as the bottle opens up, so do the savory/umami notes which wind around wild strawberry and ripe raspberry, and the tangy/twangy nose calms down a bit in the process. As it continues to open, it becomes almost Burgundian. This wine is a journey. Decanting is recommended.
Domaine des Tourelles Bekaa Valley Rouge 2020, Lebanon $19.99
This wine was just in our July wine club, it's a nice pair for these cooler nights. There's a little more info on our site, if you are in need of more info.
Domaine des Tourelles winery and vineyards sit at the highest altitude in Bekaa Valley, in Chtaura. Its 40 hectares of organically and dry-farmed vineyards receive water from the snow melt from the surrounding mountains. They are either owned or under long-term contracts for upwards of 25 and 30 years. Some of their vines are more than 70 years old and amongst the oldest in the Bekaa Valley. Yields are extremely low and everything is hand-harvested. The wines are fermented with indigenous yeasts in stainless (for the whites and rosés) and concrete vats (very rare in Lebanon) for the reds. A minimal amount of sulfur is added at bottling, and the wines are vegan.
Domaine des Tourelles was founded in 1868 by Frenchman François-Eugène Brun; it was the first commercial producer in Lebanon of wine, arak, and other spirits. In 2000, it was bought by descendants of Brun's Lebanese wife, Nayla Kanaan Issa-el-Khoury and Elie F. Issa. Today it is run by their children, Faouzi Issa (winemaker), Christaine Issa, and Emile Issa-el Khoury. Faouzi trained in Montpellier and worked at Domaine René Rostaing in Côte Rôtie before joining the legendary Château Margaux, from 2007 to 2008. He then went back to the Bekaa Valley and proceeded to produce wines that are amongst the most recognized and awarded in Lebanon. Decanter Magazine called him the "Dusty Winemaker": dust, Faouzi says "encourages the natural yeasts that give our wines their distinctive character."
The rouge is a blend of Cabernet Sauvignon, Syrah, Cinsault, and Carignan planted on sandy clay-limestone soils. It's fermented and aged in concrete tanks, some which are the original ones built in the cellars a century and a half a go. This is a full-bodied, rich and perfumed wine with blackberries, plums, and raspberries on the nose, along with cigar box, black licorice, and black pepper. The palate is velvety and full of dark fruit, tobacco, licorice again. The finish gets a nice mineral lift from the limestone soil influence before trailing into warm spices and earthy complexity. While this would make an ideal pairing for grilled or braised meats of the region, it would also pair well with grilled eggplant and mushrooms.
Aug. 4, 2023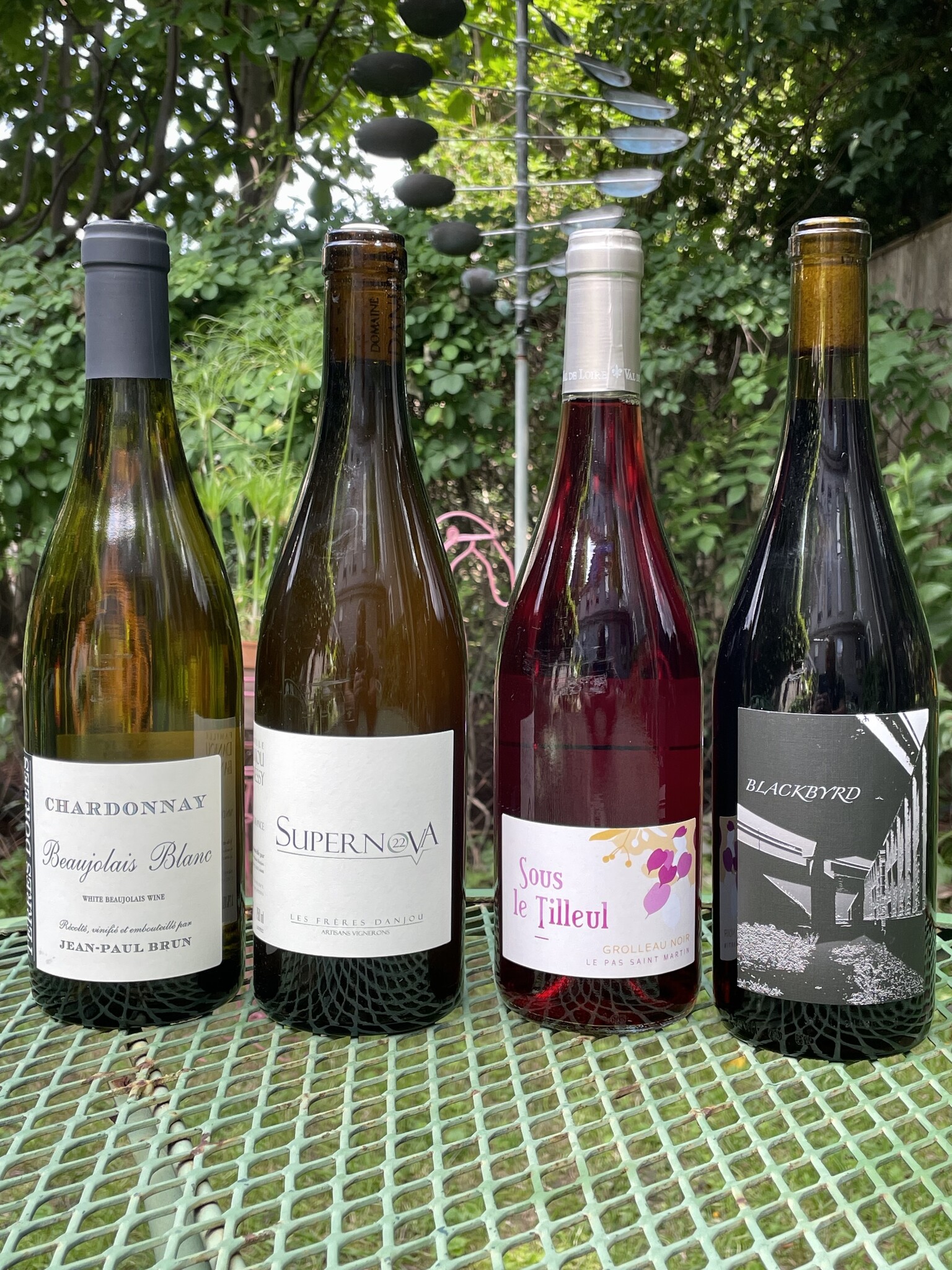 Jean Paul Brun Terres Dorees Beaujolais Blanc 2022 $21.99
We tasted the red a couple weeks back, this is an old favorite; we're happy it's back for a bit. 
Jean-Paul Brun's domaine is located in Charnay, a village in the Southern Beaujolais in an area known as the "Region of Golden Stones." Brun is the owner and winemaker at this 40-acre family estate and is well known for his Beaujolais, which he makes with minimal intervention, minimal sulfur, and without the use of industrial yeasts, leading to wines that are elegant & delicate, with purity of fruit, and great character and depth. 
This is 100% Chardonnay vinified in stainless steel and concrete and drinks a bit like a good Macon; lots of green apple, fresh lemon, stony minerality. Get it while you can. 

Domaine du Pas St Martin Sous le Tilleul Grolleau Rouge, IGP Val de Loire 2022 $18.99
Laurent Charrier and his mother run Domaine du Pas St Martin, a small property in Saumur that also has holdings in Anjou and Coteaux du Layon. Laurent took over production in 1994 from his grandfather (winemaking skipped a generation, as his father wasn't interested). Laurent immediately set out to receive organic certification, which he acquired in 1997. The domaine itself is set among troglodyte caves formed out of ancient fossilized marine life that covered the region 10 million years ago. During the middle ages the caves served the Protestants as secret places of worship. 
Grolleau (Noir) is generally a grape for rosé or blending in the Loire as it tends to make high acid, kind of lean wine all on its own. But when done correctly, it can make a fresh, fruity, and spicy little number like Sous le Tilleul (translates to: under the lime tree). This wine is fermented whole cluster in stainless steel. Put a little chill on it; it's versatile and will take you from the beach to the fall table. Fall!?! It's coming…
Domaine Danjou-Banessy Supernova Espira de l'Agly VdF Blanc 2022 $31.99
Domaine Danjou-Banessy is a 17-hectare estate located in French Catalonia, just north of the town of Perpignan, and close to where the Spanish border and the Mediterranean meet. Perpignan is surrounded by the Pyrenee Mountains to the north, south, and west, and by the Mediterranean Sea to the east. The highest peak, ''Le Canigou'' reaches 9137 feet. Directly to the south of Perpignan is the ''Les Albères' mountain range, which represents the geographical border between France and Spain. People here identify more with Spain than France, and many consider themselves Catalan rather than French or Occitan, and many speak Catalan as well. The climate is Mediterranean: hot and dry. The landscape is rugged and the vines are old and gnarly. As far as white grapes go, the region is known for Muscat. 
The domaine is managed by two brothers, Benoît and Sébastien, who inherited the estate from their grandfather in 2001. For generations Rivesaltes was the focus here, but the brothers have shifted to the production of dry red and white wines, some more adventurous and experimental than others.
The vineyards are farmed biodynamically and organically and have in fact never been treated with chemicals of any kind. The average age of the vines is over 60 years, and they are all indigenous varieties such as Muscat d'Alexandrie, Maccabeu, Carignan, Mourvedre, Grenache, and Syrah. They produce multiple cuvées that reflect the distinct parcels of vineyards with completely different soils: the Estaca vineyard is comprised of marl and schist, with silica and a trace of iron. The Truffière and Myrs vineyards lie on black schist and limestone; Clos des Escounils, is a mixture of clay and limestone.
The brothers take as non-interventionist approach in the vineyards and cellar as possible, but the wines don't make themselves, so…techniques they employ include crushing by foot, whole cluster fermentation, wild yeasts, sometimes extended elevage, sometimes elevage sous voile, or "under a veil" of yeast, like in Jura, or with sherry.
Supernova  is a finely woven, complex, lush and expressive orange wine of Muscat d'Alexandrie, from 70+ year old vines grown on slate. It's unfined, unfiltered, and bottled by gravity. The rich texture that hints at orange cream and dried fruit and herbs is backed by a tension that lifts the fruit and stimulates the palate. Supernova sees two weeks skin contact and six months maceration in barrels with a little oxidation. It's slightly wild, in a "landscape taken back by nature" kind of way. We have a little bit of other the brother's other cuvées…but not much.
Purity Wine Blackbyrd Sonoma Mountain Syrah 2016 $31.99
Purity Wine came into being in 2013. Husband and wife Noel Diaz and Barrie Quan had worked in the restaurant industry (Noel as a server, sommelier, and wine buyer; Barrie as an events manager) and Noel's parents were Mexican farm laborers in Central Valley; Purity is a project they launched to build upon the passion Noel has for organic farming and lo-fi wine. 
Purity is now a small warehouse winery and bar in Richmond's (across the bridge from San Francisco) waterfront marina; that warehouse area is now a growing, intergenerational community of natural winemakers.
We love and fully relate to this quote: "We were just fucking around, having fun," says founder Noel Diaz. "It's a mix of creatives. We don't overthink anything. It has never been forced. It's just natural."
About Blackbyd Syrah, from Noel: The vineyard is on Sonoma Mountain at about 1600 feet elevation. It's a cool site, hard to get sugar up above 13/14 degrees abv. It's certified organic. Soils are mostly volcanic, but long ago the area was a sea bed.
It's foot tread, whole cluster maceration for about 10 days with punchdowns twice a day. Aged in used oak for about a year and a half before bottling from barrel by hand with a syphon.
We couldn't get enough of Blackbyrd, here's our note: organic, low-SO2 Sonoma Mountain Syrah. Gracefully aged, compellingly delicious: black pepper & olive, cloves, a hint of Italian red vermouth, oily herbs like rosemary....low abv, a light touch all around. Serve with a slight chill. 
Super yum to all of the above. 
July 28, 2023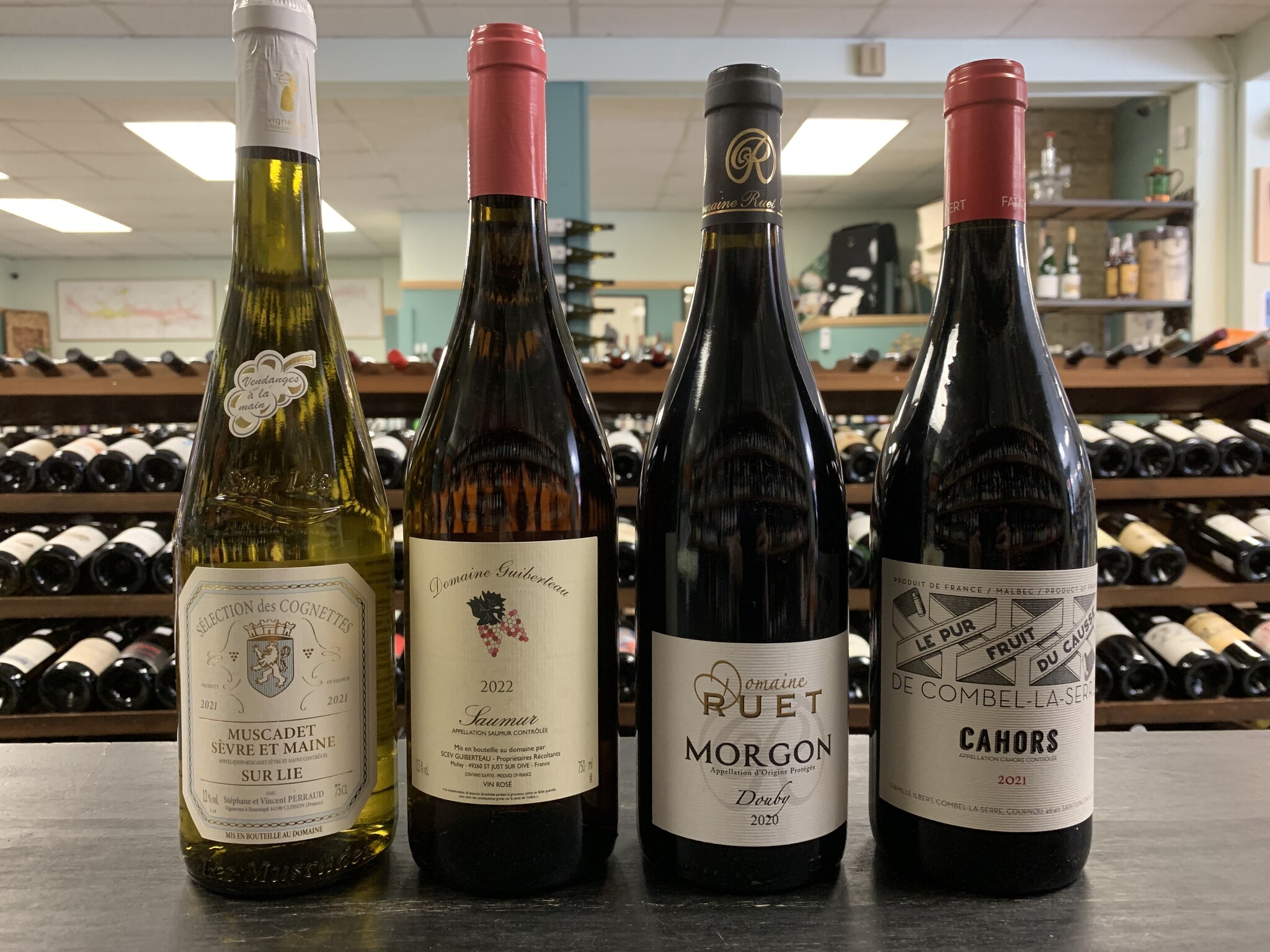 Take 10% off wines poured during the tasting. 
Domaine des Cognettes, Muscadet Sèvre-et-Maine Sur Lie 2021 $14.99
Brothers Stephen and Vincent are third-generation winemakers at this certified organically-farmed domaine located in the medieval city of Clisson.
This entry level wine is from 10 hectares of Melon de Bourgogne grown on a pebbly mix of sand and clay, and weathered granite. The vines are between 15 and 60+ years old. The grapes are hand-harvested, fermentation is spontaneous with indigenous yeast, and the wine continues fermenting in underground vats for 6 to 9 weeks, followed by 14 months on the lees in underground tanks.
This is a really great wine for the price: on the nose there are delicate floral notes and citrus. On the palate it's lemon-zest acidity and salty, seaside minerality. It's fresh and light, but with structure and depth from the lees aging.
Domaine Guiberteau Saumur Rosé 2022 $24.99
Romain Guiberteau is the third generation to work this estate in the Loire valley, on some of the best land in Brézé. Romain oversees the organic farm and does all the winemaking at the estate. His vines date back to the years just after World War II and include some of the prime sites in and around Saumur. His grandfather was a pillar in the community of Saumur before and after World War II, and for a long time served as the head of the local growers' coop. That coop benefited from the grapes grown on Guiberteau's land until Romain returned from college–he dropped out of law school, which has been very good for us Loire freaks. He learned to make wine at the ever-elusive Clos Rougeard; between this and the smattering of Collier we sometimes have, this is as close as we'll get to that. Turns out, it's close enough!
This is a chiseled, mineral-driven, precise, dry rosé with herbal notes like thyme and oregano accentuating tart red fruit. It's delicious.
Domaine Ruet Morgan Douby 2020 $25.99
The Ruet estate and winery was established in 1926 and sits at the foot of Mont Brouilly The vineyards are spread over south-facing slopes of shallow, granite and stony soils that characterize the northern Beaujolais region. This winery is focused on parcellaire wines–from each plot they produce one wine. In Morgon they make "Douby" and "Les Grands Cras;" from Chiroubles is "La Fontenelle;" from Brouilly is "Voujon."
"Douby" is the climat above the "Côte de Py" where the soil is less granitic and more decomposed rock with manganese and schist, very similar to "Corcelette." Structured and rich in primary red fruit, this wine is elegant but powerful.
The grapes are hand-harvested, and vinification is in stainless steel with native yeasts and no added sulfites, in whole bunches, semi-carbonic. This red fruit and cherries leap out of the glass while stony/earthy minerality adds structure and presence. The finish is long and smooth.
Château Combel la Serre Cahors 'Le Pur Fruit du Causse' 2021, Cahors, France $17.99
Julien Ilbert's family has had vines in Cahors for many generations, but they always sold off their grapes to negociants, and grains took up a lot of their property––so wine was not the focus of their endeavors. In 1998 Julien struck out to start his own estate, but got sidetracked when he became Mathieu Cosse's main source for high quality Malbec, known locally as Auxerrois, or Côt. Julien's Château Combel la Serre was created in 2005, with 25 hectares of Malbec on a clay-limestone plateau. Cahors appellation requires that the wine be 70% auxerrois, but Julien believes it should be 100%, so he's chosen not to plant Negrette and Tannat (the other traditional varieties). The property is certified organic since 2015, but has been practicing organic since its creation. 
The fruit for the entry-level wine comes from seven different Combel sites totaling 8.5 hectares around their home village of Cournou, on a limestone plateau in at 320-350 meters in elevation. The vines are certified-organic (in conversion to biodynamic farming), average 30 years old and are kept to 40 hl/ha yield. The bunches are hand-harvested and mainly destemmed but with up to 20% directly pressed as whole clusters; the juice ferments at cool temperatures with indigenous yeasts in cement and steel tanks with around two week of maceration. The wine is aged on its lees in cement through the winter and bottled unfiltered in the spring. The use of sulfur throughout vinification and aging is minimal. 
This lively Malbec has notes of licorice, cassis, green herbs, and dusty cocoa on the nose. On the palate there is red fruit, dry/earthy notes, a touch of smoke and leather, but its youthful nature comes through in the refreshing acidity. This is a grilling wine for sure, but we'll also work with mushrooms, mild blue cheeses…squirrel a couple away for when cassoulet season arrives, you won't regret it.