-the cellar at Domaine Viret
Featuring ROSENTHAL WINE MERCHANT SELECTIONS
The story of Rosenthal Wine Merchant begins in 1977 when Neal Rosenthal stepped away from his corporate and international law practice to start this one-man retail operation in New York City. He was joined shortly thereafter by his partner Kerry Madigan. The two soon expanded the company from its retail base to become an importer and distributor of fine wine and eventually, specialty food products. The goal has always been to communicate the concept that wine is an agricultural product and that in its best and purest form wine must reflect a specific sense of place. In the case of Rosenthal, that refers to the finest examples of wine made in the classical western European tradition.
The RWM selections are now distributed in 42 states and the District of Columbia. Despite their growth, they've never strayed from their high standards, even when competing in a "marketplace that frequently casts about for the newest winemaking fad or demands more wine from the "hot sources." They continue to seek out new small producers rather than work with cooperatives, negociants, or large commercial producers in order to keep the wine flowing. All of their wines are estate-bottled.
For more info on the philosophy behind Rosenthal Wine Merchant, go Concept of Terroir on the Rosenthal site.
Happy Sipping!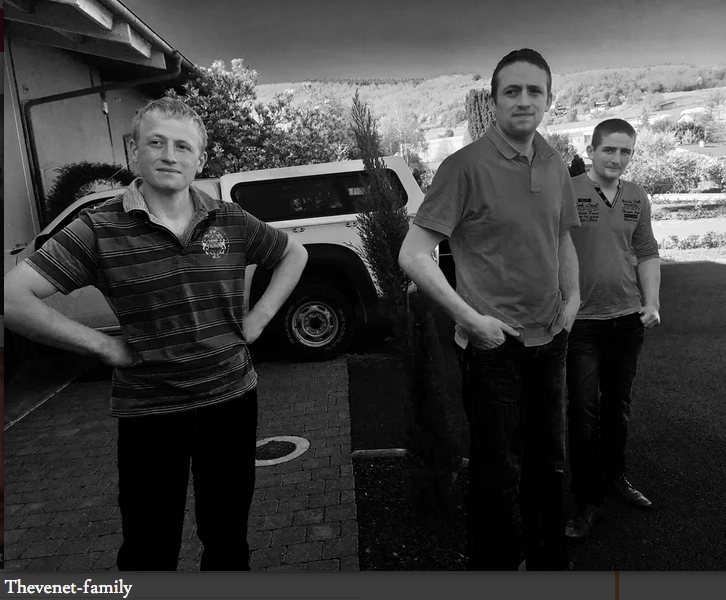 Domaine Thevenet & Fils Blanc de Blancs NV, Macon, France
Domaine Thevenet et Fils has been represented in the Rosenthal portfolio since 1982, delivering reliably, top-quality wines vintage after vintage. The domaine is centered in the village of Pierreclos, at the heart of the Macconais, in southern Burgundy. Jean-Claude inherited the three hectare family domaine in 1971, growing it over the years to its current 30 hectares. The vineyard holdings now extend throughout Pierreclos and into the neighboring villages of Serrieres, Prissé, Bussieres, and Milly-Lamartine. Chardonnay is the dominant grape; Gamay and Pinot Noir produce the red wines of the estate. In addition to working their own vineyards, the Thevenet family also operates a successful nursery business producing grape vines for many family-owned domaines in Burgundy and Champagne.
Jean-Claude unfortunately passed away in 2008 at the young age of 54. Since then his wife Helene, and three sons Benjamin, Jonathan, and Aurélien, have carried on his legacy of producing humble, honest, expressive wines that often over-deliver for the price.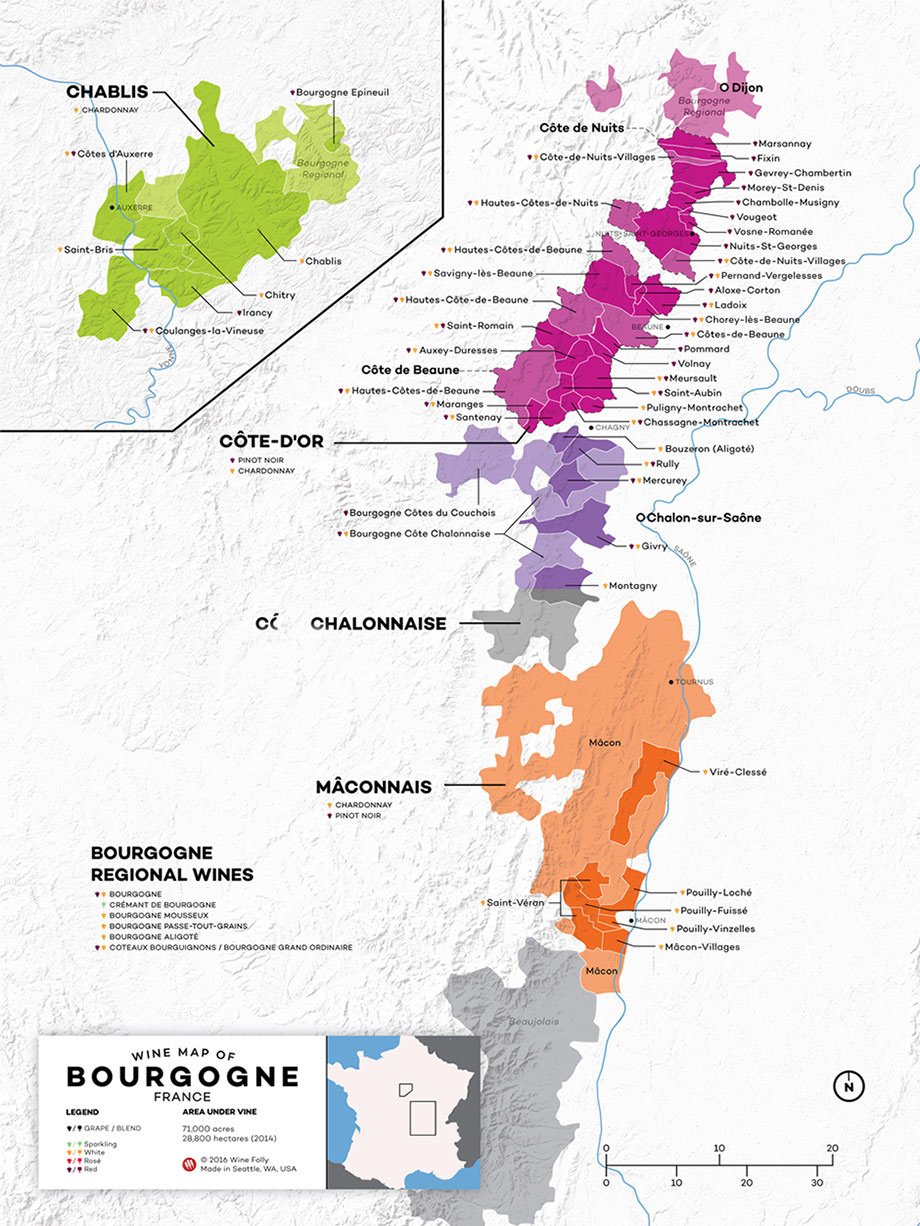 This Blanc de Blancs is 100% Chardonnay harvested from 20 year-old vines planted on sandy soils in the west-facing lieu-dit* of La Tournée, in the village of Serrieres, on the border with Pierreclos. After the grapes are harvested and de-stemmed, they ferment spontaneously in concrete vats for 2-4 weeks, before secondary fermentation with selected yeast in the bottle, where the wine ages for another 9 months sur latte before disgorgement**.
This is a low-dosage, bone-dry, brightly effervescent sparkling wine. It's light-bodied and delicate, with just a hint of a honeyed note. It's perfect for brunch, with a raw bar, or as an aperitif. Only 600 cases are produced annually, so it is indeed a treat.
*lieu-dit — French term used quite generally to refer to the local, traditional name of a small area of land, usually defined by topography or history. Such locally given names are also used more specifically, especially in Burgundy, to refer to a plot of land or vineyard within a larger appellation. In practice these names are used on labels for vineyards below premier cru in rank, for example Les Tillets in the commune of Meursault. - Oxford Companion to Wine
**The process of removing the yeast sediments after fermentation and aging in bottle. The sediment must be collected in the neck of the bottle through riddling, whether manually or through the use of a gyropalette. Typically, the bottle of the neck is then frozen to collect the sediment into a solid mass, and then this mass is ejected when the capsule is removed. Some growers, however, still disgorge bottles without using the freezing technique.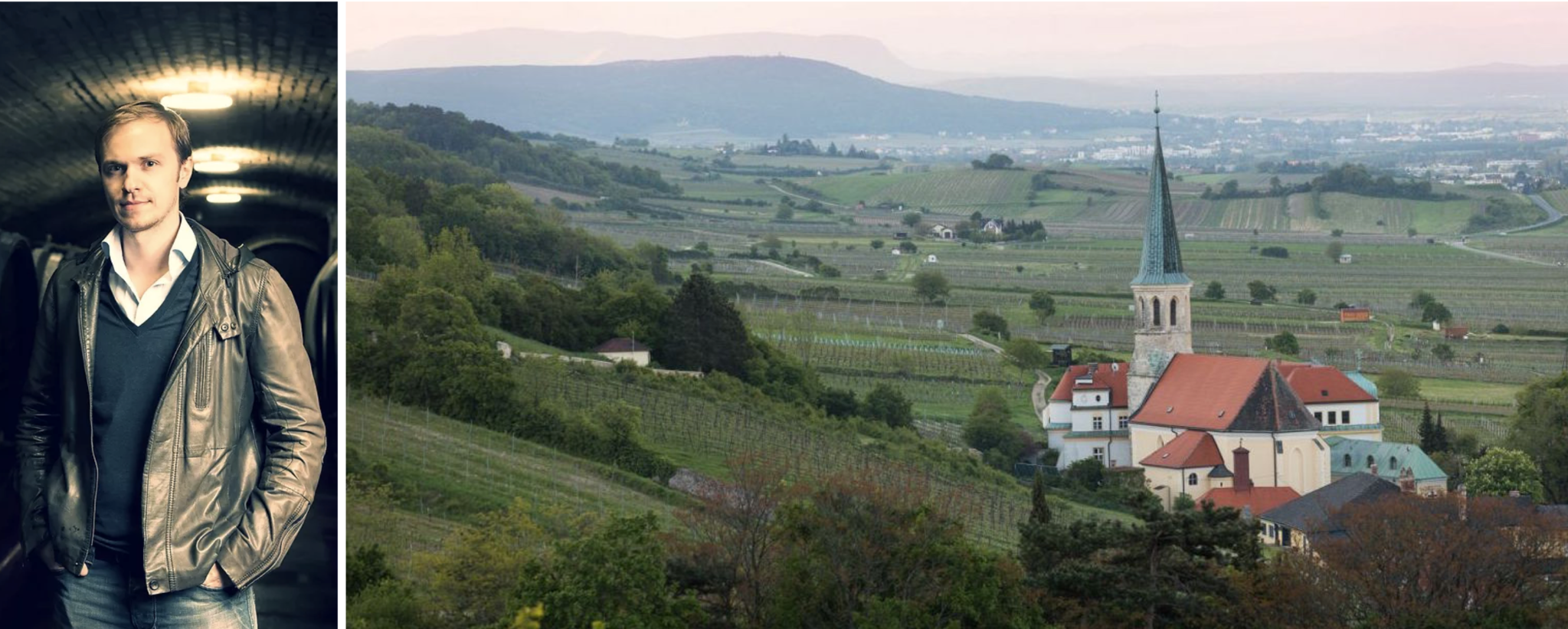 -Bernhard Stadlmann and a view of Thermenregion
Stadlmann Rotgipfler Anning 2020, Traiskirchen, Austria
Weingut Stadlmann is located in eastern Austria, southwest of Vienna, in an area called Thermenregion, one of the eight specific wine-growing areas in the region of Lower Austria. It was formed in 1985 by merging the formerly independent areas of Gumpoldskirchen and Bad Vöslau. The name Thermenregion refers to the many ancient sulfurous hot springs that are found here. Grapevines have been cultivated for more than 2000 years in this region, where, like so many other places, Roman soldiers introduced vines from their homeland, and brought winemaking skills to this one-time province of the Roman Empire they referred to as Pannonia. In the Middle Ages, viticulture was king (so to speak) under the guidance of the Cistercian monks. The arrangement of the vineyards shows the clear influence of their Burgundian mother-monastery Citeaux, as does the character of the villages themselves. There were rich wine yields all through the 14th and 15th centuries, until the Turkish sieges of the 16th and 17th centuries left many vineyards in ruins. In 1760, the Teutonic Order introduced Pinot Noir and the region began its rebirth.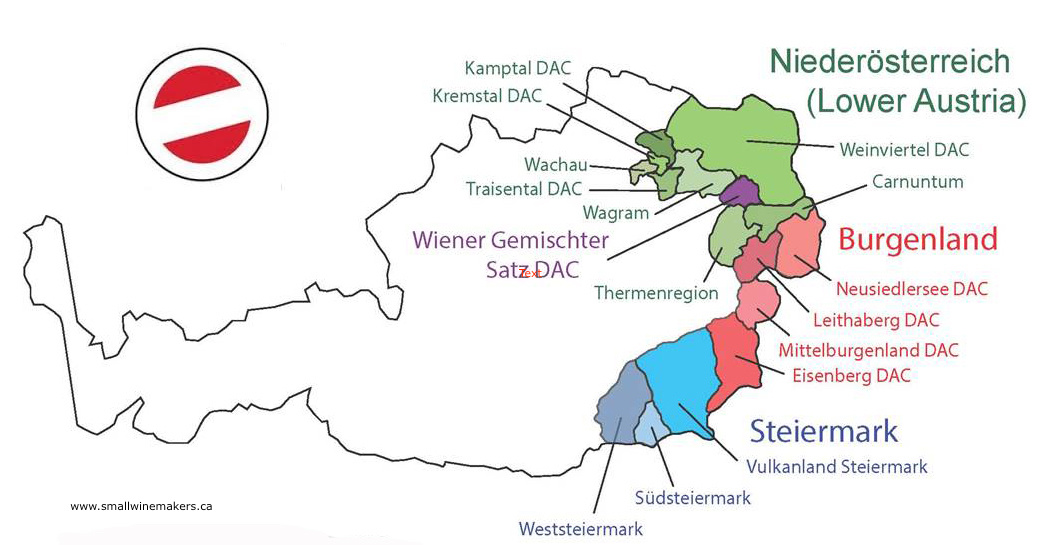 Today, Thermenregion is 1901 hectares of vines running along a chain of hills from the Vienna city limits to the Vienna Woods, with Mount Anninger as the highest point along the route. The soils are barren and stony in some parts, heavy and loamy in others. Like in Burgundy, there's limestone from the Alps, and from fossilized seashells. The climate is characterized by dry, hot summers and cold winters. White wine is the focus, with the most noteworthy grapes (though unplanted and mostly unknown outside of this region) being the age-worthy Zierfandler and Rotgipfler. DNA profiling in 1998 showed that Rotgipfler is a natural cross of Savagnin (a parent of Chenin Blanc, Grüner Veltiner, Sauvignon Blanc, Silvaner, Trousseau, and possibly Verdelho) and Roter Veltliner (a prude in comparison, as it is only a parent of Neuburger and Frühroter Veltliner.) Incidentally, Rotgipfler found its way to taking 1st prize in the 1855 World's Fair in Paris and thus had a tiny moment of international fame before receding into obscurity once again); you can listen to an I'll Drink to That interview with Stadlmann for the backstory.
Bernhard Stadlmann is the eighth generation to represent this winery. Despite holding three doctoral degrees, he decided to dedicate his life to continuing the traditions established by his long chain of predecessors, so in 2006 he took over from his father Johann. He farms organically, certified since 2007, and now practices biodynamics as well. In addition to being chemical-free, the farming is also irrigation-free.
Rotgiplfler is a white grape named for its deep red shoots, similar to how Gruner Veltliner is also known as Weissgipfler for its white shoots. Sometimes Rotgipfler and Zierfandler will be blended together, but Stadlmann doesn't engage in this practice, as it isn't traditional and only came about in the 1960s & 70s as a shortcut to gain wider audiences through mass appeal, and as a way to tame difficult grapes. Zierfandler is low-yielding, sensitive to rot, and difficult to ripen, while Rotgipfler tends to over-produce, ripen too quickly, and lose acidity quickly. Notably, while many Austrian growers produce bottlings of various ripeness levels from the same plot each vintage, Stadlmann has always produced just a single wine per site, harvested at what they believe is the correct moment to capture the characteristics of a vineyard and growing season—typically around mid-October. Only about 120 hectares of Rotgipfler and 75 hectares of Zierfandler still exist in the Thermenregion, and Stadlmann clearly sets the standard for quality.
The approach in the cellar is hands-off: ripe bunches are pressed whole-cluster and fermented spontaneously in 30+ year-old, 18-hectoliter casks made of local oak from the forests around Vienna. The wines are racked off their gross lees after fermentation, then spend ten to twelve months in these same casks resting on their fine lees before bottling. Aging in these traditional casks promotes settling of the lees, which enables Stadlmann to avoid fining and to bottle with only a gentle filtration. This technique producers a textural expressiveness in the Rotgipfler and Zierfandler that would be impossible to achieve in stainless steel's anaerobic environment. Malolactic fermentation is never blocked, but occurs in fewer than ten percent of the wines and is always allowed to complete if it begins; because Bernhard uses indigenous yeasts and prefers not to interfere with the wine during the aging process, his Rotgipfler and Zierfandler typically end up with four or five grams per liter of residual sugar—which enhances the ethereal texture but does not add a sense of actual sweetness. The Rotgipfler and Zierfandler "Anning" are so-named for the hills which characterize the northern part of Thermenregion and are analogous to Burgundy's regional wines. They're produced in large part from younger vines planted in the lower, flatter parts of these hillside vineyards. Both can age after bottling for about 4 years or so, while the single vineyards can go 10 years or more, depending on the vintage.
This Rotgipfler has a core of round, melon-like fruit wrapped in deep, concentrated, saline minerality. It pairs nicely with spring and summer vegetables like asparagus and zucchini, with Wiener Schnitzel (of course!), with savory dishes like tandoori chicken and/or paneer tikka…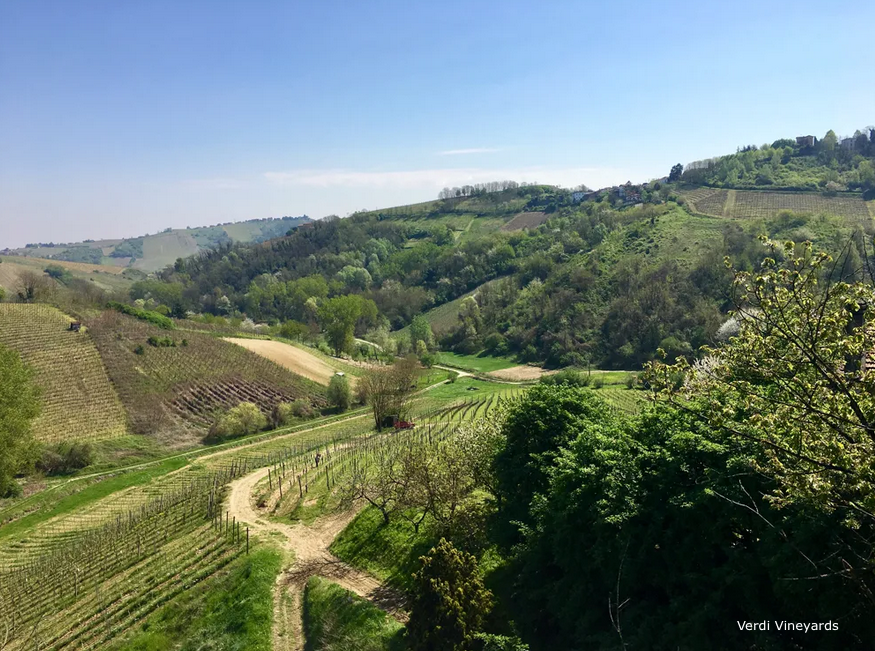 Bruno Verdi Buttafuoco dell'Oltrepò Pavese Rosso 2020, Lombardy, Italy
The Verdi winery is located in the Italian region of Lombardy, which is situated in the center of the top of Italy's boot, with Switzerland to the north and the much more wine-famous Piedmont to the west. Lombardy is the largest and most populous region in Italy and––no surprise with Milan so close by––has one of Europe's highest standards of living, for what that's worth. The region has always been at the center of big business, whether it's textiles (especially silk), banking, or mining…but there's an impressive wealth of nature as well; the Padana plain extends across the bottom third of the region, fed by the Po River and its many tributaries that flow downstream from Alpine lakes. The lowlands produce bountiful rice for risotto and also boast one of the largest swaths of pastures in Italy. And of course from all the grazers upon those pastures comes a wild assortment of cheese, from the nutty and salty Grana-Padano (similar to Parmigiano-Reggiano) to the funky Robiola, to the pungent Gorgonzola, to the downright stinky but heavenly Tallegio.
Lombardy is not, however, a prodigious producer of quality wine. Regarding Oltrepò Pavese specifically (which is Lombardy's largest viticultural area, and from 1741-1859 was administratively a part of Piedmont) the small size of the properties (1.8 ha per grower) and the significant role played by co-operatives has long tended to reward quantity over quality. But that doesn't mean that exceptional wine isn't being produced in this region that's wedged into the area where Lombardy, Piedmont, and Emilia-Romagna meet. One of the most interesting wines is the blended red Oltrepò Rosso, which is mainly Barbera, with Croatina added for spice and body, and Uva Rara added for sweet fruit and aromatics. These red grapes form the blends for the DOCs Buttafuoco dell'Oltrepò Pavese and Sangue di Giuda dell'Oltrepò Pavese, which together only make up a tiny fraction of the total DOC production.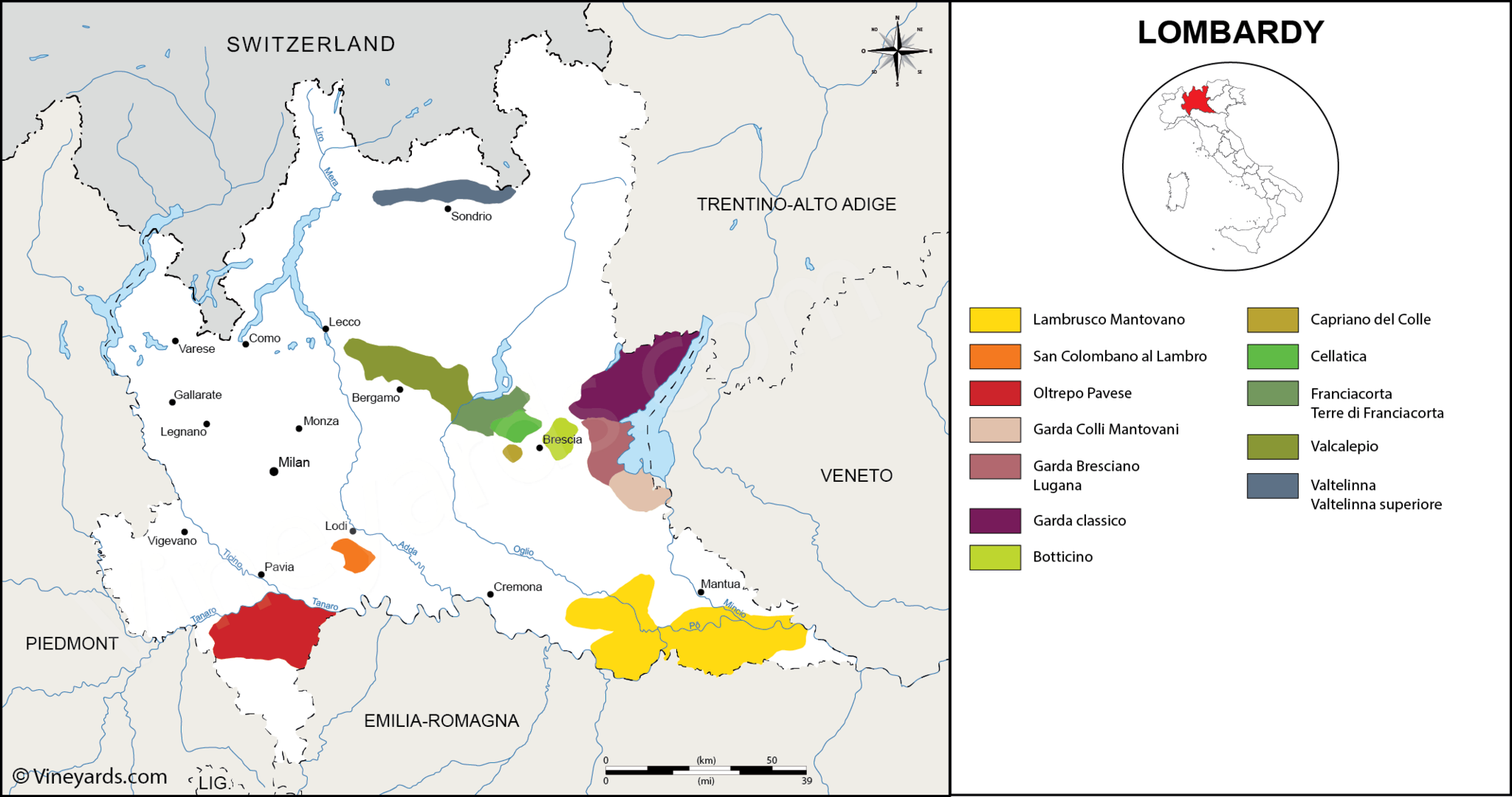 The Verdi family traces its viticultural origins back seven generations to the 18th century, when Antonio Verdi came from Parma to settle in the Oltrepò Pavese. The farm originally focused on wheat and corn production, with mulberries grown for their leaves that were used for feeding silkworms; grapevines were planted, but the fruit sold off. Third generation Luigi Verdi was the first to turn the family's grapes into wine but it wasn't until after WWII that Bruno bottled the wine at the estate and put his own name on the label. His son Paolo now carries on his legacy.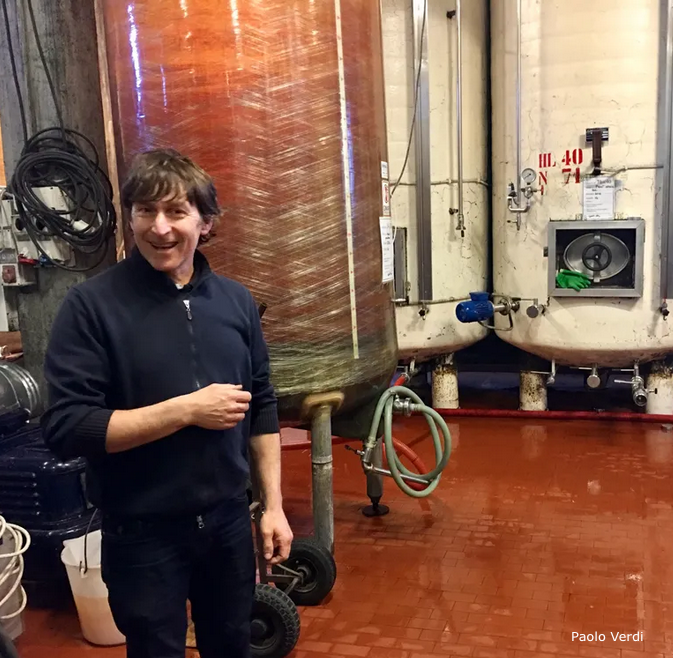 Verdi's vineyards are spread over four separate plots of land on the hillsides surrounding the village of Canneto Pavese, which itself is located in the hills immediately south of the towns of Broni and Stradella. The cantina is situated in the hamlet of Vergomberra within the limits of Canneto Pavese. In addition to their own vineyards, Verdi also purchases grapes from small local growers, several of whom are family members. All the grapes are harvested by hand into small harvest-lugs to prevent crushing and bruising.
Paolo Verdi has demonstrated that Oltrepó Pavese can produce world class wines. His winemaking philosophy combines the best of the classic methods with modern oenology to create wines with the distinctive features that bring out the best in the local grape varieties.
Buttafuoco translates as "spitfire" and is a historic specialty of the region. It is a structured, zesty, bold & fruity red made from a blend of Croatina & Barbera with small amounts of Uva Rara and Ughetta di Canneto. After harvesting, the grapes are destemmed and undergo a two-day cold maceration followed by a brief fermentation period with a series of remontages, aka: pump-over, the process of pumping red wine up from the bottom of the tank and splashing it over the top of the fermenting must in order to submerge the skins so that carbon dioxide is pushed to the surface of the must and released. This results in a wine of substantial concentration but with very gentle tannins. Pair it with pasta, of course, and risotto, cured meats and cheeses from the region, anything on the grill, from veggies to burgers.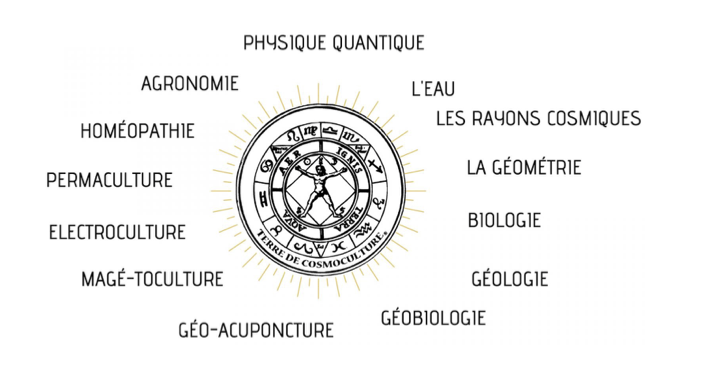 Domaine Viret Energie Vin de France Rouge 2020
Domaine Viret sits atop a hill in Saint-Maurice-sur-Eygues, in the southern Côtes-du-Rhône. There are over 60 villages in France named after Saint Maurice, a Black Christian soldier born less than 250 years after Jesus Christ. Saint Maurice of Aganum became a general in the Roman army, and was executed along with nearly his entire Theban Legion of six thousand African soldiers for refusing Emperor Maximian's orders to kill fellow Christians and make sacrifices to the Roman gods. The little village of Saint-Maurice was built up around a vineyard that already existed in Gallo-Roman times (1st century BC to the 5th century AD), but it wasn't until the 14th century that the viticulture here really began to develop. In the 18th century the area gained prominence with the arrival of Mourvèdre and other Spanish varieties that flourished alongside the olive trees (this is also the Nyons olive oil appellation area). The olives and 170 hectares of vineyards grow on slopes of the pre-Alps (subalpine mountain ranges of medium elevation), where they are generally protected from late frosts and freezing fog. In 1953, the wines of Saint-Maurice became part of the Côtes du Rhône family, and in 1967 they were awarded Côtes du Rhône Villages with geographical name status.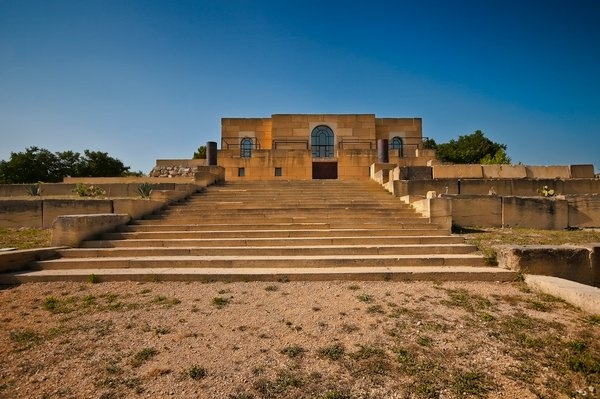 Domaine Viret is no ordinary domaine. It's constructed of huge, rectangular, earthen-yellow wall-stones that Alain and Philippe Viret (the father/son duo behind the domaine) pulled from the local quarry––the same source the Romans used in constructing the famous ancient aqueduct bridge Pont du Gard. The stones were then numbered in the order in which they were pulled so that the winery could be constructed in the same configuration as they were excavated. The extreme thickness of the stones allows for ideal temperature regulation without technological interference, which is quite the feat in such a warm climate like the southern Rhône. The building isn't quite atop the hill but rather built into the side of its peak, allowing for everything to move through the winery via gravity from the moment the grapes are brought in. Even the winding driveway is unexpected, surrounded as it is by a sprawling amphitheater of vines planted in various configurations of north-south rows, east-west rows, square grids, and spirals…all of this gives a hint of what Philippe is wine-world famous for: Cosmoculture®, a system of farming that combines organic and biodynamic practices and adds a mystical, metaphysical twist––of which he is the only practitioner and for which he holds an actual patent.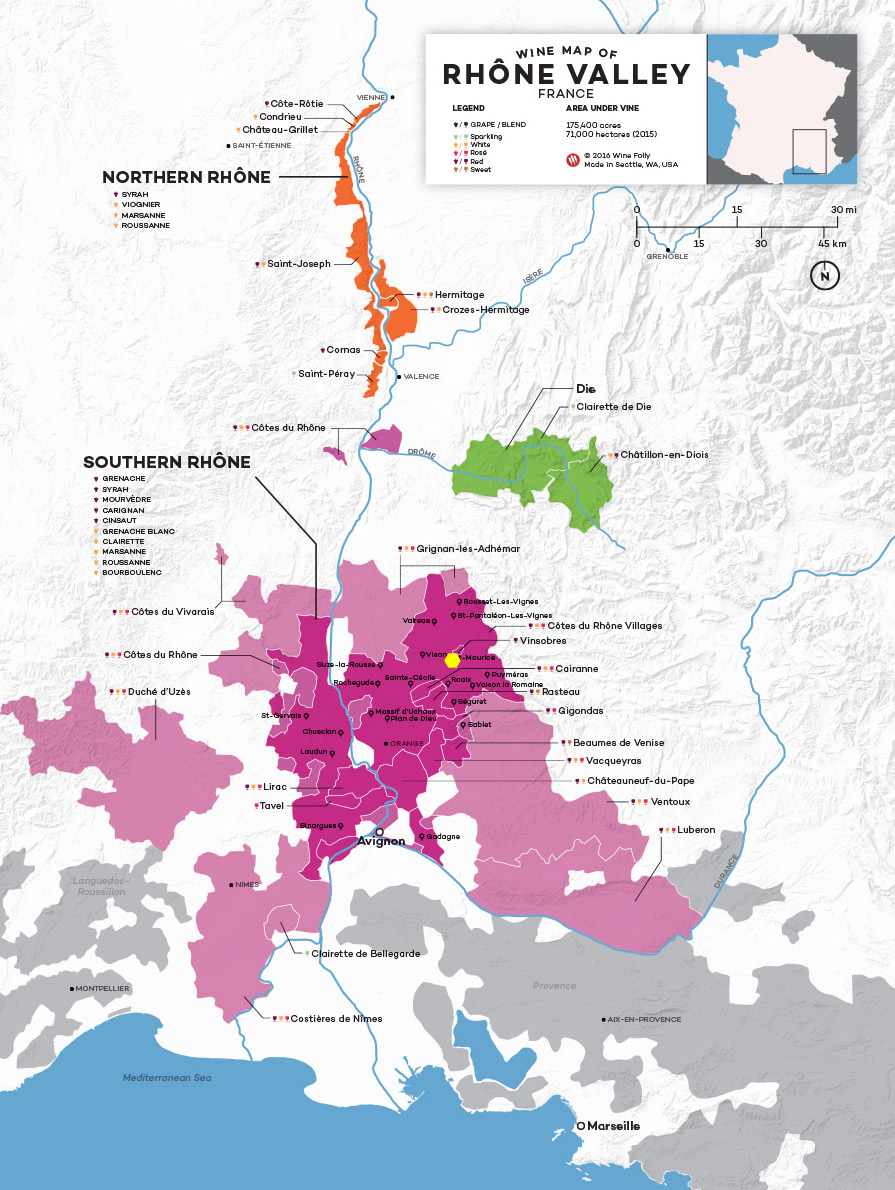 What is Cosmoculture? We'll let Rosenthal explain: Cosmoculture employs knowledge of the earth's energy fields, known as telluric currents, in deciding where to plant, how to plant, when to harvest, and many other viticultural activities, as well as dictating the construction and operation of the winery itself. A well-established if not widely exposed field of inquiry, knowledge of telluric currents informs research into fault zones, ground-water sources (Viret is built atop a large underground spring, in fact), geothermal activity, and many more areas. Insofar as it involves homeopathic vineyard treatments, polycultural principles (Viret encompasses 60 total hectares of which 35 are planted to vines), and attention to lunar cycles, Cosmoculture can be seen as a sort of extension of biodynamics. And, like biodynamics, Cosmoculture involves practices which may seem at first arcane or esoteric but are in fact connected to ancient wisdom—to knowledge humans cultivated and transmitted for millennia before we allowed technology to begin to supplant it. Of course, this would all threaten to become grand eco-philosophical performance art if Philippe's wines were simply ordinary; thankfully, however, they are among the most soulful and evocative wines in the entire region.
Soulful indeed…Energie is primarily from young-vines Syrah with a touch of Mourvèdre and smaller amounts of old Rhône varieties like Picpoul Noir, Vaccarèse, Muscardin, and Counoise. It's vinified and aged in a combination of cement and steel tanks for one year with no added sulfur (like all the wines here, no sulfur is ever added at any step in the process). The long but gentle infusion-method of extraction creates a wine that is simply ALIVE, for lack of a better word. The clear, bright acidity is like biting into the skin of a tart black plum. The Syrah rises up to meet the dark, ripe fruit in a smoky, meaty, spicy cloud that could trick you into thinking this is from the northern Rhône. Serve with Provençal vegetable gratin (Tian), crespéou (a stacked omelette/cake often eaten cold in the vineyard), chicken with olives and tomatoes, grilled lamb….
Feel the energie…