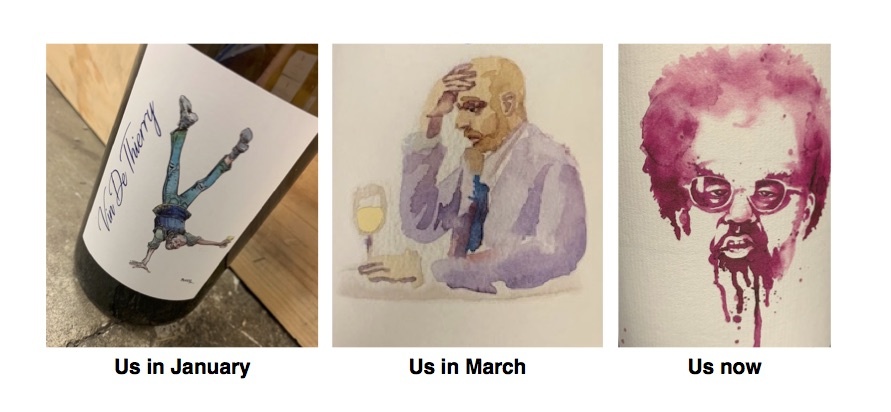 Happy Friday! 

How's the dystopia treating you? Seriously though, how's the dystopia treating you? This week feels extra heavy, like we're stuck in a broken time-travel machine that's ping-ponging between 1918, 1929, and 1968. Lord help us all, there just ain't enough wine in the world...

On a heavy yet informative note: any On the Media fans out there? It's consistently one of the best radio shows, and last week's episode, Mourning in America, did not disappoint. If you only listen to one segment, make it Why the Press Downplayed the 1918 Flu (yes, fine, we're obsessed); the part on the circumstances surrounding the creation of the Treaty of Versailles (which everyone knew was bad news) was mind-blowing. How did we not know this?!

In local pandemic-related news, a group of restaurants has written an open letteron why they feel it's not safe to reopen for indoor dining. It's hard to argue with their reasoning. We really feel for everyone who is stuck trying to figure out how to safely and profitably run their businesses during this crisis. It's all rocks and hard places...

So thank you again to all of you who are sticking with us as we continue to keep our doors closed to the public. We really, truly, from the bottom of our hearts and glasses appreciate this more than you'll ever know. You guys are the best.

And now, wine:
Things are still weird but we're doing our best to keep things fresh and fun around here. The three wines pictured at the top of this newsletter (from left to right) are Domaine St. Nicolas Vin de Thierry Blanc 2018, a biodynamic blend of Chenin Blanc and Grolleau Gris from a 40 hectare, horse & tractor-worked property just south of Muscadet. We've had Thierry Michon's wines in the shop before, and you may remember him as the producer who has never once used a non-organic substance on his property, and went so far as to buy up a buffer zone around his holdings so that no one else could use chemicals around his vines. RESPECT.

Then we have Qu'est-ce que c'est Aligoté? 2018 which fine, isn't entirely new, but come on, that picture...this wine is from a single sustainably-farmed plot located in the village of Molosmes, just north of Tonnerre in Chablis. Fermentation is spontaneous and no additives are used in the production process. It's aged on the lees for 8 months and bottled unfiltered and unfined.

La Jaras Wines Sweet Berry Wine 2018, a blend of old vine Carignan, Zinfandel, Charbono, Cabernet Sauvignon, and Valdigue from vineyards in Mendocino and Sonoma counties. Hand-harvested, minimal intervention from start to finish, aged in neutral Burgundy barrels. Here's a not-to be-missed review. And here's the less fun but more informative technical info, if you're interested.
Also from Las Jaras, Glou Glou 2019, all organic, mostly carbonic Zinfandel, Carignan, PetiteSirah, Pinot Noir,and Cabernet Sauvignon that the winemakers describe as tasting like sparkles and bright summer fruit.

Wasenhaus Baden Nouveau 2019, biodynamic, no-sulfur, German Pinot Noir. All the notes are can be seen on the attached e-comm link.


Quantum Gruner 'Sonntag Geschlossen' 2011
All the notes can be found in the attached link as well, but this Austrian wine makes an impression. Aged 7+ years on the lees in 100+ year old fuder and it is as fresh and vibrant, and yes, appears to nearly levitate out of the glass...it's gorgeous. We have some now but next week we're getting what was left with the distributor. It's still not enough!

Tiberi il Tribulato Frizzante 2018
Tiberi is a small family winery in Umbria, worked by siblings Frederico and Beatrice Tiberi, fourth-generation farmers and winemakers. Before 2012 the family used to sell their grapes to other winemakers. Since then they've been making their own wines after receiving guidance from the godfather of Italian natural wine, Danilo Marcucci, and their grandfather Cesare. Their vines were planted in the 70s, and they do all the good things: organic farming, hand-harvesting, little intervention, no additives or sulfur, etc. Tribulato is a gentle and refreshing frizzante of Trebbiano.

Dinamo Nucleo X Orange Liter 2019
From the importer: The "Dinamo" project is an exciting nod to the historic peasant wines of Umbria, in a collaboration between Danilo Nofrini with his children Rachele and Simone, and Danilo Marcucci. After more than 40 years of making wine, Danilo Marcucci wanted to embrace the kind of wines that he used to make as a child with his grandfather:

"I made the first wine with my grandfather. My snack was homemade bread dipped in wine and a little sugar. It was 1976 and the wine was natural and still had a high daily food value and was an important source of energy for everyone, especially those who had to face the heavy days of farm work .... the body and then the mind. An inspiring idea to jump back to rediscover my origins thanks to the strength of all that I have built up to now in natural wine."

Nucleo X is skin fermented Trebbiano. It's dry, floral, zesty, a little bit nutty...it has a bike on it...

This is just what's made it into our newsletter, but we got even more than this, including old fave Schloss Gobelsburg rosé, the Christina wines that were on our Instagram earlier this week (was that this week?), and a couple of new blue tags, even. Like we said, we're trying to keep it fresh!
You can find most of our new beer (and wine too!) on our Instagram.

Cheers! Stay safe!