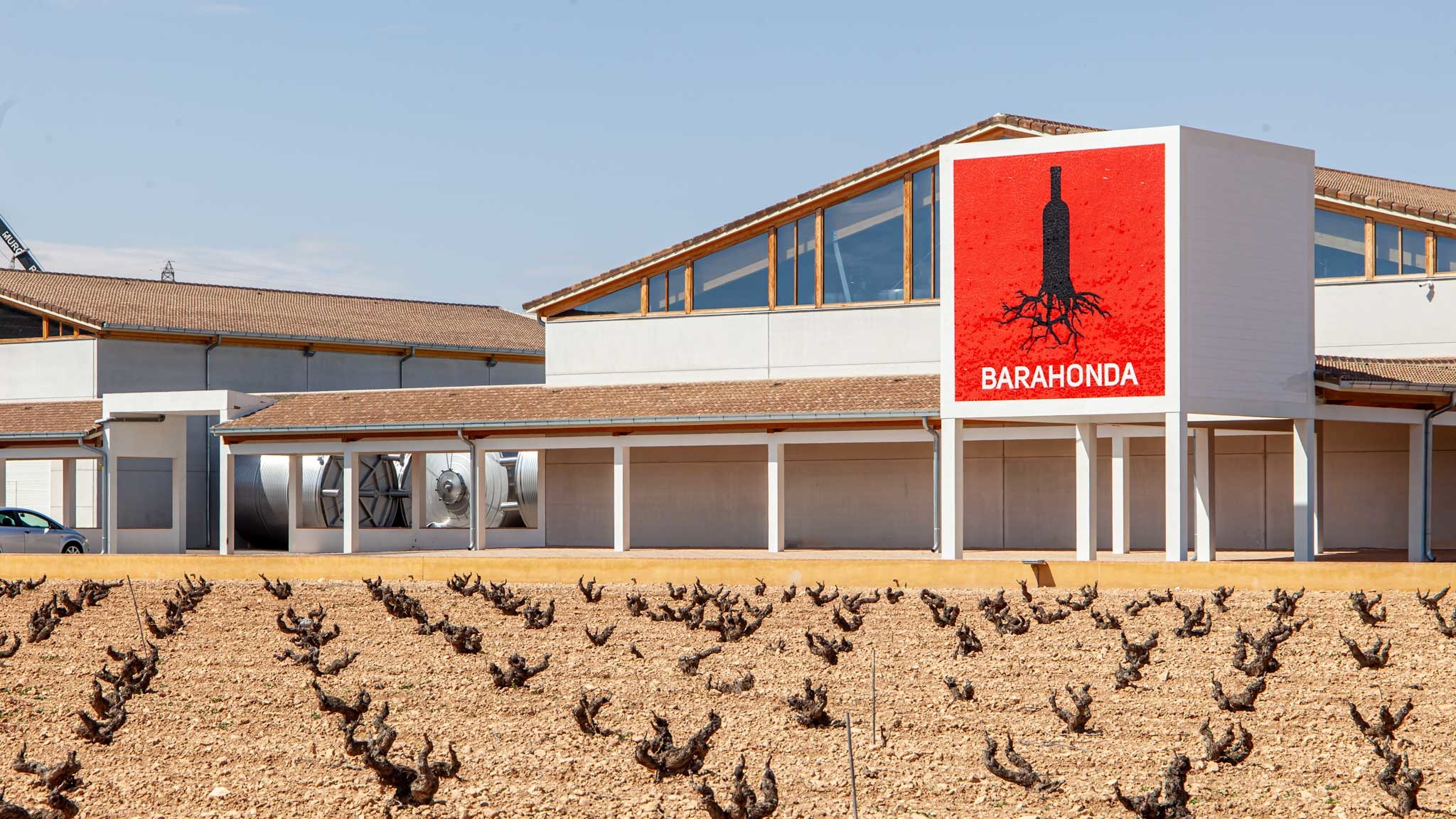 This month we have four wines from Olé & Obrigado, including two made by Olé & Obrigado's Alberto Orte, to whom we were introduced in the September club. To recap, here is the exact blurb from last month: Back in 1999, while still in college, Alberto and his friend Patrick Mata partnered to form Olé Imports, which became Olé & Obrigado. Both Alberto and Patrick are from families that have been making wine in Spain since the 1800s, so of course the first wines they sold in the U.S. were from Alberto's family in Montilla, in southern Spain. The two still share duties, with Alberto handling the selection of wines and winemaking in Spain, and Patrick managing the commercial and marketing part of the business in the states.
Alberto has dedicated much of his life to discovering great Spanish terroirs, and rescuing and replanting ancient and nearly extinct varieties that would otherwise be lost. In Jerez alone, Alberto has identified 200+ old clones and 22 forgotten varieties. He produces wine in many regions throughout the Iberian Peninsula, most notably in Jerez, Valdeorras, and Rioja, and tends to favor high-altitude plots with deep soils. He practices organic and biodynamic farming in many vineyards, and has a passion for old vines, as the lower yields lead to more concentrated and complex flavors in the fruit. He produces two types of wines: wines of unique terroirs, which are labeled as Alberto Orte, and wines from village-designated vineyards that are more approachable, and are labeled as Vinos Atlántico. Today, Alberto owns 16 hectares of vines in Jerez and rents vineyard sites or purchases fruit in the Sil and Bibei riverbanks Valdeorras, Campo Arriba in Yecla, and Sierra de la Demanda in Rioja. 
We hope you enjoy this selection of three Spanish wines and one from Portugal.
Happy Sipping!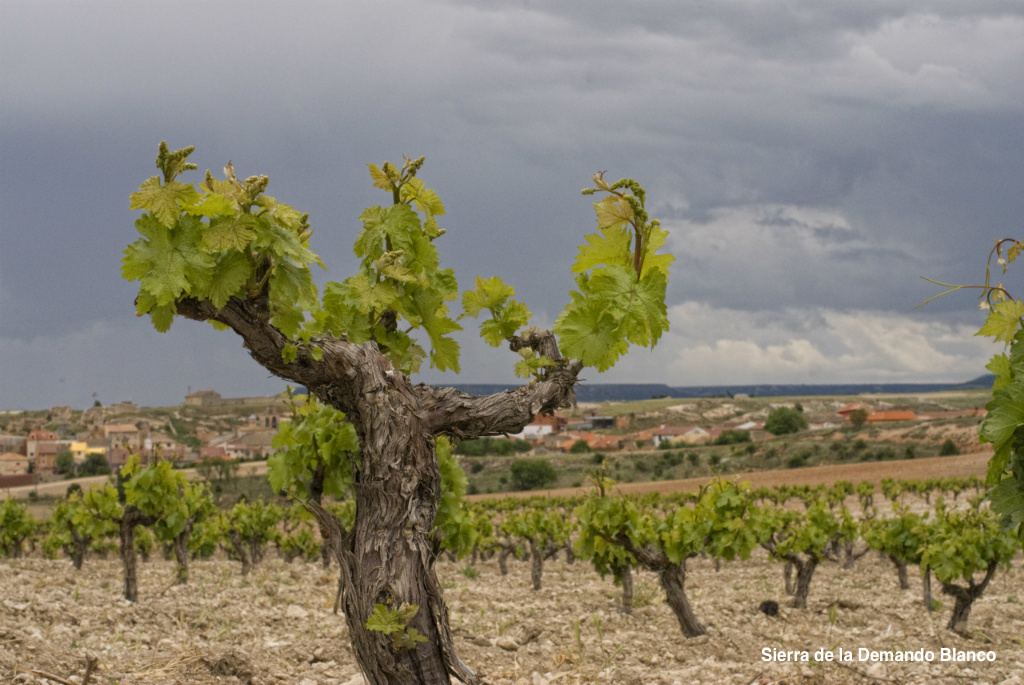 Alberto Orte La Antigua Clásico Rioja Blanco 2018, Sierra de la Demanda, Spain $29.99

Last month's club included La Antigua Clásico Reserva 2012, so we're recycling the brief description of property/vineyards here. Additional notes can be found in the September club, which we've linked to above.
La Antigua Clásico shows off the cool-climate, western mountain range of Sierra de la Demanda, a largely unexplored region south of the Ebro river in Rioja Alta. The vineyards here are sparsely scattered and extremely steep, making the terrain impossible to mechanize, thus all work must be done by hand. The north-facing, high-altitude vineyards also receive far less sunshine than those in the valley, so the grapes ripen slowly and are amongst the last to be harvested in all of western Europe; sometimes harvest doesn't happen until early November. All of these factors, combined with Alberto's winemaking style that harkens back to the early 20th century, come together to create wines of intense flavor, focus, and freshness, which lead to balanced, age-worthy wines.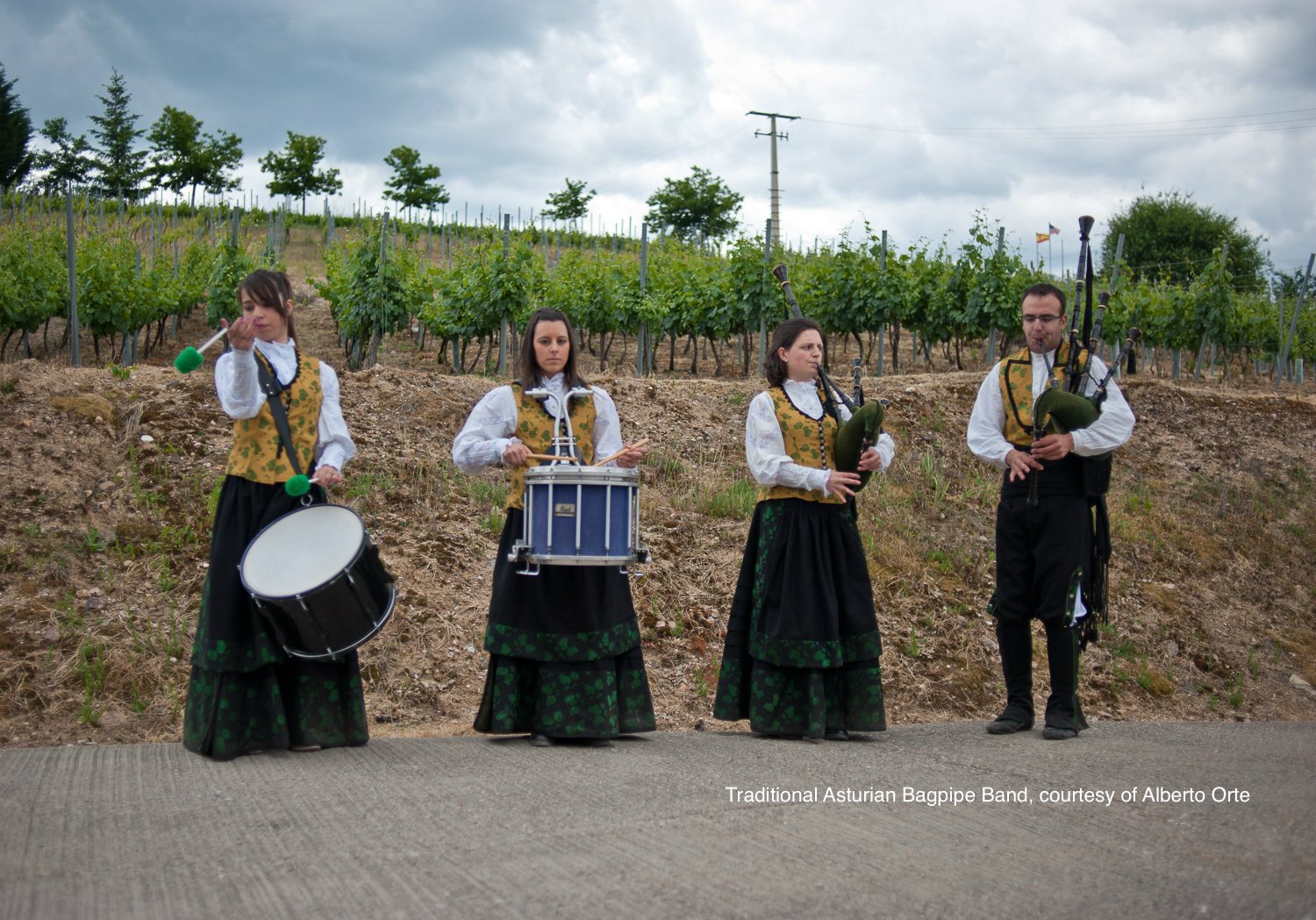 This Rioja blanco is all heirloom clones (no purchased clones) of Viura (70%), Tempranillo Blanco (10%), and Garnacha Blanca (20%)–propagated via selección massale since 1965, and situated on the south banks of the Ebro, facing north, at 3000 feet above sea level. It's fermented in oak (80% French/20% American) and partially aged under flor in an attempt to evoke Rioja Blanco from the time in the 19th and early 20th centuries when Fino or Manzanilla sherry was allowed in the blend to increase the body and texture. The result here is a wine that is rich but at the same time sinewy. On the nose there's smoke, lemon, ginger, toasted bread, white flowers; the palate reflects the flor-aging with savory/umami notes that gives way to orchard fruit, delicate green herbs, and subtle hints of honey. The finish is long & graceful…but a little bit spicy too. Mike Smith, our local Olé & Obrigado representative, suggested pairing this wine with his recipe for roasted chicken and butter braised fennel.

~pictured above...somewhere in Valdeorras...from a Forbes "Buy a Winery!" site. We couldn't resist the picture and the link, but we shall remain here...in Fox Point.
Alberto Orte A Portela Valdeorras Mencía 2016 $25.99

Valdeorras is the eastern-most wine zone in the Spanish wine region of Galicia, in wet, Atlantic, north-west Spain. In addition to Valdeorras, Galicia includes the DO regions Rías baixas, Ribeiro, Ribeira Sacra, and Monterrei. Valdeorras is warmer than its neighbors to the west, as it's shielded by mountains from the cold, wet winds blowing off the Atlantic. Conversely, it's cooler than its neighbor to the east, Bierzo, as mountains shield it from hot, continental winds. The mountains have also played a part in Galicia developing in isolation from the rest of Spain. It's geographically and culturally closer to northern Portugal than to Madrid. Many of the locals are of Celtic descent and speak Gallego, a close relative of Portuguese (this site is pretty good if you want to dive a little deeper into the history of the region-nice pictures too). The white wines here also used to be similar to Portugal's Vinho Verde, but the light, acidic, slightly effervescent style has become more substantial and serious with the recovery of indigenous varieties, particularly the white grape Godello which had nearly disappeared in the wake of phylloxera. The region is best known for whites (like the aforementioned Godello), but there are red grapes capable of making beautiful wines as well. A new wave of producers is replanting the steep, terraced vineyards with indigenous varieties, allowing the terroir to tell its story again.
The region has seen its share of boom & bust; in ancient times it was the only place the Romans found they could grow olives so far north on their supply line; wines were exported from here as early as the 14th century, but northern European merchants preferred the fuller-bodied wines from the Douro, and so the industry fell apart and the people relied upon a subsistence economy. Depopulation followed as people moved away to find work—fun fact: the terraced Port vineyards in Douro were constructed by itinerant labor from Galicia. The latest boom came when Spain joined the EU in 1986 and Galicia received a large injection of funds to transform its wine industry. And so here we all are, with a bottle of the fruits born of that endeavor.
This 100% Mencía wine hails from a single vineyard in the A Portela subdistrict where red grapes ripen on a rounded hilltop, known to locals as the "Gateway to Heaven." The vines were planted between 1976 and 1990 on clay, granite, and slate soil at 500-700m (1640-2565 ft) elevation. Mencía can express itself in many ways, from rustic and powerful to delicate and graceful. Here, the combination of elevation, soil, and temperate climate makes for a mineral-driven Mencía that is both generous in fruit and spice, but also presents, precise, high-toned acidity. After picking the whole-cluster grapes do a five day cold soak in tank to extract color and flavor, but not tannins. Once fermentation has taken place, the skins spend another 10 days in tank before being racked*. The wine is then aged for 12 months in stainless steel plus another 8 months in French oak barrels. It's unfiltered, unfined, and vegan.
This is an expressive wine that evokes menthol, cherries, crushed stones and roses. The palate is lush but defined, with the high-toned fruit and acidity coming through, and hints of dill and other green herbs mingling with the red fruit. The tannins are fine, but present. We got another pairing suggestion from Mike; he says this wine loves mushrooms and specifically suggested mushroom and crushed egg tapas (Tapas de Setas con Huevo). Try it as well with herb-roasted chicken, pork loin, or lamp chops.
*racking, the winemaking operation of removing clear wine from the settled sediment or lees in the bottom of a container.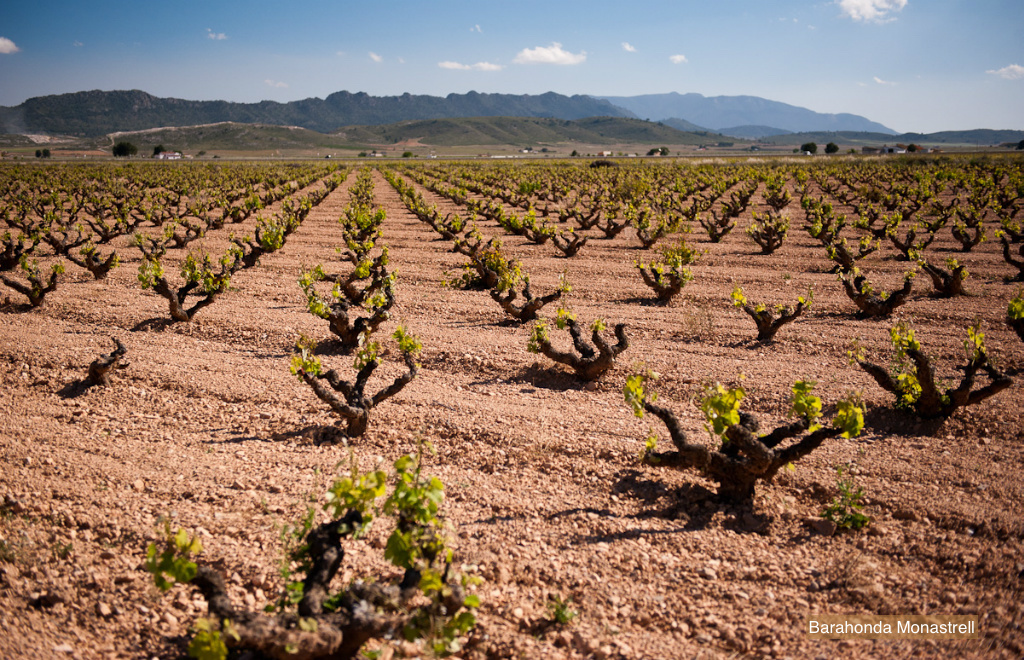 Señorío de Barahonda Monastrell 2020, Yecla, Spain $19.99

Yecla is the smallest and northernmost wine zone in the Murcia region, in southeastern Spain, and is surrounded by the more well-known regions of Jumilla, Alicante, and Almansa. The city and vineyards of Yecla are ringed by a series of low mountain ranges which help to give the region its particular microclimate (Mediterranean with a light Continental influence). Yecla is also one of the smallest wine zones in all of Spain, yet is dominated by the country's largest co-operative, Bodegas La Purísima, which holds 60% (3325 Ha) of Yecla's vines. In addition to being the smallest, it's also one of Spain's oldest wine regions, with a rich oenological history. Yecla was founded as the city of Yakka during the Moorish occupation of Spain (from the 8th to the 15th century), but winemaking predates the city by almost 1,000 years. Local lore suggest that the ancient Phoenicians brought wine grapes to Yecla, and archaeologists have discovered the ruins of a first-century wine cellar near Fuente del Pinar. After Roman rule ended in the 3rd century, wine production in Yecla continued, flourishing during the Moorish occupation and expanding as Spain's rulers consolidated their power. By the reign of King Philip II, Yecla was considered a major wine producing region. The Yecla DO includes two sub-regions: Campo Arriba and Campo Abajo. Campo Arriba lies north of the city of Yecla, with older vines and vineyards at higher elevations than those of Campo Abajo.
Señorio de Barahonda is the oldest family owned winery in Yecla, and much of their fruit is own-rooted. The Candela family established the winery in 1925, handing down their independent spirit through four generations. They believe that good wine is made in the vineyard; their 340 hectares (840 acres) planted on limestone soils are farmed organically and without additional irrigation despite the extremely hot and dry climate. The major grape here is the red Monastrell, a grape native to Spain that was brought to France around the 5th or 6th century and is today better known as Mourvédre. It is the main grape in Bandol, and is sometimes a close second to Grenache in Chateauneuf-du-Pape, if the site is warm enough.
This Monastrell is from vines planted between 1970 and 1980 on limestone, clay, and chalk, at 713m (2339 ft) elevation in the Campo Abajo (mainly white grape) subregion. It's fermented and aged in stainless steel, never sees any oak. The goal of winemakers Augustin Carrion and Araceli Gonzalez Martinez (who both keep a low profile) is to show the unadulterated purity of the Monastrell grape and its potential in Yecla.
This is a full-bodied, smooth, and darkly fruity red—think blackberries and cherries with hints of licorice and cola. A little bit of baking spices and dried flowers add another layer to the fruit, and chewy tannins bring it all home. This is a satisfying fall/winter red for under 20 bucks. The pairing rec for this one is Kofte Lamb Kabobs with Spicy Harissa Yogurt Sauce for the carnivores, or Harissa White Bean Stew with Turmeric Yogurt for a vegetarian option. Turkish stuffed eggplant looks pretty tasty and promising too, might have to experiment with that one. Or you could also go with fried cheese in Spanish tomato sauce, a specialty in Yecla!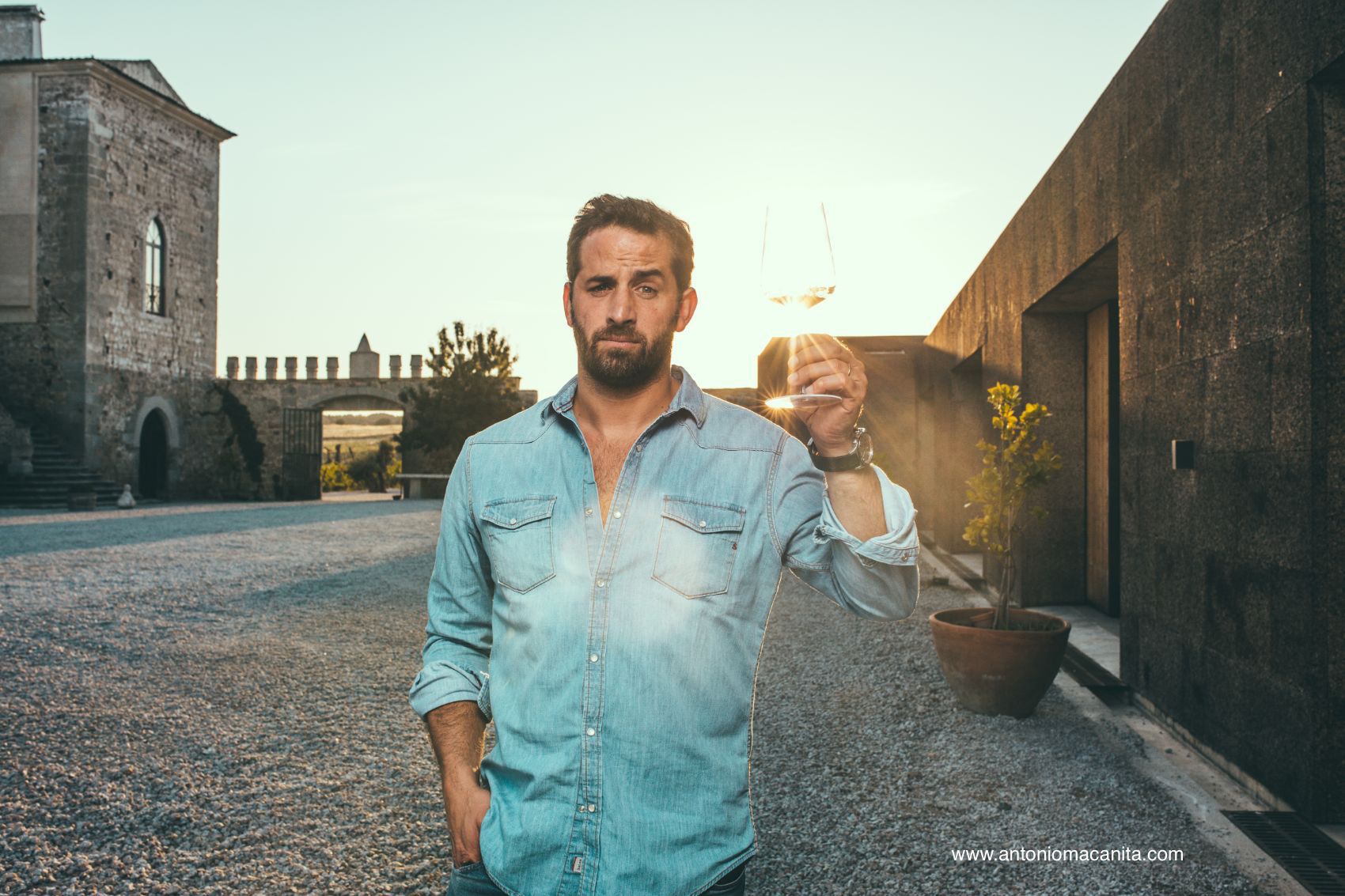 Carta da Fitapreta 2020, Alentejo, Portugal $19.99

Alentejo is a hot, arid wine region on southeastern Portugal's border with Spain, that is not naturally conducive to making fine wine. Summer temperatures frequently exceed 104°F, and there's not much rain—only about 23in annually. Cooler locations do exist, such as the higher elevation Portalegre and Borba, and Alentejo's soils, with water-retentive bands of schist help to offset the water needs. Modern technology steps in, through irrigation systems, when nature and schist are maxed out. There is far more red wine made here than whites, with most of them being blends of Aragonez, Trincadeira, Alicante Bouschet, and Castelão. There are eight DOP sub-regions: Portalegre, Borba, Redondo, Reguengos de Monsaraz, Granja-Amareleja, Vidigueira, Évora, and Moura, all of which may appear on labels. But, according to the Oxford Companion to Wine: "Many good DOP producers prefer to label wines VR Alentejano, however, while some outside its DOP regions (notably in Beja) must be labelled VR Alentejano, despite their wines' evident high quality."
For centuries, Alentejo's main link with wine was cork; around half the world's cork supply is grown in Portugal, with most of that amount coming from Alentejo's cork oaks. But southern Portugal was thrown into chaos, economic and otherwise, with the military-led Carnation Revolution of 1974 and 1975. Political and social instability followed the otherwise peaceful coup that defeated over four decades of dictatorship (Franco's 40-year rule also came to an end in Spain around the same time…that fascism, it's like an invasive weed…it finds a way…). Along with the coup came de-colonization of Portuguese territories, and along with that came more than half a million refugees—or retornados, depending on who you talked to—who arrived in Lisbon over the course of 1975; the vast majority of these individuals were white settlers from Angola and Mozambique fleeing newly independent, black-majority states, and many of them were born in the places they were leaving and had never set foot in Portugal previously.
In Alentejo, amidst all the upheavals in government, banking, media, large industry, etc., farmers took the opportunity to seize state land (latifundia) and establish communal farming (co-ops). While the government continued to flail at establishing itself, Alentejo's economy also floundered. It was still in disarray in the early 1980s but was eventually rescued as a result of financial assistance from the EU and has since seen its fortunes turn around (hey, we've heard this story before! EU cash infusions have helped prop up and bring back other wine regions too. EU wine policy is a vast topic to explore…). Again, from the Oxford Companion to Wine: "The injection of funds allowed the co-operative wineries in the towns of Portalegre, Borba, Redondo, Reguengos de Monsaraz, Granja-Amareleja, and Vidigueira (each built with government support in the pre-revolutionary 1960s and early 1970s) to improve wine quality and develop exports. Moreover, it resulted in an increase in the number of ambitious, privately owned estates from 45 to 260 between 1995 and 2010. By 2010 Alentejo not only commanded the biggest share of the domestic market in quality wines (in volume and value), but had also charmed export markets with its generous, fruit-led wines. By 2014 vines were planted on more than 20,000 ha/49,400 acres. Large farms offer considerable economies of scale compared with the small holdings (minifúndios) of northern Portugal.
Back to the wine: Olé & Obrigado describes António Maçanita as "one of Portugal's youngest and most prolific talents, whose work spans the country's most fascinating regions, including the far-flung Azores archipelago and the island of Madeira" who "bends time and place in his relentless work, harnessing the best grapes from at least four distinct winegrowing regions as well as consulting for other Portuguese companies" capturing "the complexity of this small country's winemaking traditions while simultaneously bringing them into the 21st century with style."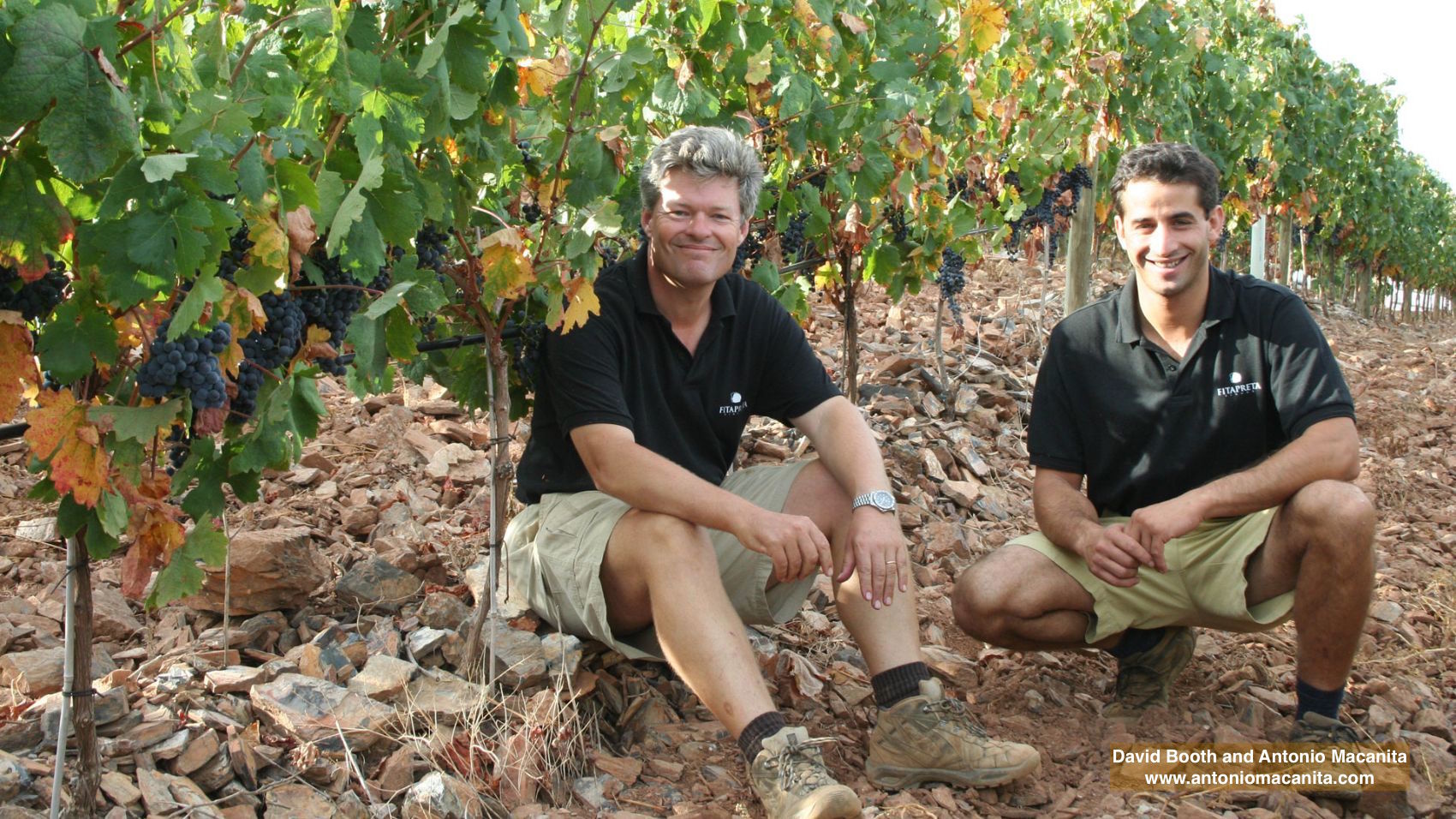 Maçanita launched Fitapreta, his first winery, in 2004 in the Évora district of Alentejo with his friend and mentor, the British viticulturalist and philanthropist David Booth. They set out to bring "a fine wine mentality to this prolific yet rustic wine region, pushing the boundaries of the caliber of wine possible there." Booth passed away suddenly in 2012 at the age of 47, but Antonio was determined to carry on his legacy at Fitapreta; the winery has become one of the leading estates in this ancient Roman viticultural area. It combines old and new, as home to a modern winery (all gravity fed, insulated with cork, and moving toward complete geothermal power generation by end of 2023) that complements its 14th-century hermitage and chapel, the latter of which was home to the ruins of the region's oldest cellar. Maçanita has been lauded by Portugal's top wine publications, who have named him both "Winemaker of the Year" and "Most Unique Winemaker," as well as "Winemaker of the Generation" for his work from 2006-2016.
Maçanita farms 72 hectares across north-central Alentejo, planted at altitudes of up to 1,500 feet above sea level. These vineyards are in multiple subregions (Borba, Évora, Vimieiro, Redondo), all dominated by schist soils. Fitapreta is a member of Alentejo's 178-point sustainability program, and, according to Olé & Obrigado, "takes many steps to reduce its environmental impact, from creating new habitats for pollinators, dry farming, reducing emissions by exchanging mechanical equipment for sheep for cover crop maintenance, and collaborating with the local community and research institutions. Fitapreta and Azores Wine Company employ dedicated full-time vineyard teams, allowing for the minimal use of chemicals (unless absolutely necessary) and careful, gentle hand harvesting."
Carta da Fitapreta is 50% Aragonez (Tempranillo), 30% Touriga Nacional, & 20% Alicante Bouschet (kind of the workhorse grape in these parts), hand-harvested from 12-50 year-old vines from the Fonte Santa, João Paulo, and Vale do Cepo vineyards planted on rocky schist at 300-400m elevation. The grapes are vinified separately via native yeast fermentation, with 14 day skin contact. Aged in 50% stainless steel and 50% conditioned French oak barrels for 10 months.
This is a lush, ripe, voluptuous red, with lively up front fruity/floral aromatics, and notes of toast, spice, and smoke on the palate. It's full of bramble, black currants, and a suggestion of violets. Although António suggests pairing this with grilled meat, the wine itself is vegan. This site highlights some of the cuisine of Alentejo; Olé & Obrigado suggests coffee crusted prime rib of beef with roast fingerling potatoes, blue cheeses like Cambozola to Roquefort, as well as aged cheese and charcuterie.
Cheers!