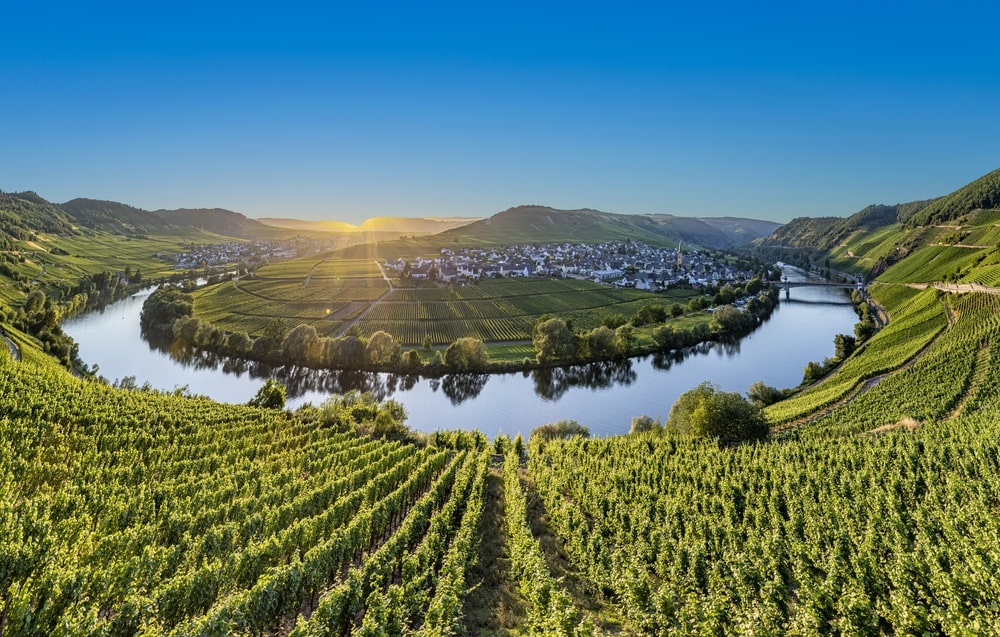 A view of Mosel, from www.winetourism.com
Three from the Loire. One from Lauer.
A note on this month's club: The containers were delayed, so our club is delayed. Our apologies! But this is just how things are now. For how long? Who knows?! We're not featuring one specific importer this time around, but two of the wines (Hauts Baigneux & Métisse) are from Paris Wine Co., a tiny supplier who works almost exclusively with very small-lot French producers who make wine naturally or organically. The Lauer is from Vom Boden, a go-to importer of (mostly) German wines that are made traditionally/minimally and/or organically. The Vouvray Brut we get from a new(ish), small importer/distributor in Rhode Island who can occasionally get their hands on some of this vintage bubbly—and when they do, we scoop it up!
So with that, here is this month's selection. Happy sipping!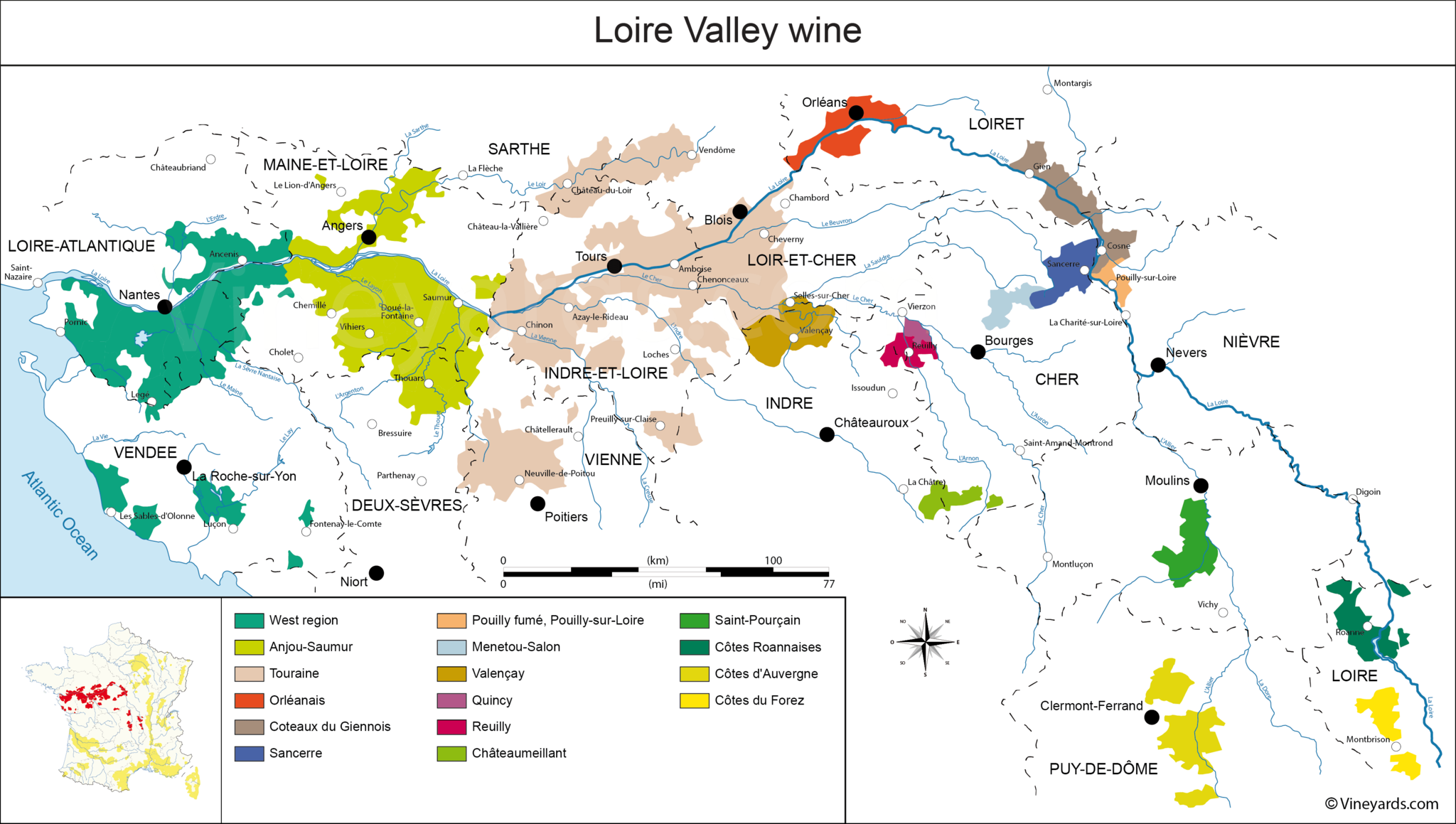 -maps are from www.winefolly.com
The Loire is France's most famous river as well as the name of the region that produces its third biggest volume of wine after Bordeaux and the Rhône. It stretches approximately 600 miles from the Atlantic coast—the land of Muscadet—all the way to Sancerre, roughly 125 miles south of Paris, before taking a sharp turn southward to Côtes du Forez, in central France. It's a rambling and varied wine region that produces the country's greatest diversity of wine styles, from still to sparkling, bone dry and acid-driven to rich and sweet; from pale water-colored to vibrant, deep purple. The Loire is also swimming in rosé often made from Cabernet Franc in a multitude of quaffable styles, though some, like Chinon, can pack a punch.    
Wines from the Loire have always been popular locally, especially in Paris bistros, but until recently they've been mostly under-appreciated internationally, outside of the famous examples like Sancerre and Pouilly-Fumé. With the reds—mostly but not always Cabernet Franc—this is likely because they don't have "blockbuster" and "powerhouse" written all over them; instead they lean toward fresh and delicate, often made for early consumption (at those Paris bistros). Beyond the aforementioned famous Sauvignon Blanc based whites, the most well-known white of the Loire is Chenin Blanc, which is having a bit of a moment lately, where it seems everyone is discovering it for the first time and then falling head over heels for all its iterations; Chenin can range from easy porch-pounder to put-it-in-the-cellar for the grandkids. It has many personalities, two of which we'll meet in this month's club. 
Touraine, aka 'the garden of France' is considered to be the most important Loire region. It's centered in the town of Tours, a once Gallic-Roman settlement, now university town, that provides the perfect jumping off point for exploring the region's many châteaux, built from locally quarried tuffeau. 
Tuffeau is a unique type of limestone found in the Loire Valley. It's fine-grained and low density, about half the density of granite. It's formed from sediment, sand, and fossilized sea creatures that covered the Loire Valley over 90 million years ago. It's uniqueness is attributed to the fact that it was formed over millennia in relatively shallow water (2-20 meters deep) and mainly from foraminifera, creatures with multi-chambered shells. Most other limestone is created in much deeper waters; the shells and the shallower water depths created rock with great drainage ability. Weathered tuffeau, combined with sand, flint, and clay—as found in the Central Loire regions of Anjou, Saumur, and Touraine—makes for excellent vineyard soils.
Tuffeau wasn't just for the aforementioned homes of royalty and nobility; the gleaming white rock also made up the homes of the general population. Carved out of cliff sides and tunneled underground, the snaking network of troglodyte caves was turned into homes for artists, monks, craftspeople, soldiers, farmers, etc. The greatest concentration of troglodyte caves is in Saumur, which is effectively a south-western extension of Touraine. During the Norman invasions of the 9th and 10th centuries, the caves provided the region with defense and escape routes. Several of the caves were also used by the Resistance during World War II to hide those fleeing from the Nazis. And since all roads in France lead to the stomach, the cool, damp, consistent temperature of the caves also makes them great for storing and aging wine and cheese, and for the cultivation of mushrooms. Click here and here for more info on the caves.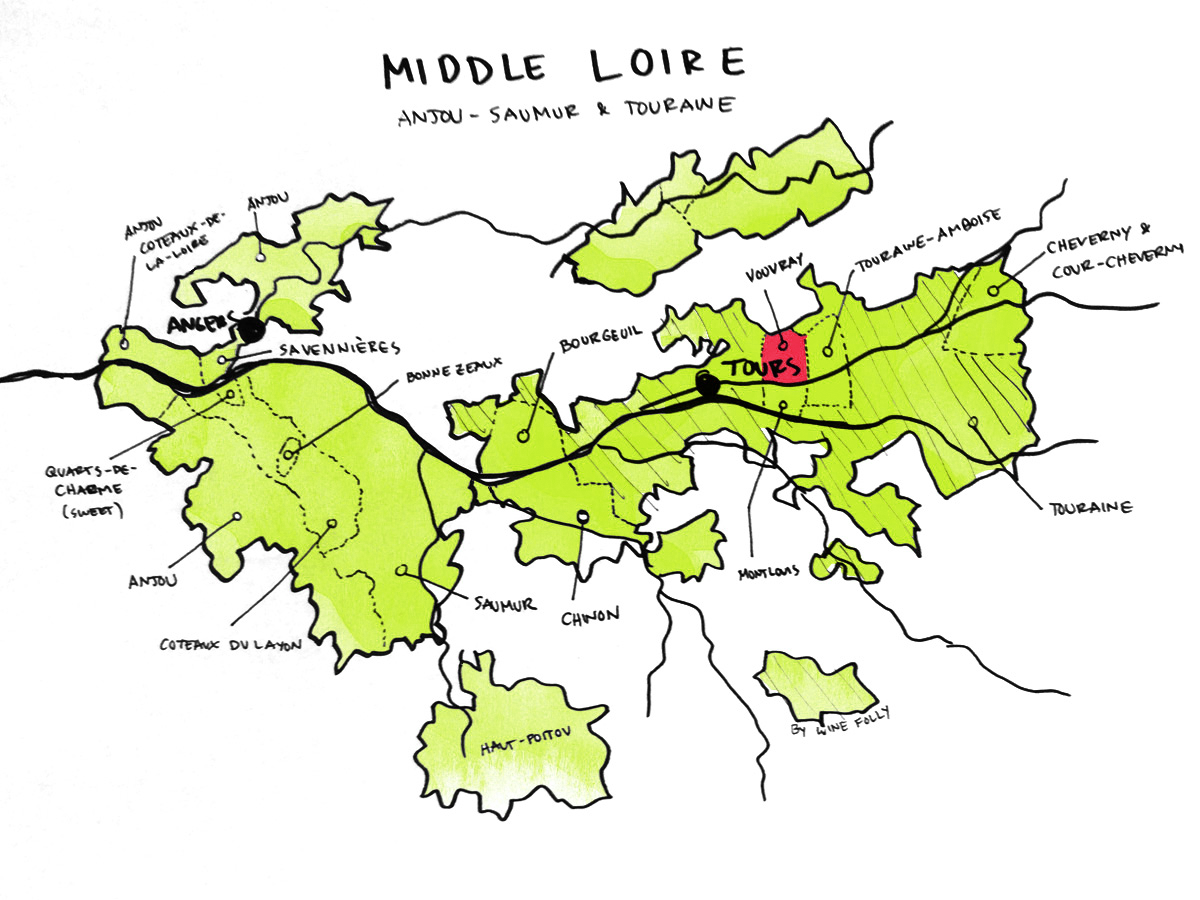 First, we'll toast our Loire tour-by-glass with a sparkling Vouvray.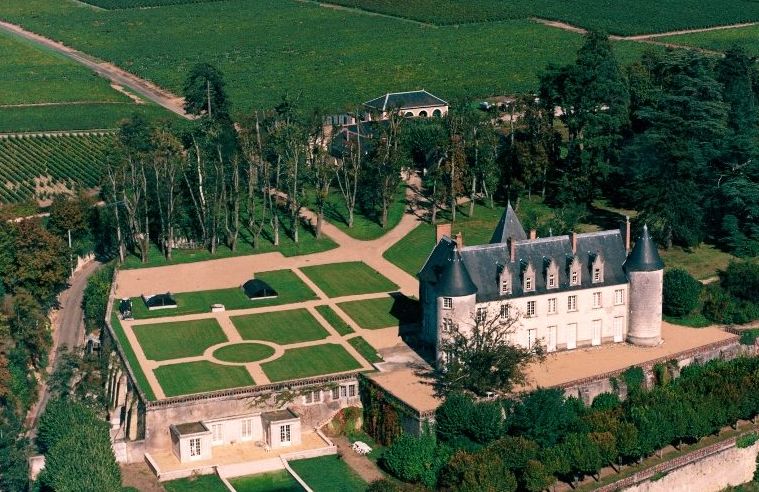 Moncontour Cuvée Prédilection Vouvray Brut 2017
Château Moncontour is one of the oldest estates in the Touraine region, originally constructed as outbuildings for the bishop's palace under Saint Martin during the 4th century. The current structure dates back to the Renaissance period when it was built as a gift to Agnes Sorel from Charles VII. It was partially destroyed by fire during the French Revolution, but was restored. Then in 1846 the Touraine-born author Honoré de Balzac became smitten with the property, and was determined to purchase it for himself and his eventual wife, Evelyne Hanska. He was in fact so smitten that he wrote a letter to Hanska with the opening line: "Moncontour est ma prédilection," translated below:
Wednesday, June 10th, 1846
Moncontour is my Predilection, I would like for you to come and see its beauty. It is one of the most wonderful views in the Touraine, and there is a village at Vouvray. If we could have Moncontour, all my plans would change. I would not furnish the Paris apartment so lavishly, we would wait longer; I would gather all of my efforts and focus them on the Moncontour castle, because we could live in it forever. If at some later time we acquire land, we must still come and spend autumns here, they are delightful. It would be our home for at least ten years, and we would spend December, January, February, March and April in Paris. You see, I was right to hold the funds available! We need 40,000 francs to buy Moncontour, because I would purchase it under a private signature to avoid fees, the owners would give me their mandate to sell and I would only pay rights for the parts I would keep.
As soon as I receive the answer, I will write to you! But as soon as I have to, I will sell the shares for 40,000 francs and Bassenge will cover the costs of the building. We will still have 100 shares in the Nord railway. But this will depend on a payment of 7,500 francs during the first days of 1847.
"Moncontour est ma Prédilection"
Honoré de Balzac
Although Balzac never managed to acquire Moncontour, he immortalized the Château in one of his works, entitled A Woman of Thirty (from The Human Comedy, scenes from private life), before dying at 51 in 1850, five months after marrying Evelyne. That's a little bit of a sad story.
Back to the present! Since 1994 the Feray family has been making wine here, as well as enhancing the château which overlooks the Loire River. The picturesque property extends over the hillsides into the heart of Vouvray, the small town on the northern bank of the Loire just east of Tours, and THE most important individual white wine appellation in Touraine. The Vouvray appellation wasn't created until 1936; before then most of the wine was shipped out for blending, and much of the wine sold as Vouvray came from anywhere in Touraine. As a rule (almost) Vouvray is Chenin Blanc, although up to 5% Menu Pineau grapes are theoretically allowed into Vouvray too.
Moncontour is now 130 hectares and boasts a museum dedicated to objects associated with the heritage of the château and region, including vineyard culture and wine making. Some of the approximately 3,000 items on display are pruning knives, ploughs, barrel toasters, camphor stone, and crushing and pressing machines, all laid out in those famous ancient limestone cellars and troglodyte caves.
Cuvée Prédilection honors Honoré de Balzac and the château's history. It's 100% Chenin Blanc, hand-harvested from vineyards within Vouvray and made sparkling via méthode traditionnelle, where the second fermentation happens in the bottle, just like Champagne; the wine rests on the lees between 18 and 24 months before being disgorged. Here the Chenin is influenced by the sedimentary rock and clay soils typical of the surrounding region of Touraine, producing a bubbly with distinct minerality along with a high level of acidity—as well as fruit—allowing this wine to age gracefully. We recently had the 2012, and it was stellar 10 years on.
According to the producer, "2017 was definitely better than 2016 (6% volume increase), but again worse than usual vintages in the Loire Valley. A giant frost at the end of April limited the final harvest. And also the lack of water during all summer made it difficult for the grapes to get enough juice. Certain estates got luckier than others. Chateau Moncontour was right in the middle with roughly 30% of harvest lost."
Five years on and this leesy, nutty, & lively Vouvray brut delivers, with nary a hint of its struggles. Bright minerality up front leads to apples and pears mid-palate, then winds together nicely with a long, toasted-honeyed-almond finish. It would be lovely with pasta with cream sauce, goat cheese, fresh summer salads, salty ham, or just your glass and a sunny disposition.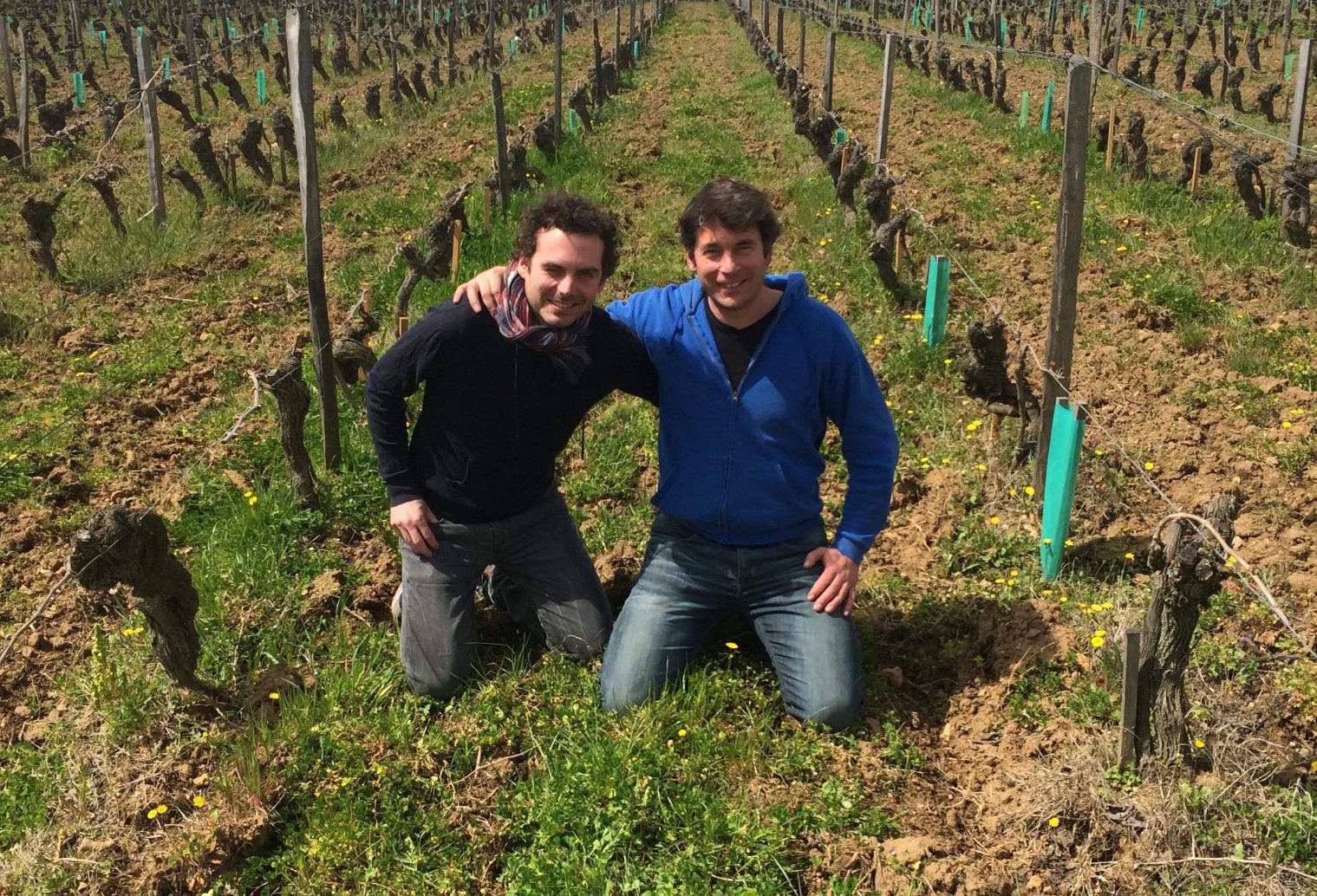 -Philippe & Nicolas, from Paris Wine Co site.
Domaine des Hauts Baigneaux Les Chênes Chenin Blanc, Touraine 2020
In 2012, longtime friends Nicolas Grosbois and Philippe Mesnier purchased 11 hectares of vines in Azay-le-Rideau, a relatively unknown terroir located between Vouvray and Chinon. You may be familiar with Nicolas' wines, as we've carried his Chinon and Gaillac (when the harvests are too small to make wine in Chinon) under the labels "La Cuisine de Ma Mère" and "La Cuisine de Ma Mère En Vacances…à Gaillac." Azay-le-Rideau is probably best known for the château of the same name, a gorgeous white-stoned castle on its own island in the river Indre. While most of the domaine's vineyards are located in Azay-le-Rideau on the lieu-dit "Hauts Baigneux," the domaine also owns a two hectare plot in Saché, close to the former studio of famed American artist Alexander Calder.
Upon purchasing the vineyards, Nicolas & Philippe immediately began farming all of the vines organically, setting about on an ambitious project to reintroduce the wines of Azay-le-Rideau, an area traditionally known for white wines made from Chenin Blanc and rosé wines made from Grolleau and Gamay. Grolleau is thought to have originated in Azay-le-Rideau, and Hauts-Baigneux is one of the few producers to make a 100% Grolleau Rouge—sadly this was sold out with the importer. Perhaps we'll get some next vintage!
The wines of Domaine des Hauts Baigneux are all produced with natural yeasts and are vinified with minimal intervention. Les Chênes comes from a blend of three parcels around the Azay le Rideau appellation in Cheillé and Vallère: La Surprise, Mezardière, and Clos de La Cour. Soils are clay on limestone bedrock, and the average age of the vines is 25 years. After harvesting by hand, the grapes are fermented in stainless steel tanks, then it spends 6-12 months in stainless steel tanks with 30% in 1200 liter French oak barrels called demi-muids. The wine is bottled unfined and lightly filtered.
This lively Chenin Blanc pours a bright honey-gold. On the nose you'll find crushed wet-stones and a hint of flinty smoke. On the palate it's dry, acid-driven, lean and zippy, with echoes of the same wet stones and a subtle hint of lemon, white flowers, and almonds. This is a refreshing summer white that will pair perfectly with seafood (especially shellfish), fresh salads with vinaigrette, traditional rillons, rillettes, and goat cheese…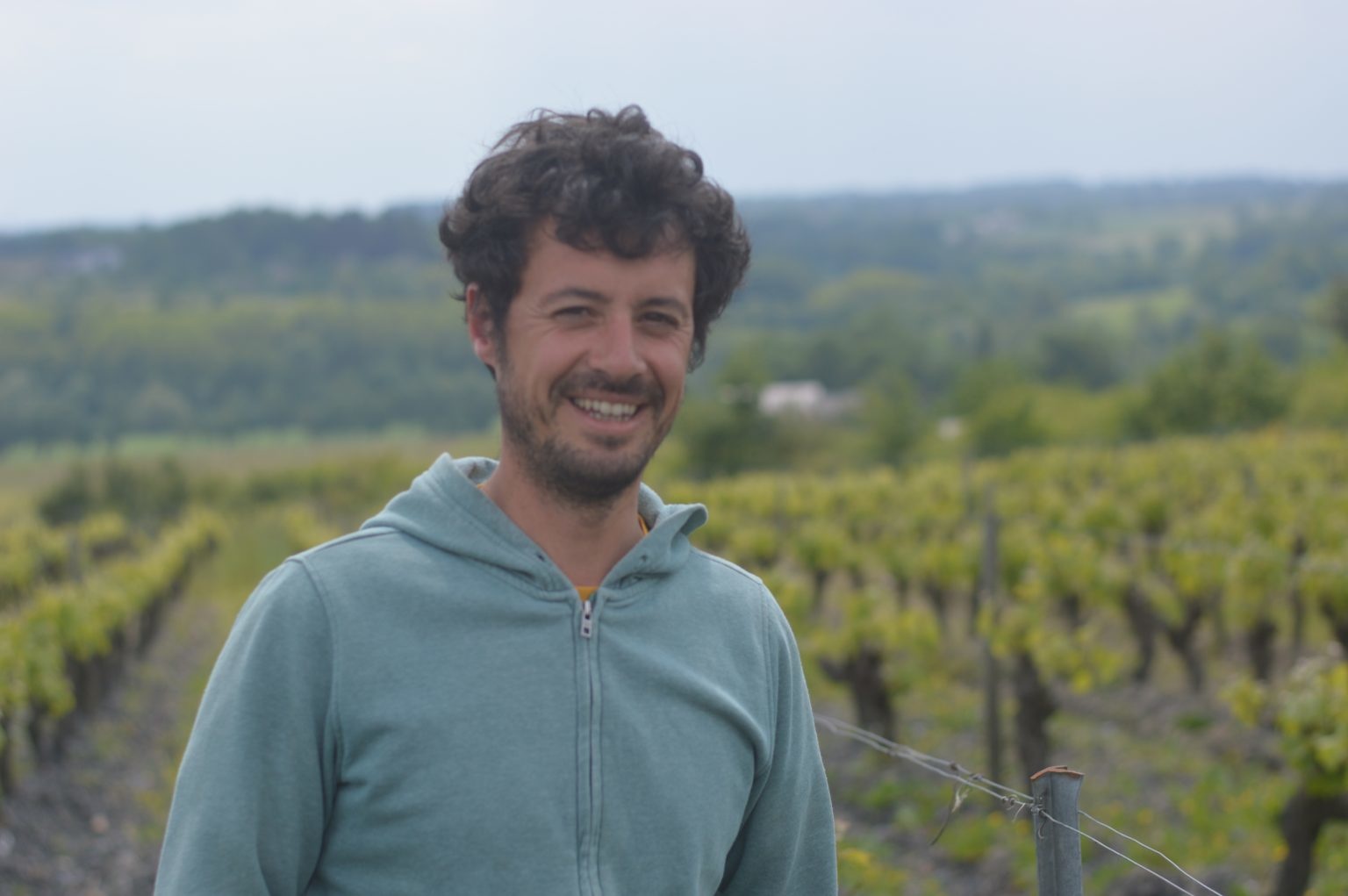 -Cédric Garreau, from Paris Wine Co site
Garo'vin Métisse Loire Rouge (Anjou) 2020
Cédric Garreau is a micro-vigneron with just under three hectares of vines around Beaulieu-sur-Layon, a tiny commune in the appellation of Coteaux du Layon, in the region of Anjou, just west of Touraine. Anjou's influence once extended all over northwest France. It was the birthplace of Henri II, and its wines were some of France's most highly regarded in the Middle Ages. In the 16th and 17th centuries the Dutch wine trade developed the sweet white wine production of the region still made today, especially in Quarts de Chaume, a miniscule enclave within the Coteaux du layon appellation. Here sweet white wine is made only in the best vintages and usually only as a result of noble rot from botrytized Chenin Blanc grapes or, more frequently these days, from grapes dried right on the vine. White grapes continued to dominate until the arrival of phylloxera in the 19th century, which decimated vineyards all over Europe. In its aftermath, a wide variety of less noble grape varieties were planted, including a number of hybrids. Now though, Chenin and Cabernet Franc with some Cabernet Sauvignon are the main grapes planted, with the total vineyard area having shrunk by a half from its peak.
Cédric makes tiny amounts of wine in a small stone building across from his home at the edge of the vineyards, which are all certified organic. His winemaking is traditional, with mostly old, used equipment that he buys from his larger neighbors when they purchase the new stuff.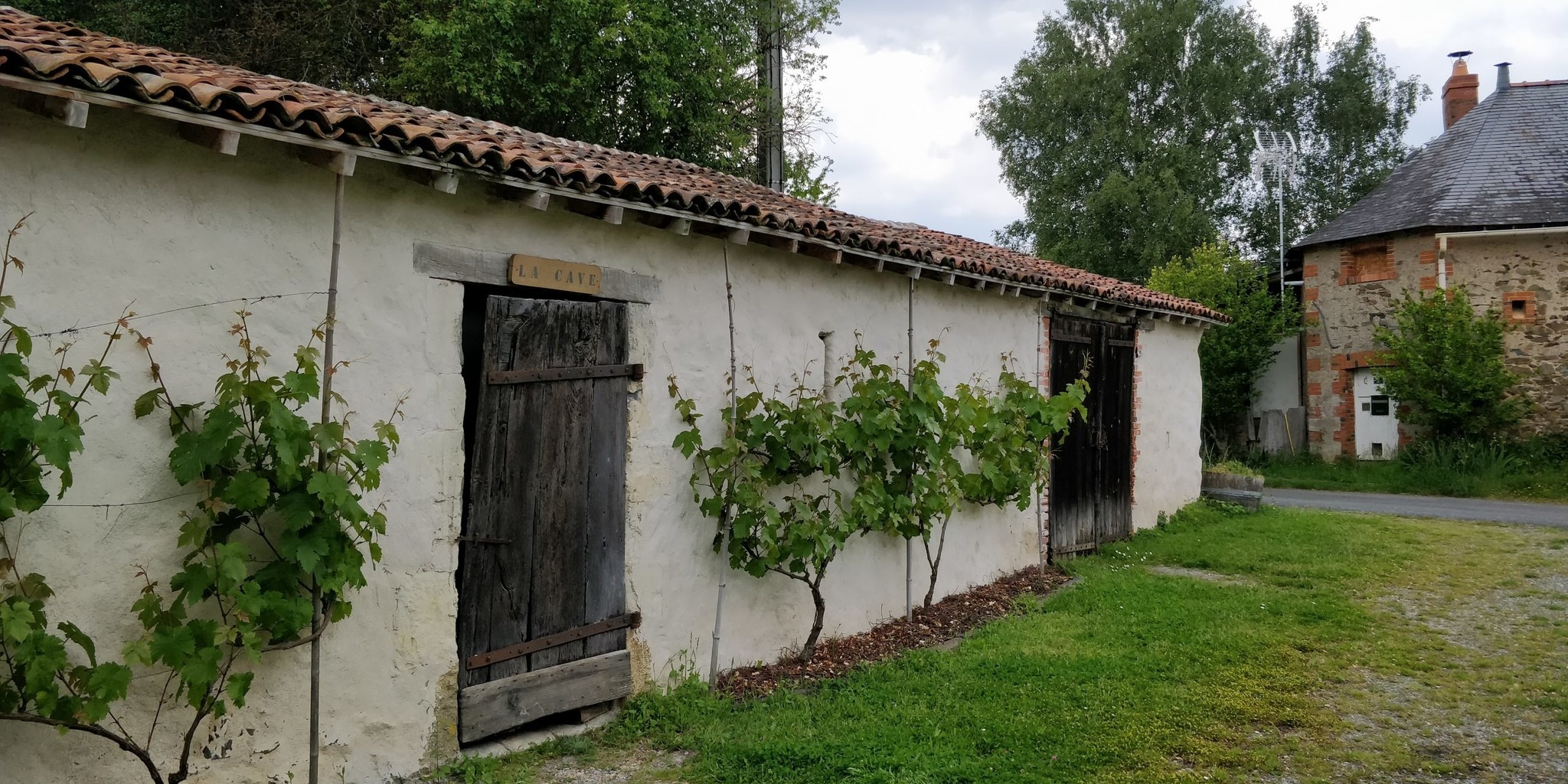 From his first vintage in 2010, Cédric's wines have been favorites amongst locals, especially when they are sold at the weekend barbecues he hosts at his winery. Originally Cédric made his Anjou Rouge from 100% Cabernet Franc and an Anjou Villages exclusively from Cabernet Sauvignon. Starting in 2018, against AOC rules, he decided to blend the two red grapes together to create this single red called Métisse, and to renounce his affiliation with the Anjou appellation in the process. A 100% dry Chenin Blanc, a carbonic Cabernet Sauvignon, and micro-cuvées of white and rosé round out this rebel selection.
Métisse is 70% Cabernet Franc, 30% Cabernet Sauvignon from two small vineyards: Les Gasneries (1ha Cabernet Franc in Beaulieu sur Layon), and Deux Buissons (0.3 ha Cabernet Sauvignon) in Saint Lambert du Lattay. The Les Gasnieres vineyard was planted in the 1930s and more vines added in 1982; the Saint Lambert vines were planted in 1977. After hand-harvesting, the vinification was with native yeast, and as usual, nothing else added. Métisse is then aged in used oak barrels for nearly a year before being bottled unfined, unfiltered, and without any added SO2. This wine lands on the "restrained funky" side of the natural spectrum. The nose has a touch of barnyard and bandaids, fresh, damp earth and wet leaves. It's earthy on the palate too, but the barnyard mingles with dried flowers…and a little bit of cured meat and iodine on a dusty finish. There's a lot going on in this humble red. Pair with charcuterie, chicken off the grill, crusty bread and cheese, etc.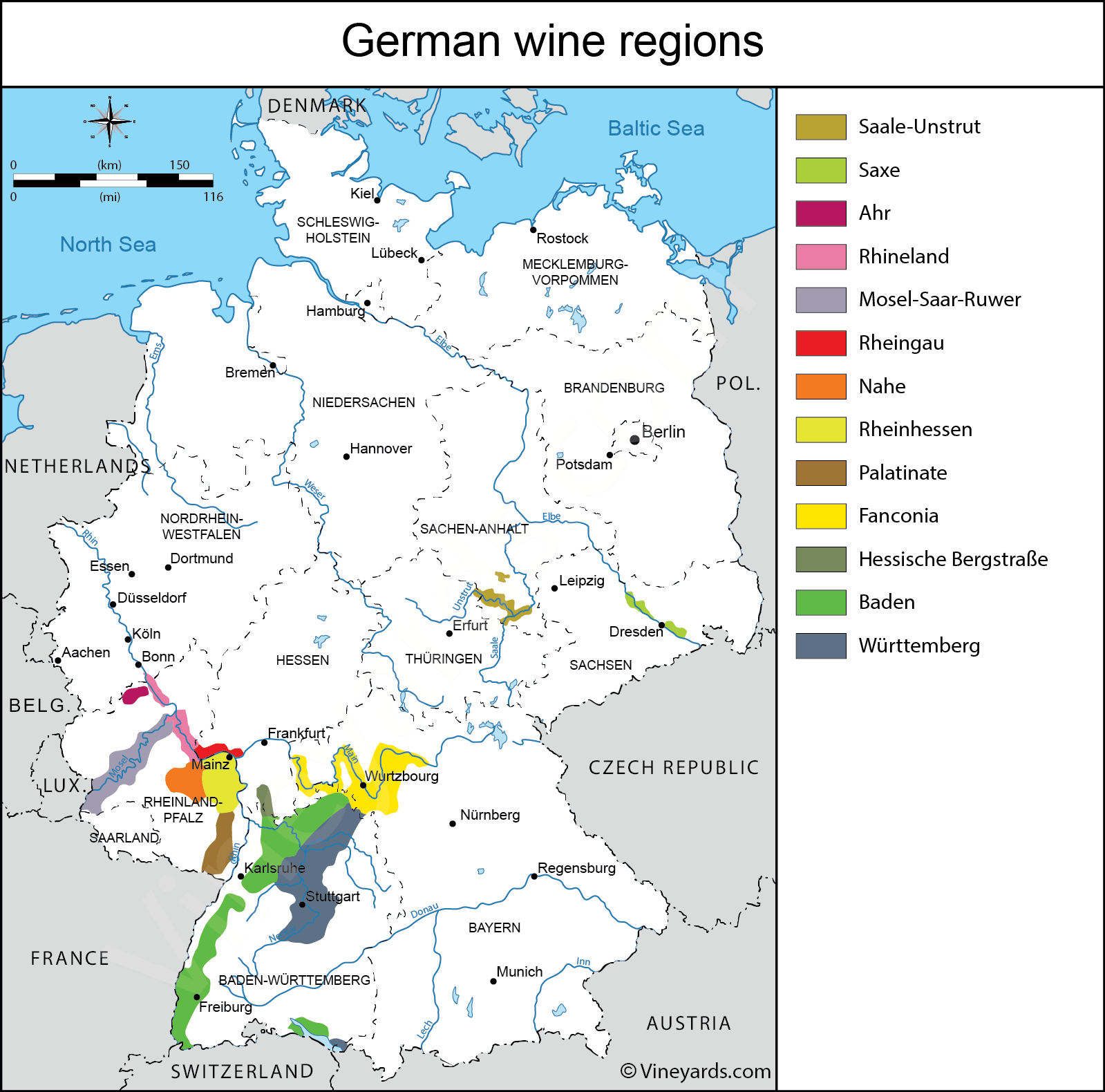 -map from www.vineyards.com
Weingut Peter Lauer Riesling Senior Ayler Fass 6 2021, Mosel, Germany
Mosel is a major German wine growing region, formerly known as Mosel-Saar-Ruwer. It's named after the Mosel (aka Moselle) River, which begins in France and flows into Germany where it corkscrews for 150 miles and then deposits into the Rhine on its way to the North Sea. It's along this winding river of impossibly-steep slate vineyards that arguably the best Riesling on planet Earth can be found. The extra elevation of the Saar means that it is generally cooler than in the rest of Mosel, but ripening fully has not been a problem with the rise of global temperatures.
Mosel is associated with some of the most long-lived wines that somehow manage to be as delicate as they are startlingly complex. The wines run the gamut from bone-dry to dessert-level sweet—but are always balanced by lip-smacking acidity. The total area planted has been declining slowly over the years, and except in the best-known vineyards, Riesling grapes command a price that only just covers the costs of farming the stony, sheer slopes with their densely planted and often, according to Jancis Robinson, "archaically trained" vines:
Some 6 to 7% of Germany's vines are individually supported by posts, particularly in the Mosel where tight spacing between vines on steep slopes is the norm. But this method is in decline as old vineyards continue to be subjected to flurbereinigung* [???] and workers with the requisite skills disappear. (More than one prestigious Mosel estate reports all of their vines being tied by a single woman well past retirement age.) [????] Elsewhere, vines are trained on wires in rows, often with wide spacing, although an international 21st century fashion for tight spacing is influencing German replanting.
Speaking of Flurbereinigung, some of the vineyards between the almost vertical spurs of rock were created in the 16th century with the aid of explosives, since the sheer steepness of the slopes made planting and bringing in earth-moving equipment nothing short of impossible. This was often a dangerous operation when there was a wine village below the blast line. The operating costs of these vineyards in Mosel are still among the highest in Germany. Vineyards associated with some of Mosel's most important villages also proved resistant to the late-19th- and early-20th-century ravages of phylloxera, and in those places 4 to 5% of vines are ungrafted (and could until very recently be replanted without grafting.) Planting without grafting is a dwindling practice so this proportion is in decline, as is average vine-age due to ongoing Flurbereinigung.
Flurbereinigung, refers to wholesale restructuring to which most of Germany's vineyards have been subjected since the 1950s, involving improved accessibility, grading, consolidation of growers' highly fragmented holdings, and of course replanting. Without this restructuring, many vineyards would long since have been abandoned as not economically viable to till. But the process—which must be agreed to by a majority of landholders who share its costs with the state—is often contentious. Owners of vineyards marginally located or extremely difficult to access are offered the opportunity of opting out, and some entire vineyards have been deemed too onerously steep and rocky to be amenable to restructuring. It is largely as a result of these two situations that ancient terraces and vines, some ungrafted, remain in certain sites, especially along the Saar and Mosel. - Oxford Companion to Wine

-5 generations of Lauers
Father and son Peter & Florian Lauer represent the 4th and 5th generation at Weingut Lauer. They make dry and off-dry Rieslings with less residual sugar than some of their neighbors, like Egon Müller and Hanno Zilliken. As Florian takes the reins, the focus continues to be on precision, minerality, finesse, and purity of fruit. Lauer utilizes natural-yeast fermentations, allowing the wines to "find their own balance." Most of the grapes are sourced from small parcels and sub-parcels on the hillside of the Ayler Kupp. Lauer bottles based on "fass", or cask numbers that are often aligned with the names of pre-1971 vineyard names.
In the Saar Valley around Ayl, the Riesling grape finds unique growing conditions between the poles of cool winds and hot slate slopes. In an effort to "wrest top quality from the steep slopes," only Riesling is vinified here, from spritzy entry-level up to Große Gewächse ("great growths") in the style of an almost 180-year-old tradition.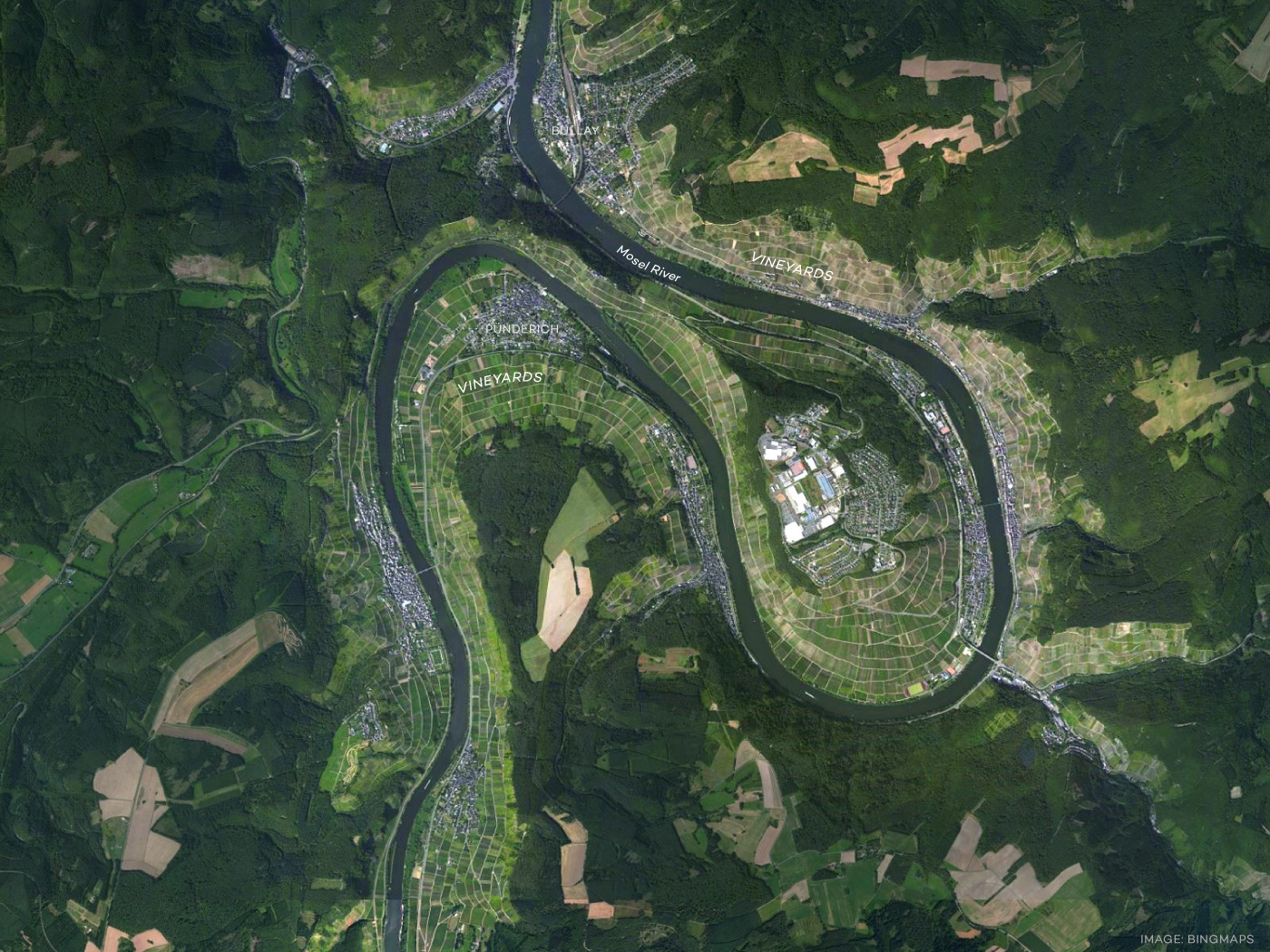 -Mosel River from above
The centuries-old grand crus Ayler Kupp, Feils, and Schonfels are among the top sites of the greater Mosel region and are still made by hand. From the natural, holistic management of the vineyards to selective handpicking and gentle whole-bunch pressing (as in Champagne), to spontaneous fermentation with wild yeasts in old wooden casks, the Lauers apply this maxim: authenticity and drinking pleasure!
In the vineyard, they don't use herbicides, pesticides, or copper, which has been shown to kill earthworms and microorganisms in their soil. Organic fertilizers from cattle and horse stables in their village are used on the slopes. Heavy machines are not allowed in the vineyards, as they unnecessarily compact the soil and impoverish the living organisms there. All of the Lauer wines are vegan.
About Fass 6 Senior, from importer Vom Boden: Here's the open, obvious secret: Lauer's "Senior" is one of the of the greatest values in German wine, and frankly white wine, period. While Lauer considers this a village-level wine (special Lauer label-reading tip: any bottle with a green circle on it is considered a village-level wine), the "Senior" is in fact a single-vineyard wine sourced completely from the Grand Cru Kupp. With an average vine age of around 70 years and a plethora of ungrafted vines, this is a wine that punches well above its price. It is Grand Cru for the price of village, plain and simple.
Senior is a nod to Florian's grandfather, who was already in the 1950s famous in the Saar Valley for his dry Riesling. As the story goes, he would walk through the cellar and taste all the barrels and then write "Senior" on the cask he wanted for his own drinking. Invariably he would choose "Fass, or barrel, #6," sourced from parcels in the cooler, western-most part of the Kupp. This is a wine that always ferments to just about dry…but then it's almost sweet, somehow managing to be both and neither simultaneously. You'll just have to taste it for yourself.
Riesling goes with everything.