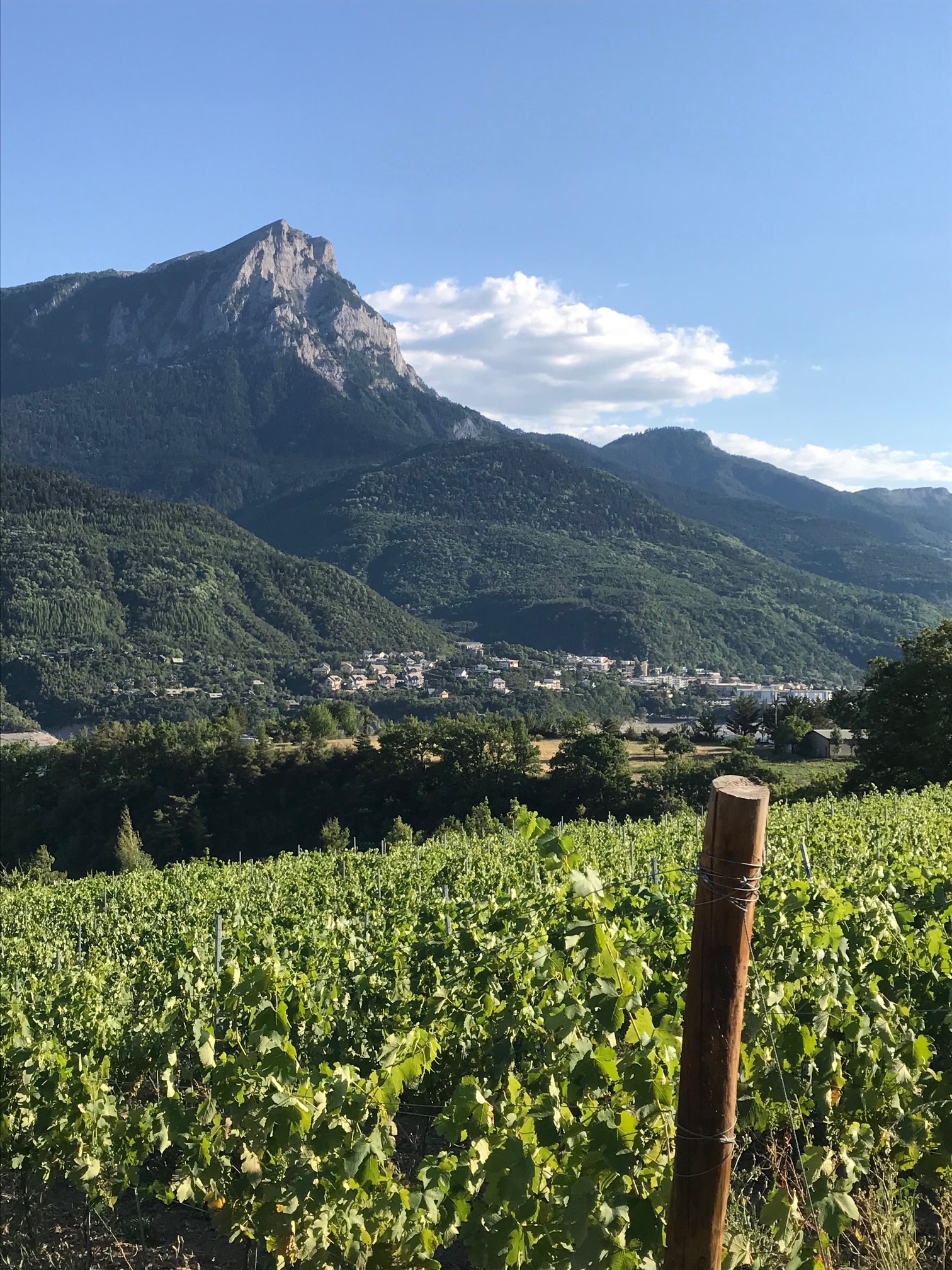 This month we bring back the importer from our first club back in March: Wine Traditions. Some of these producers were just discovered on their first French trip after a long Covid break. They visited far-flung southern and Rhone locales, picking up some gems along the way, including a brand new producer who works exclusively with very rare, nearly extinct grapes indigenous to their locale.
Wine Traditions was started in 1996 by husband & wife team Edward Addiss and Barbara Selig. Based out of Falls Church, VA, Wine Traditions focuses on small French producers making limited-production wines (and some cider & spirits) that are "expressive, delicious, and affordable."
More from Ed & Barbara: "As the portfolio has evolved, so has our understanding of the wine traditions of France. They are "rooted" in the land and brought forward through the cultivation and preservation of the vineyards for future generations. The "organic habit of re-creating what has been received and is handed on" allows the perceptive vigneron or vigneronne to give the land a powerful voice through the wines they produce."
Domaine de Clovallon En Noir et Blanc, Faugeres 2021
Domaine de Clovallon is a certified biodynamic, high-elevation property dense with old vine plantings of indigenous grapes. It's located in the village of Bedarieux, in the region of Languedoc-Roussillon. It's situated in Haute Vallée de L'Orb which refers to a small stretch of the river valley that runs east to west, with exposed hillsides and excellent southern exposure. Spanning geological periods from the primary to the quartenary, the Haute Vallée de L'Orb contains virtually every soil type found in France, and many of them are present in Clovallon's 10 hectares.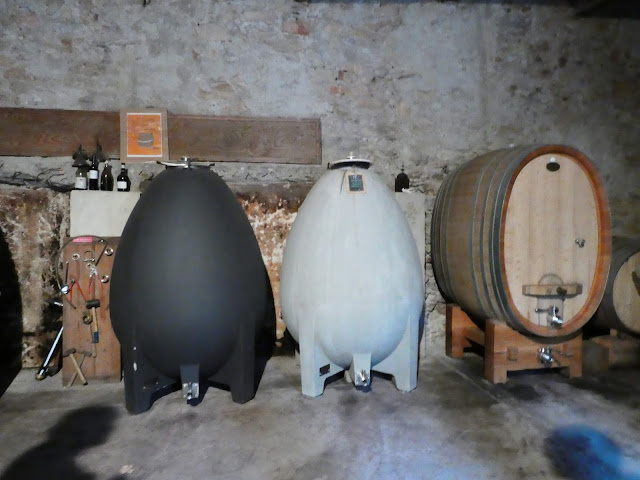 ~ image above from an article by Rosemary George.
Geographically, this expansive area reaches from Limoux (the cradle of sparkling wine which predates Champagne) to Costières de Nîmes, linking the appellations of Southwest France with those of the Rhone Valley. Sandwiched between the Massif Central mountains, the Pyrénées mountains, and the Mediterranean Sea, the varied areas of the Languedoc have very different terroirs including vineyards pushing up against mountain ranges with vines as high as 500 meters, and vines planted along the Mediterranean coastal plains—with endless scrubland in between. In addition to a range of terroirs that span geological periods from the primary to the quaternary, there are significant differences in rainfall, humidity, hours of sunshine, and wind, that all influence the individual vineyards. Grapes have been grown here for centuries, with some vineyards originally planted by the Greeks in the 5th century BC, and there are prehistoric fossils of grapevines in the caves outside Montpellier.

Catherine Roque (pictured above), also of Mas d'Alezon in Faugeres, is a pioneer in natural winemaking in Languedoc. She saw the promise in this somewhat unsung region and planted varieties that aren't typical here, such as Pinot Noir, Chardonnay, Petit Manseng, Reisling, Viognier, Roussanne, Clairette, and Petite Arvine. She fully embraced biodynamic farming, and now both of her properties adhere to the practice. Her wines are produced with indigenous yeast, without sulfur, and are bottled unfiltered and unfined. Catherine's daughter Alix is involved in the production at Clovallon. In the vineyard, the Roques use fertilizer from their neighbor's cows along with a mix of valerian and dolomite. In between the rows, the natural grasses are left to grow and Alix is contemplating buying a few sheep to help with the "mowing." They already employ the help of their chickens.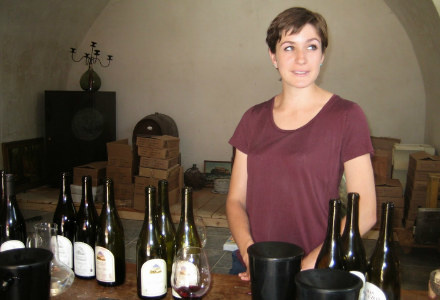 ~pictured above, Alix Roque
En Noir et Blanc is a unique blend of Pinot Noir, Riesling, and possibly a dash of Viognier—it's there in some vintages, but it's not specified so far with this one. The Pinot is vinified in old oak; it's not clear what the white grapes are vinified in, but perhaps it's concrete eggs, which Catherine tends to favor over stainless. The wine pours a beautiful straw yellow color. On the nose, it is expressive and intriguing, with notes of yellow fruits, honey, and a pleasant just-barely oxidative note. On the palate, creamy ripe fruit is at the forefront but there's a lovely tension between the fruit and a snappy, crisp-apple acidity. The finish offers a welcome (and food-friendly) touch of bitterness, as well as apricots and the subtle note of honey again. Like all the wine at the domaine, En Noir et Blanc is made without SO2 and is bottled unfiltered and unfined, so it will drop some sediment. This is a wine that should be enjoyed in its youth when the ripe fruit and gentle acidity would be most appreciated.
Have as an aperitif, with monkfish with saffron, tomatoes with fresh mozzarella and basil, salty ham, cheese platters, etc.
Domaine Salel & Renaud, Ardèche Cévennes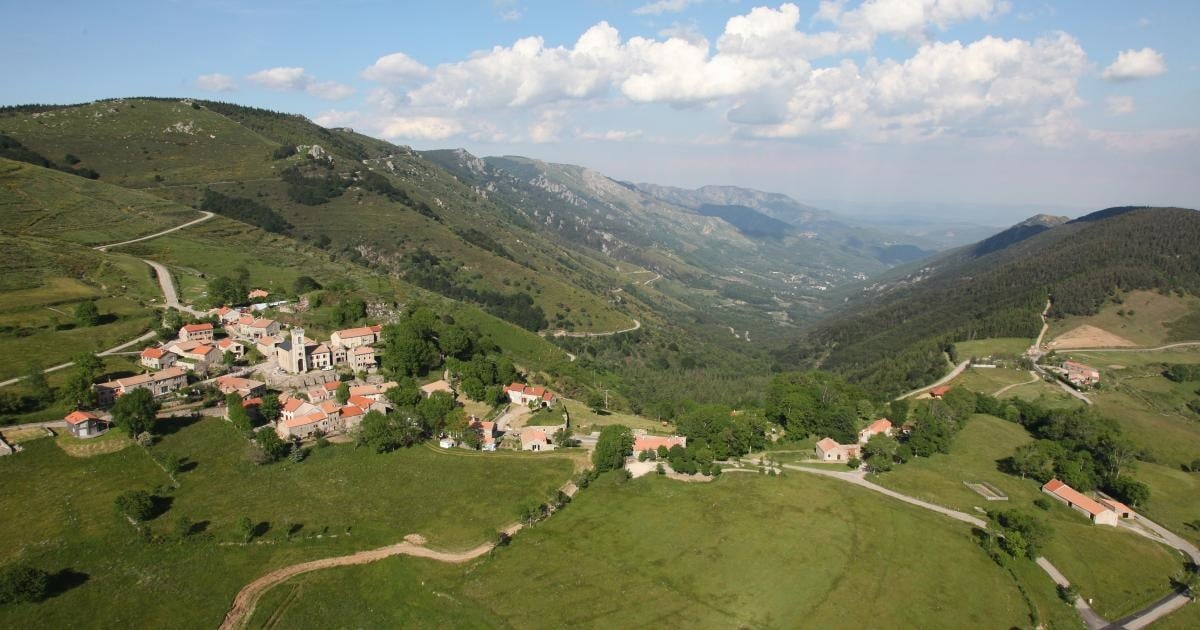 Cévennes Ardéchoises, ©C.Fougeirol
Elise Renaud and Benoit Salel met while in school studying winemaking. They share a love of wine but also a love of the Cévennes Ardéchoises, the mountainous region on the south-east side of the Massif-Central where they both have roots. Ardeche is another largely unsung region on the right bank of the Rhône between the main concentrations of vineyards in the northern and southern Rhône Valley in south-east France. Reds tend to be on the lighter side, and are frequently Syrah or Syrah based. Chardonnay and Viognier are two white grapes that have been successful, the latter mostly due to Louis Latour of Burgundy fame staking an early claim here with Grande Ardèche Chardonnay. It's a bit ubiquitous but it's not bad.
Elise and Benoit had no family estate to take over, so in 2007 they purchased 3 hectares which became Domaine Salel et Renaud in 2008. Since then they have been doing the painstaking work of ampelographic archivists to find and replant old varieties which were once grown in the Ardèche Cévennes. Like many of the more rural areas of France, the indigenous and ancient grape varieties of the southern Ardèche fell into oblivion. Along with the more familiar varieties that are found in appellations throughout the Rhône region, Elise and Benoit have patiently cultivated unknown and nearly extinct varieties such as Chatus, Dureza, Raisaine, and Picardan. For them, these indigenous grape varieties are the soul and identity of the Cévennes Ardéchoises:
"We are convinced of it, in Ardèche there are the terroirs of tomorrow, which have all the qualities to produce great wines. Wines that tell of landscapes, that tell us about soils, grape varieties and history. Wines to share, drink, and love…We live in a postcard. Each vine is located in an island of nature, there are oaks and chestnut trees. We are in the middle of the woods, in the heart of a wild and preserved nature.There is nothing to invent, the future is simply what has been forgotten."
We've chosen two Renaud et Salel wines of previously unknown-to-us varieties for this month's wine club: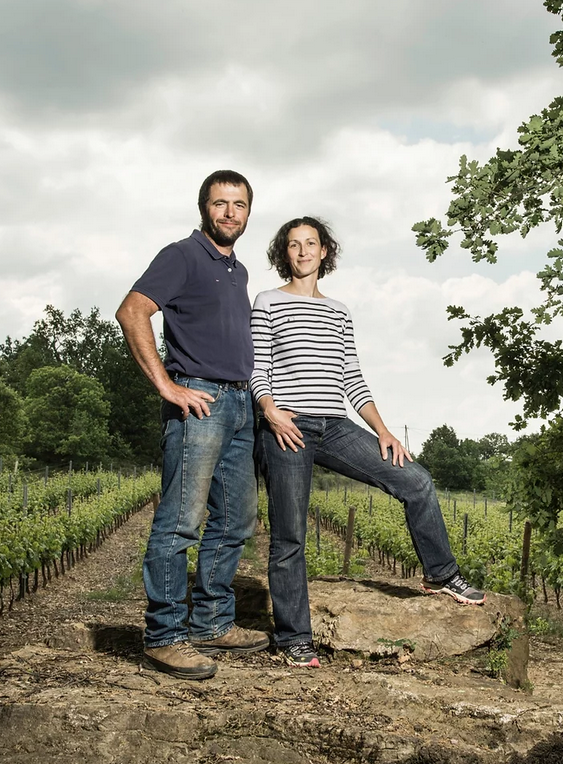 Domaine Salel & Renaud Testaire Raisiné Ardèche Blanc 2020, Coteaux de l'Ardèche – IGP* Ardèche
Made from 100% Raisaine. This grape variety originates from the Joyeuse - Largentière sector of the Cévennes Ardéchoise, and to their knowledge, Elise and Benoit are the only ones making wine from this grape. Before 2017, a local cooperative planted an experimental plot of Raisaine to assess its potential but quickly abandoned the work. Elise and Benoit took over the cultivation of the vines in 2017, and on December 8, 2018 Raisaine was officially listed in the catalog of cultivable grape varieties in France. "We are a little 'stubborn' ("testaire") and when we believe in something, we go through with it, even if we are alone." The harvest is manual with sorting done in the vineyard. The vinification is in vats, followed by aging on the lees.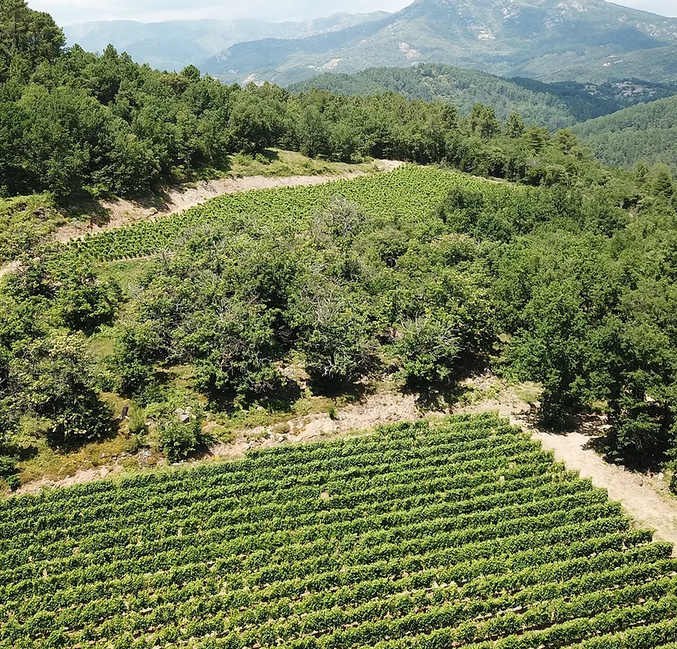 Testaire is a singular white wine with fresh notes of wet stones and oily herbs on the nose. On the palate it's restrained but hints at crisp apples, barely-ripe pears, and those herbs again…and at the same time it kind of nods to Sauvignon Blanc, but without the bells and whistles. This is an understated dry white that doesn't scream for attention but makes you want to know more. It would pair nicely with fish poached in olive oil or something along those lines, nothing too aggressively spiced…
Domaine Salel & Renaud Syramuse Coteaux de l'Ardèche Rouge 2020
Made from 100% young vines Chatus, a grape variety originating from the Cévennes Ardéchoises. Before phylloxera, Chatus was cultivated in Ardèche but also in Drôme and Isère. In the Drôme, it was called "Corbel" or "Syramuse" and was grown on the slopes of Hermitage, where it has since completely disappeared. Genetically Chatus is part of the Serine family which includes Syrah, Viognier, Roussanne, Dureza, Mondeuse, and Marsanne. This is a lively, smooth wine full of fresh summer fruit, but this wine (and the next) benefits from a bit of air; give it a minute to let the slightly funky nose blow off and it will reveal all of its charms. Again, this isn't necessarily one for cellaring for a long time, but it's an easy bistro/backyard-style red.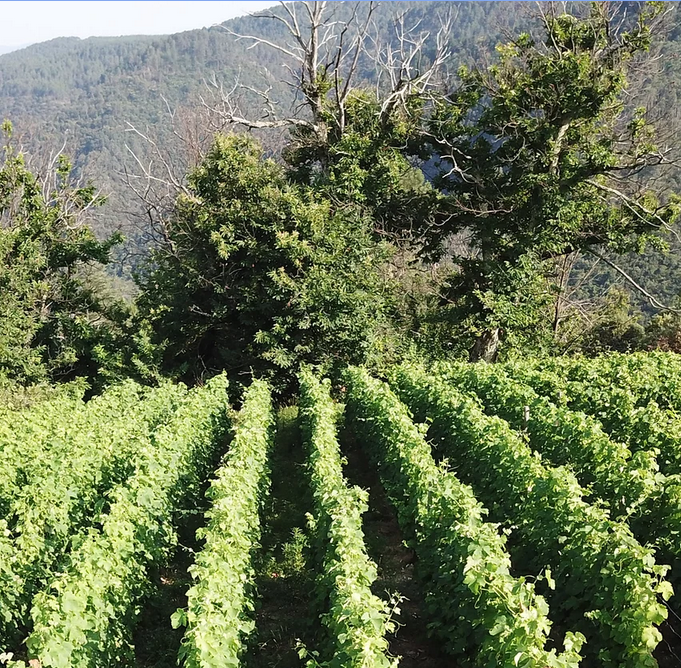 *IGP, short for Indication Géographique Protegée, which has been taking over from the old Vin de Pays. To qualify as an IGP, a wine must not be blended across zones, must be produced in limited quantities, must be made of certain specified grape varieties, must reach a certain minimum alcoholic strength, must be from a specified area, and must be submitted to a tasting panel. By 1993, more than one-fifth of all wine produced in France was sold as a Vin de Pays of some sort and now stands at about 30%.
Campagne Sarriere Patience Rouge de Luberon 2020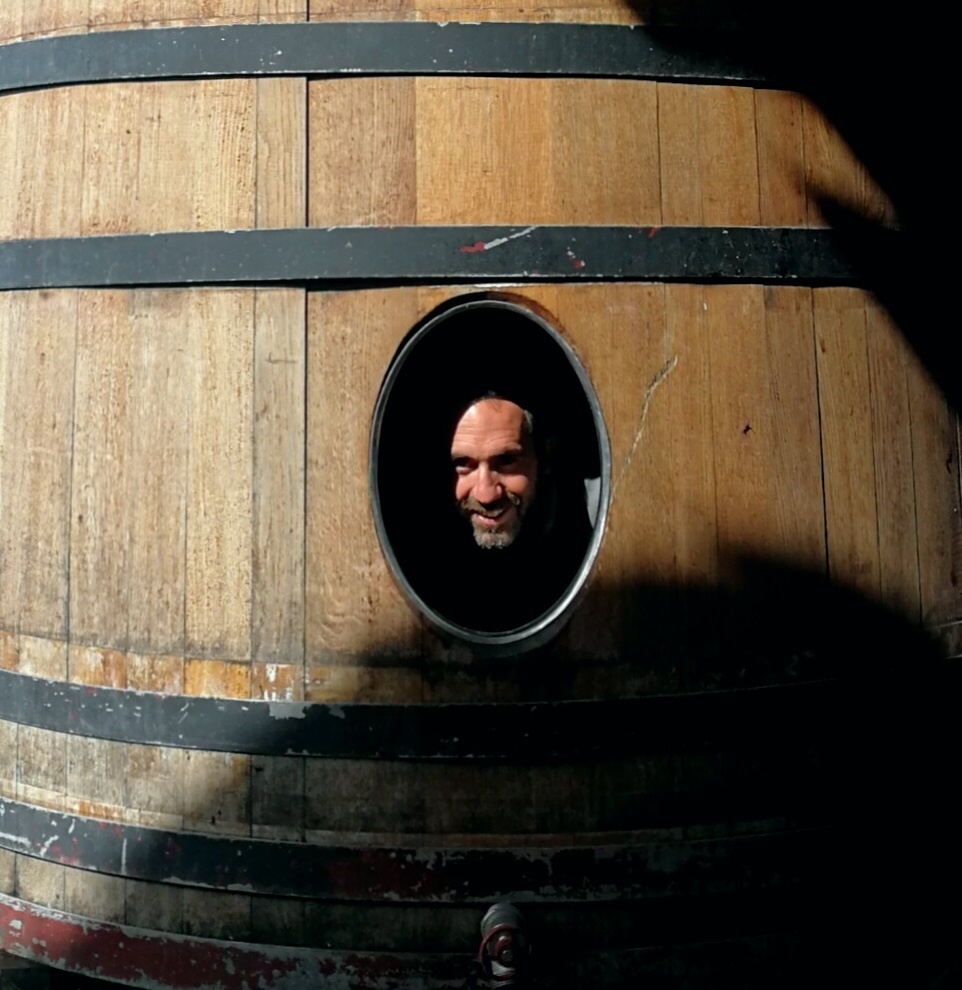 Campagne Sarrière is a 7ha estate comprised of a number of small and remote plots in the villages of Peypin D'Aigues, St Martin de la Brasque, and La Motte d'Aigues, all on the south side of the Mont Luberon and with an average elevation of 450 meters. This is an area close to Provençe that is distinguished by its rich architecture of stone hamlets, and by the many waterfalls that flow from its massive forests. The Côtes du Luberon didn't receive AOC classification until 1988 and is still a bit off the beaten path and is rarely visited by wine professionals. The surface area is spread out among 36 villages and the total hectares under vine are fewer than in Châteauneuf-du-Pape; the entire appellation is contained within the protected zone of the Parc Naturel Régional du Luberon.
After working for domains in Provençe and elsewhere, Ludovic Blairon established Campagne Sarriere in 2017 with the goal of creating an integrated farm that includes diverse crops and animals. He farms according to biodynamic principles and the winery is certified organic; he is one of a small group of vignerons who does not plough his vineyards, preferring to leave the ground completely undisturbed with the exception of cutting the natural grasses twice a year. Ludovic says that his winemaking techniques are original and leave room for improvisation, all in the service of creating wines with a strong personality.
Patience Rouge is made from a single low-yielding parcel of Syrah surrounded by oaks and pines at 400m elevation. The grapes are hand-harvested and fermented in old foudres using indigenous yeasts; the wine is then aged for 12 months in 600L foudre before being bottled by hand, without filtration, and with just 1.5g/L of SO2. This is a classic smoky, bacon-y, black-peppery Syrah with dried-herbs and lots of dark fruit, finishing with earthy, grippy tannins. We had this wine open over 3 days and it never lost an ounce of its appeal, but it did soften up some, and the ripe fruit glossed over the earthier notes—in a delicious way. We could see this wine aging nicely over the next 5 or so years. Have it with the obvious grilled lamb, or French lentils or white beans with garlic, thyme, rosemary….cheeses to pair with Syrah include some blues like gorgonzola, aged cheddars, camembert…