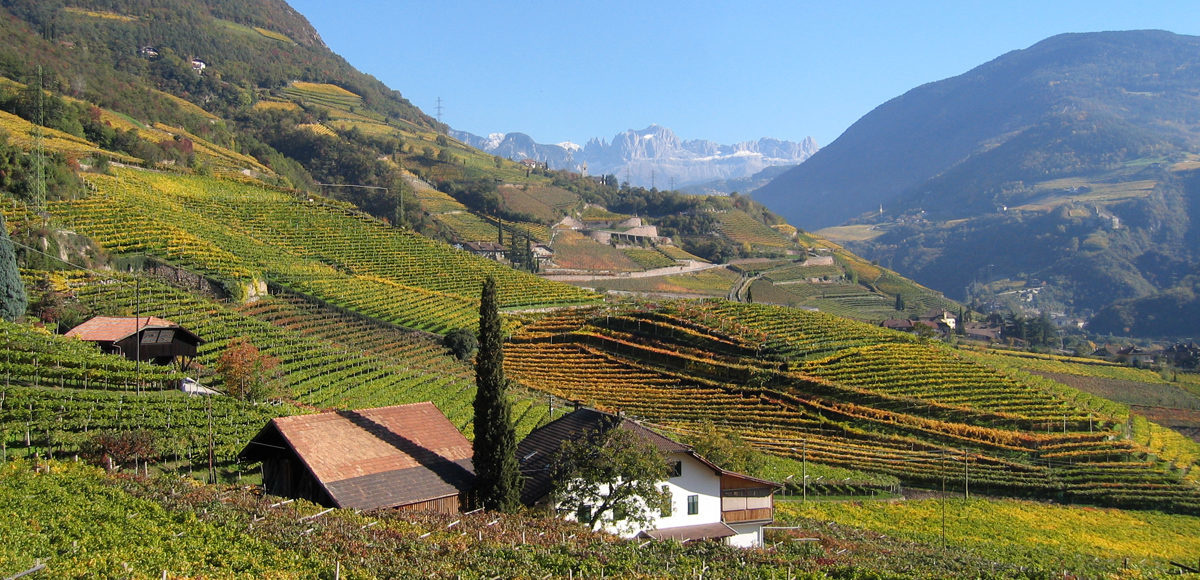 Pictured above: Untermoserhof, Alto Adige
MONTHLY WINE CLUB • APRIL 2022
Schatzi n. (SHOT-zee). From German, a diminutive of schatz, a term of endearment, literally and figuratively "little treasure." Casually, schatzi is a term meaning a close friend—someone with whom you have fun, confide in, and trust.
This month's wine club features three wines from importer Schatzi, and—just to shake things up a little bit—a lovely Italian vermouth from Kermit Lynch.
Founder Kevin Pike spent a number of years in Paris after earning an English Degree from Swarthmore College. Upon his return to the states, he assumed he would pursue a literary career, but, as happens to so many of us, life took him in a different direction.
Kevin became an early champion of the great wines of Austria, Germany, and the grower-producer movement in Champagne. In 2000 he joined the Skurnik brothers in NY, and over the next 13 years, while working closely with importer Terry Theise, he helped to build the German, Austrian, and Champagne offerings within their book. In 2014 he left Skurnik to start Schatzi Wines with his closest friend, Rheingau winemaker Johannes Leitz.
Mark Hutchens also brings his northern European expertise to Schatzi, having once managed the Terry Theise Portfolio in NY, and in Chicago he oversaw the Austrian portfolio at Vin Divino. Mark trained as a musician but walked away from that in pursuit of wine. Mark asserts that "those very fine nuances in wine that help us identify a wine's origins also apply to the concept of timbre" — particularities of tone and resonance. "I believe everybody is created with the equal ability to understand wine, in the same way everybody is able to hear the differences between a trumpet and a flute."
Today Schatzi represents environmentally conscious, small-scale producers from Austria, France, Germany, Italy, Luxembourg, Slovenia, Switzerland, and New York who "make wines that respect the earth and give voice to terroir."
Kermit Lynch almost needs no introduction, having been on the importing scene since the late 70s. Based out of Berkely, CA, Lynch pioneered using refrigerated shipping containers to bring wines to the United States, which saved many wines from heat damage and became standard practice. The bulk of his book is French, with a lesser amount of Italian; very few spirits or liqueurs are represented, so when they are, we know they'll be good.
We hope you enjoy this selection! If you'd like to share feedback, you can email us at [email protected]
Happy Sipping!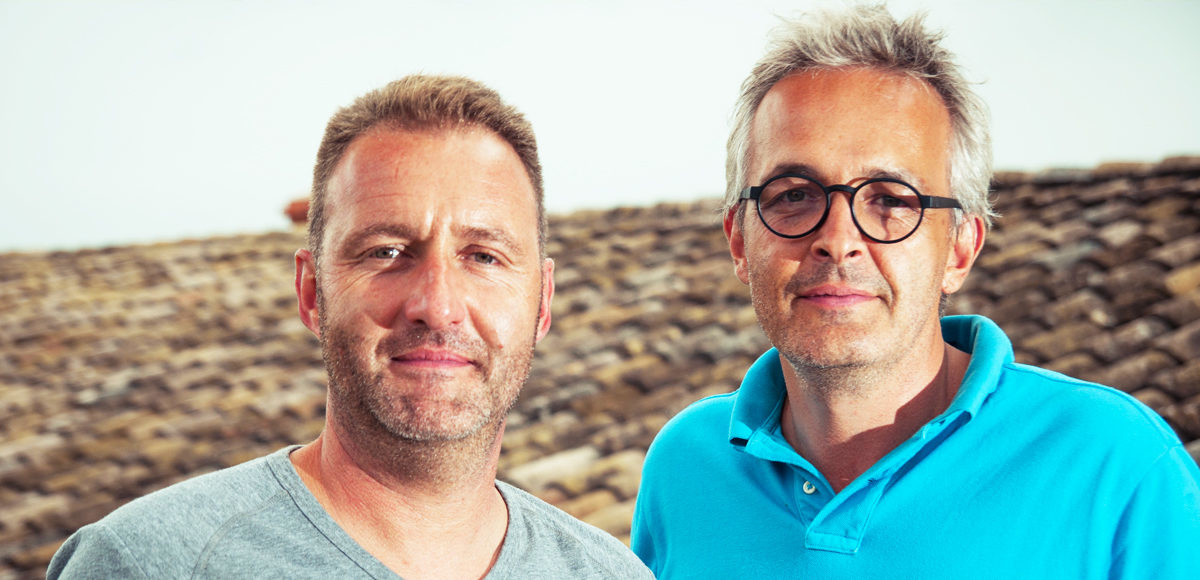 Pictured above: François Lequin & Matthieu Ponson
Domaine des Crêts Macon-Village 2019, Burgundy, France $30.99

Domaine des Crêts is a collaboration between François Lequin, an established winemaker at his family's Domaine René Lequin-Colin in Santenay, and his friend Matthieu Ponson, a wine lover from Cornas with a background in engineering, who also made wine in Vaucluse. When the two were introduced they discovered a shared goal of owning vineyards in northern Mâconnais and cultivating wines of Côte d'Or quality there.
The Mâconnais, tucked between the Côte Chalonnaise to the north and Beaujolais to the south, is a landscape of rolling limestone hills interspersed with farms dedicated to livestock and cereal and vegetable crops; this mixed agriculture sets the region apart from much of the rest of Burgundy.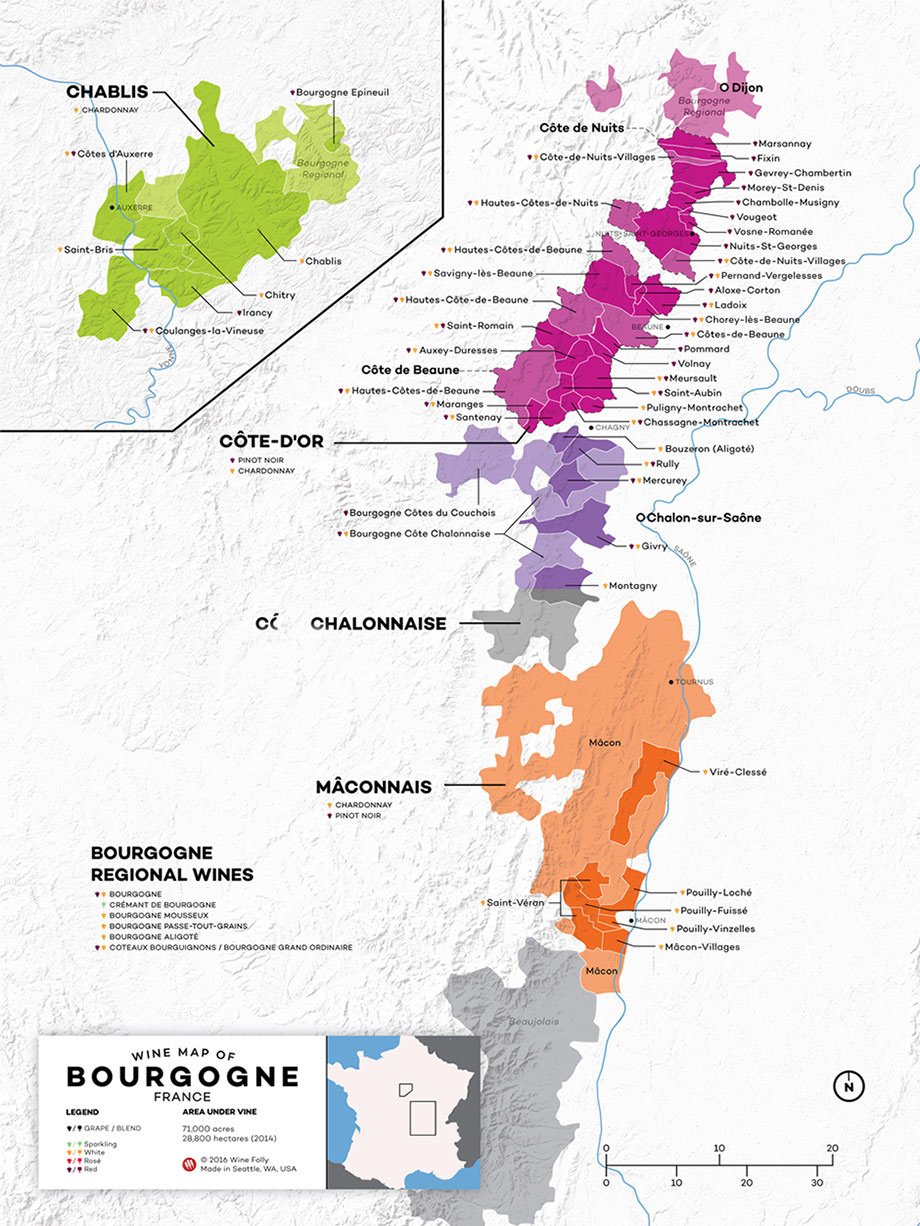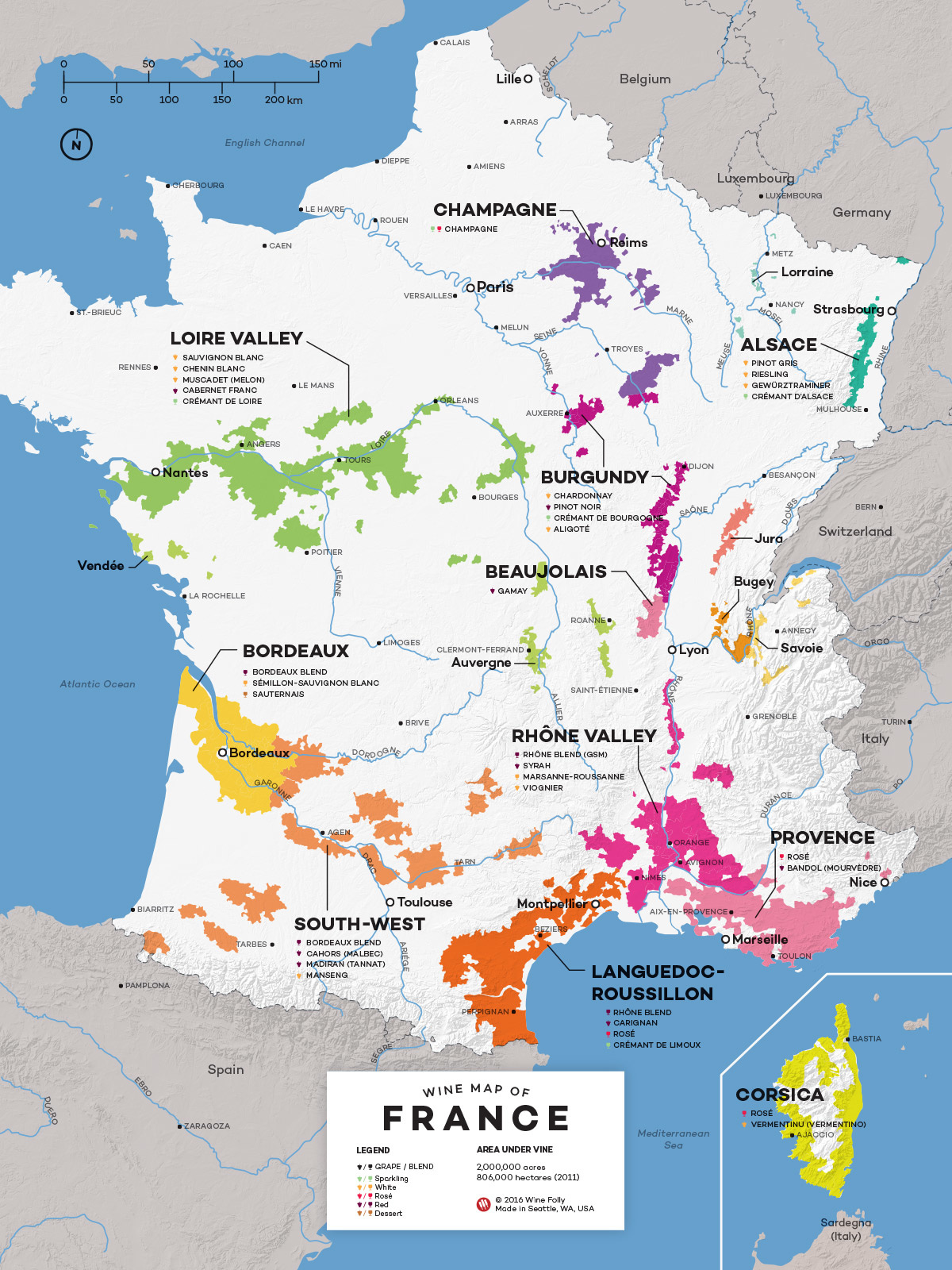 The des Crêts vineyards are at 250-300 meters (820-980 feet) above sea level, within the "Mâcon-Chardonnay" commune, corresponding to the area between the villages of Lugny and Ozenay in the far north of the Mâconnais. The region has a warmer, sunnier climate than the Côte d'Or (which until recently protected it somewhat against frost), but the argilo-calcaire dominant soils are similar. The grape here is Chardonnay, and the commune itself is thought to be the cradle and the namesake of the variety. "The vineyards became known thanks to [nearby] Cluny, as well as Citeaux, abbeys. The monks allowed for the advance of viticulture but also the visibility of the wines of Burgundy," François notes.
With François & Matthieu's combined experience and resources, they were able to take over the former Domaine Pascal & Sylvie Pauget, and in 2014 made their first vintage as Domaine des Crêts. They farm the 4 hectare domaine organically and emphasize restricted yields (sadly made much easier by climate catastrophes––2020 was miniscule, and there is no 2021 vintage), native yeast fermentations, and deliberate must oxidation in order to avoid premature oxidation later in the bottle. Premox, as it is known, is a wine phenomenon that mostly affected white Burgundies from the 1995 vintage onward.
From Decanter Magazine:
Wines that ought normally to have been capable of maturing over a long period, even from top-flight producers, were found to be showing signs of oxidising and tiring well before one might reasonably expect them to – colours dulling or fading to brown, fresh fruity aromas and tastes disappearing to be replaced by bruised apple, honeyed, waxy or stewed fruit characters.
The reasons behind the premox phenomenon were much debated and disputed at the time, and it's still not really known for sure what combination of factors may have been the cause.
…Climate change and its effects on the ripening of grapes (no doubt less understood 25 years ago); moves towards organics and changes in chemical treatment regimes in vineyards; shipment and storage through the supply chain and in consumers' homes or cellars; batch variation; bottle variation… all possible culprits, or contributory factors for premox.
Although the cause of premox remains unclear, the issue seems to have abated over the ensuing years, as winemakers have figured out different methods of avoiding it. What François and Matthieu are doing (which also includes hand picking, strict sorting, & aging in old oak) is working on all levels.
This Macon-Village is all fermented in oak but only 10-15% new, with native yeast. The grapes come from both climat parcels of "L'Echenault de Serre" and "En Bout." After alcoholic and malolactic fermentation, the wine is matured for 14 months, 11 in oak (10% new) followed by several months in stainless before bottling. It drinks like a baby Meursault. Such elegance, texture, tension, energy, and richness. This wine outdoes itself. Pair with pork, poultry, and fish, or hard and/or mature cheeses like comte, aged cheddar, gruyere…
Here's a video of happier times in 2015 when they had fruit to harvest...let's hope 2022 is kinder to them.
Next up, three Italians, from Campania, Trentino-Alto Adige, & Piedmont: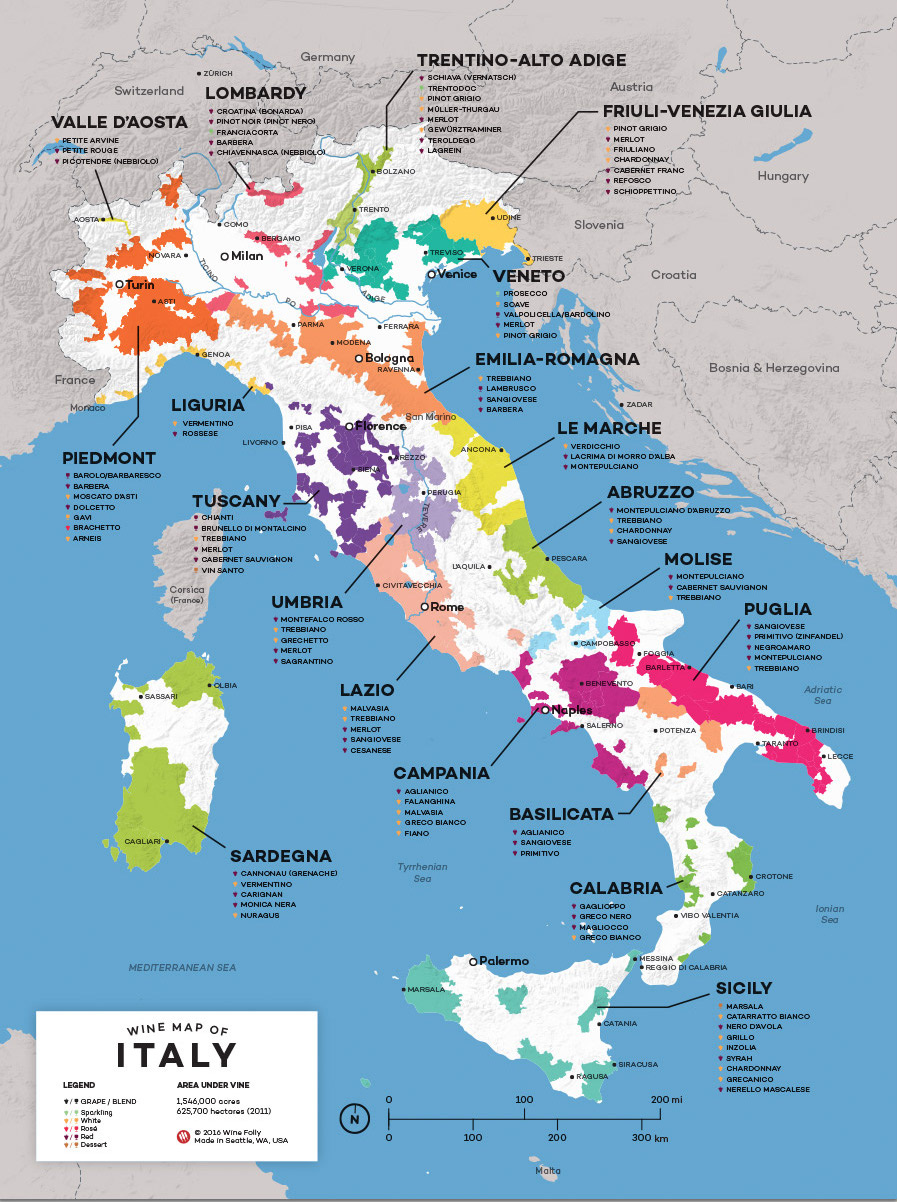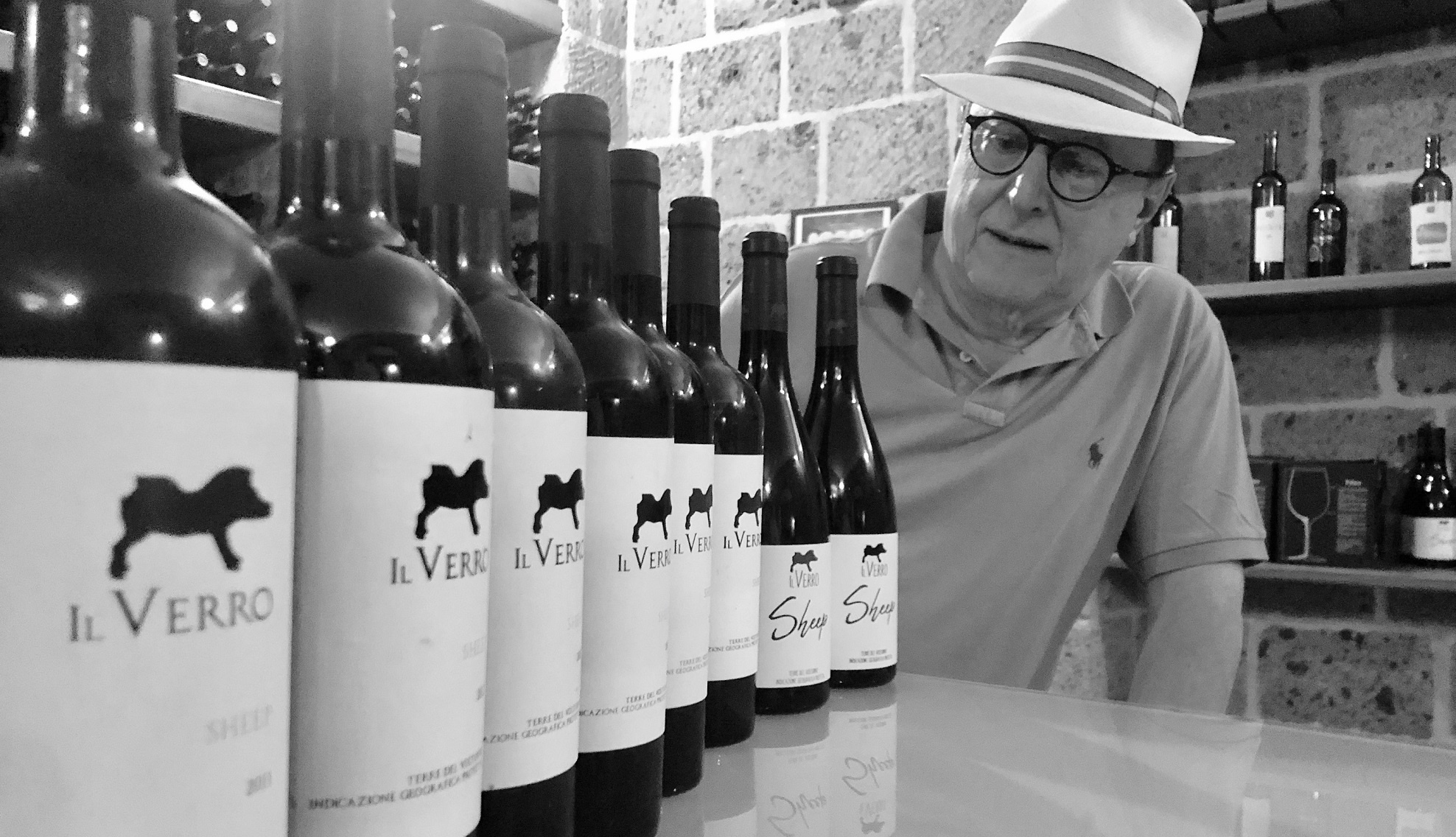 Pictured above: Cesare Avenia
Il Verro Virginiano Pallagrello Bianco 2019, Terre del Volturno, Campania, Italy $32.99

The Il Verro Winery is located in Caserta, Campania, in southwest Italy, at the foot of the Monte Maggiore Mountain. The winery is in the northern part of the region, between the mineral-rich Riardo basin, famous for Ferrarelle mineral water (which arrives on tables after it journeys down volcanic slopes, through the earth, and back above ground through the only cold water geyser in Europe), and the Volturno valley, an area almost unknown to tourists but apparently very popular with ducks.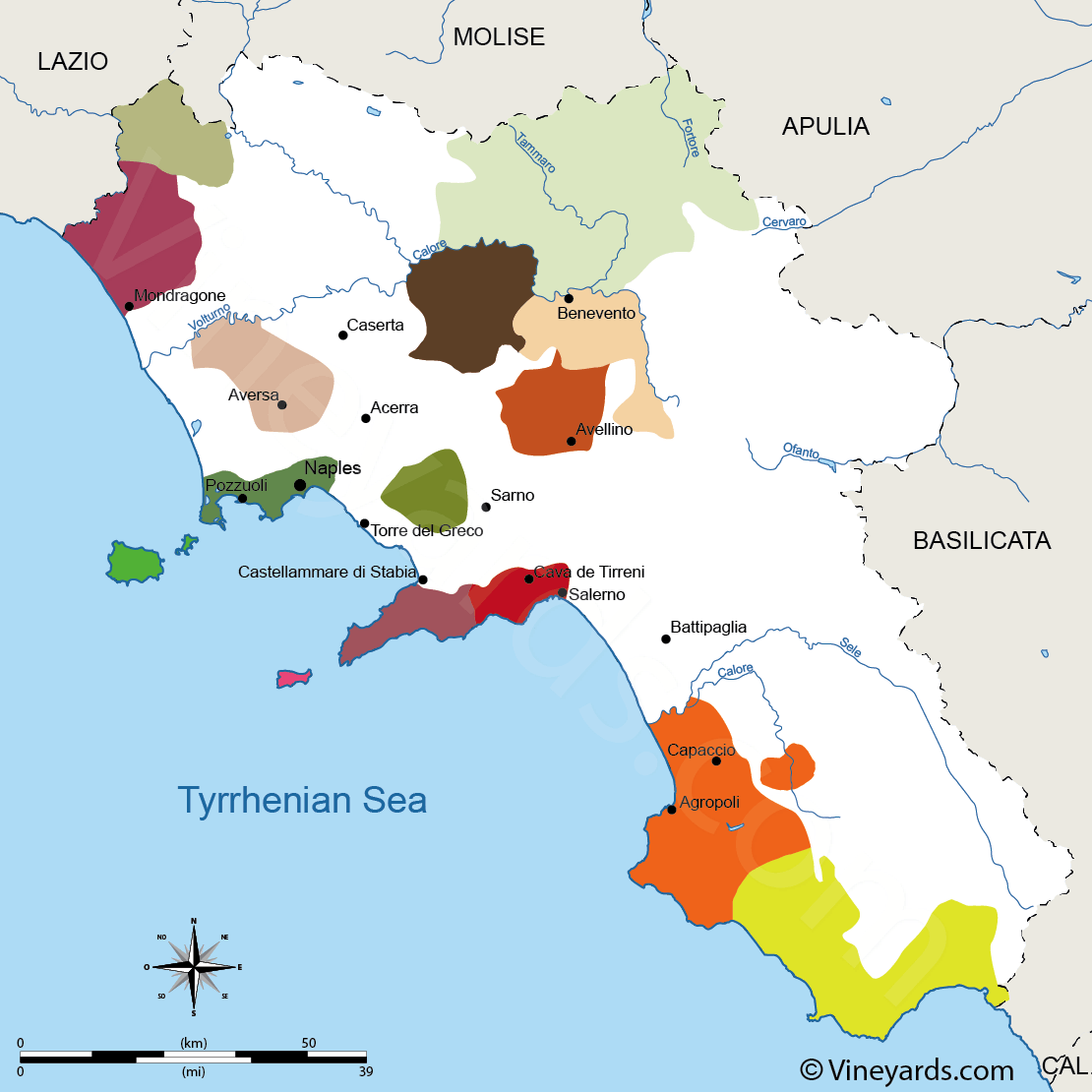 Since the time of the House of Bourbon (or, Borbone in this case) this area has been a hunting ground for wild boar by the barony of Formicola, a commune in the Province of Caserta. Il Verro, meaning male wild boar, is a name inspired by and paying homage to the traditions of this region.
The story of Il Verro is rooted in the friendship between five teenagers who met in the 1960s. Forty years later they came back to where they spent their childhoods, in Alto Casertano. The unspoiled landscape, verdant mountains and pristine waters brought back memories and connections that inspired Cesare Avenia to convince his friends to join him in making a little bit of wine in this haven of history and biodiversity.
Amid 14 hectares of olive, walnut, and cherry trees are 4 hectares reserved for vines — all of extremely rare grapes indigenous to this remote area and planted on lava-rich soils. "Our mission," says Cesare, "is to enhance our viticultural heritage and make wines that follow the traditions linked to the territory." Volcanic soils have discouraged phylloxera, and relative poverty has discouraged replanting, so the region is rich with native grapes, among them casavecchia, pallagrello nero and bianco, and the ultra-rare coda di pecora. Respect for these historic, rare varieties and an eagerness to put terroir front and center has compelled Cesare to practice organic farming and a minimalist approach in the cellar in order to let the freshness and directness of the wines speak for themselves.
Pallagrello Bianco has always been most at home in northern Campania, where the climate suits its high-acid profile and tempers its inclination to rapid sugar accumulation. It was treasured in the 18th and 19th centuries; the local ruling family was especially enamored with it and had it planted in their vineyards. Unfortunately, by the late 20th century, no one in Italy was producing a monovarietal pallagrello wine. Cesare explains that forces of powdery mildew and phylloxera "decreed a fast disappearance and substantial oblivion despite the undoubted qualities of these grapes."
Verginiano is fermented in stainless steel with a further 6 months of stainless steel elevage, which maximizes the varietal flavors & aromatics. It's straw-yellow, with a nose of melon, almond, bitter orange, and mint. On the palate, it's full-bodied, and fresh, with clean ripe fruit, and a long finish.
When we asked Cesare about pairing for his wine, he had this to say:
"I'm very happy to help for for this special occasion. There are many ways we recommend the pairing our Pallagrello Bianco: from salami and cheese antipasti to different kind of pasta dishes. One of my favorites is the risotto with fish [made with fennel broth and cherry tomatoes]."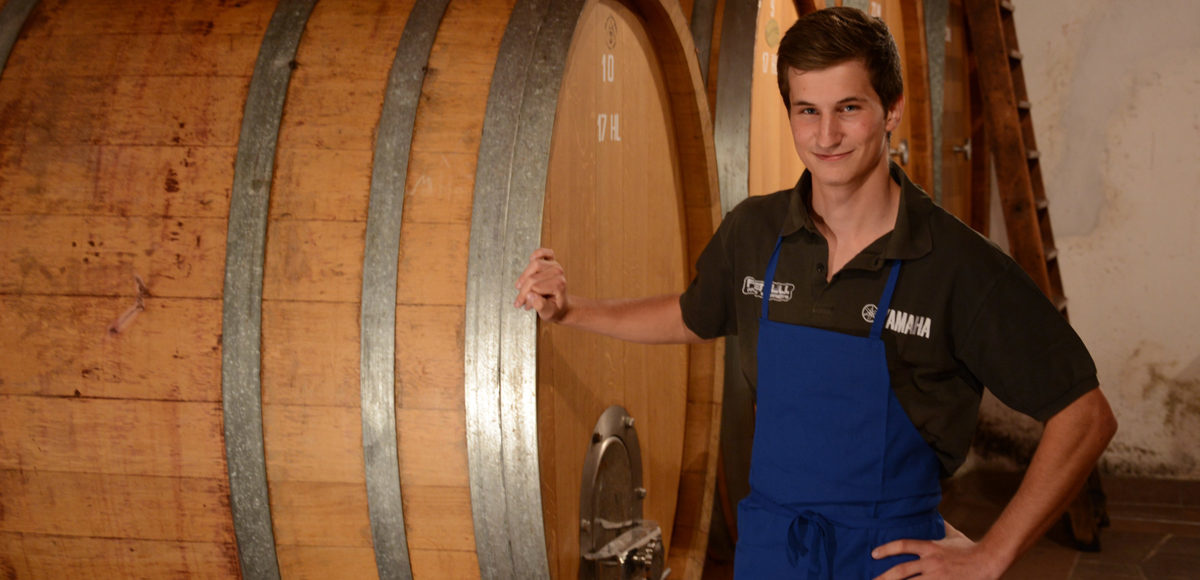 Pictured above: Florian Ramoser
Untermoserhof Santa Magdalener Classico Schiava DOC 2019, Trentino-Alto Adige, Italy $29.99

Florian and Georg Ramoser are the father-son team behind Untermoserhof, the Ramoser family home and winery that dates to 1640. The property is just 4 hectares of tiny parcels planted on steep slopes just above Bolzano, the medieval city that is the gateway to the Dolomites mountain range in the Italian Alps; the mountains provide a dramatic backdrop to the rolling green hills and vineyards of Valle d'Isarco/Eisacktal. The Ramosers are dedicated to strict organic farming which demands rigorous hand-work in the vineyards. Their concentration on old vines, dense plantings, controlled yields, and meticulous cellar work is producing some exceptional results.
Although Alto Adige has a history of winemaking that goes back two millennia, it has been mostly dominated by co-ops and is only recently emerging as a region of exciting small producers, such as Untermoserhof. Situated at a critical transalpine crossing, the region of Alto Adige/Südtirol was long a politically contested area between Bavarian dukes and Habsburg sovereigns, only coming under Italian rule at the end of WWI. So culturally, it's a bit of a three-way intersection. But the language, architecture, cuisine, and wines recall its Tyrolean roots more than any other; although those traditions have persevered through time, the region has been vastly transformed by its somewhat recent history: Bolzano's strategic value as a transport hub attracted heavy aerial bombing during WWII. Aggressive post-war rebuilding then swelled the city, pushing it deep into the farmland and vineyards that had surrounded it for centuries. While much of the cheaper, more mass-produced wines are made in the sunny valleys, vineyards being forced to the hinterlands encouraged planting at extraordinary heights; the grapes perform quite well high up in the mountains, since the Alps protect Alto Adige from cold winds from the north, while the steepness of the slopes creates ideal expositions for long, slow ripening. The benefits of this terroir are evident in Untermoserhof's gorgeously expressive Santa Magdalener, Alto-Adige's traditional Schiava-dominant blend whose bright, floral notes are brought back down to earth with the addition of a small percent of the more dark and brooding Lagrein. The "Classico" designation identifies wines from historic sites on the northeastern edge of Bolzano.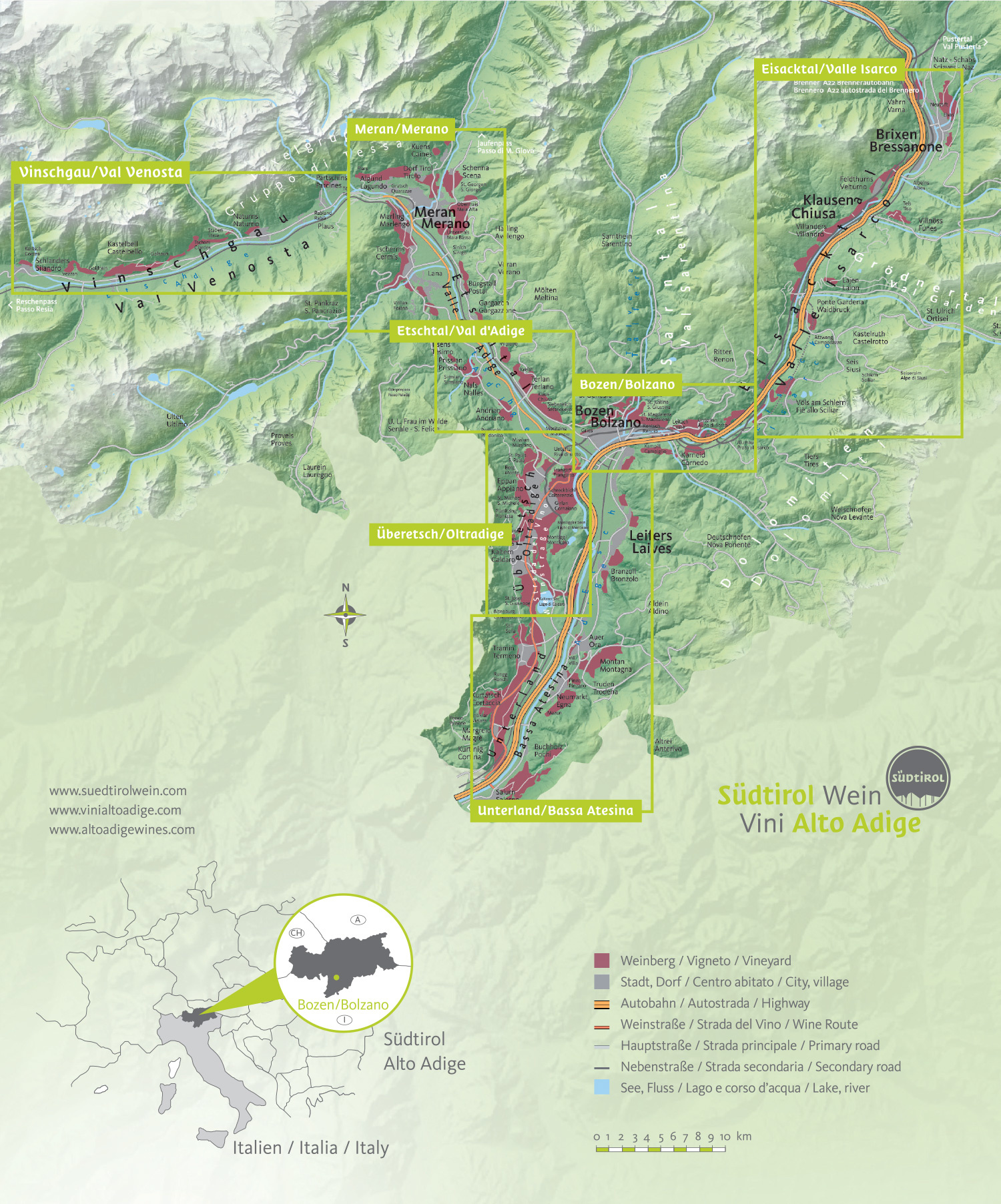 For this Santa Magdalener (also known as Maddalena or Magdalena) the grapes are hand-harvested in late September or early October from vines that are planted on soils rich in fossilized marine life. Fermentation takes place in stainless steel, then the wine goes through malo in large oak cask where it stays for another seven months or so before bottling in May or June.
Florian says he and his father share a "pretty similar" approach to style. "I'm convinced to let the vineyard express itself in the wine, trying to not do too much in the cellar. We don't want to cover the fruit of our wines with too much new oak or something." He explains that his father, along with the rest of Italy, seemingly, experimented with barrique for a time: "But since a couple of years, we use bigger barrels and about 25%, down from 40%, new oak. This leads to maybe a little less concentration in the wines, but more elegance and freshness." …"The thing I'm experimenting with a little bit right now is using whole bunches during fermentation for lagrein — it leads to more depth and more spiciness."
He's telling the truth. This wine is a journey beginning with the beautiful ruby color with hints or orangey-gold, to the nose of strawberries, cherries, baking spices and creamy chocolate, to the crushed red berries on the palate, and finally finishing with dusty tannins and pleasantly bitter roots and sticks.
Florian gave us these pairing suggestions:
"We really love the combination with spaghetti with tomato sauce, black olives and capers or a nice Risotto. It typically goes very well with easy Italian dishes like all types of starters and appetizers such as Ravioli, tortellini or also white meat."
"What I personally found out last year on behalf of a client of ours, is the pairing with good sushi, it works wonderfully! Never thought that."
And now for something completely different:
Distilleria Quaglia Bèrto Ross da Travaj Vermouth di Torino 1L $17.99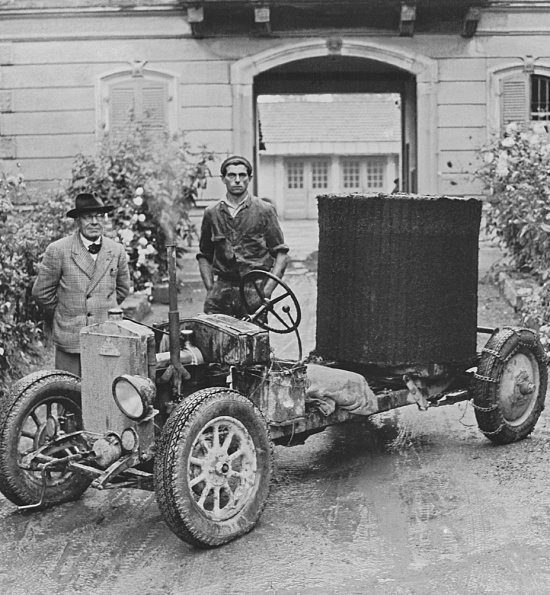 Situated in Piedmont's Castelnuovo Don Bosco in the province of Asti, the Distilleria Quaglia was founded in 1890 and then purchased in 1906 by the great-grandfather of the current distillery director, Carlo Quaglia. Over the course of four generations, a succession of ancestors passed along historical and traditional knowledge of distillation, liqueur, and vermouth production. Distilleria Quaglia has great respect for their ingredients and terroir, and has been certified organic since 2018.
To make this vermouth, Carlo refers to a family recipe that dates to 1930. He infuses a variety of local & and carefully sourced herbs and spices (wormwood, sour orange, gentian, cardamom, vanilla, coriander, mint, mace, hops, thyme, marjoram, lemon, cinnamon, clove, rhubarb, angelica, etc) for two months. The resulting infusion, along with sugar and alcohol, is added to a base of dry Italian wines (Arneis, Cortese, and Trebbiano) and ages for a minimum of one month before bottling.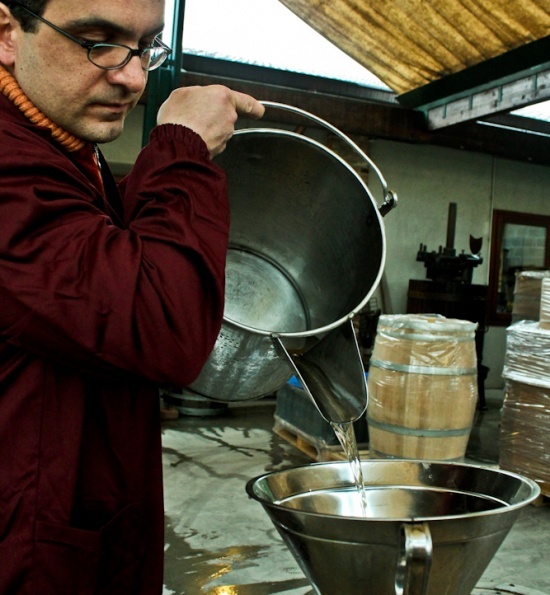 The product of this process is a highly aromatic, complex, lightly sweet, red vermouth that's pleasantly bitter on the finish, much like an amaro. Serve cold, with a twist of orange (this works especially well with chocolate desserts), topped with prosecco, or in a simple cocktail like an Orange Blossom which is equal parts Gin (try Bèrto!), Bèrto vermouth, and freshly squeezed orange juice.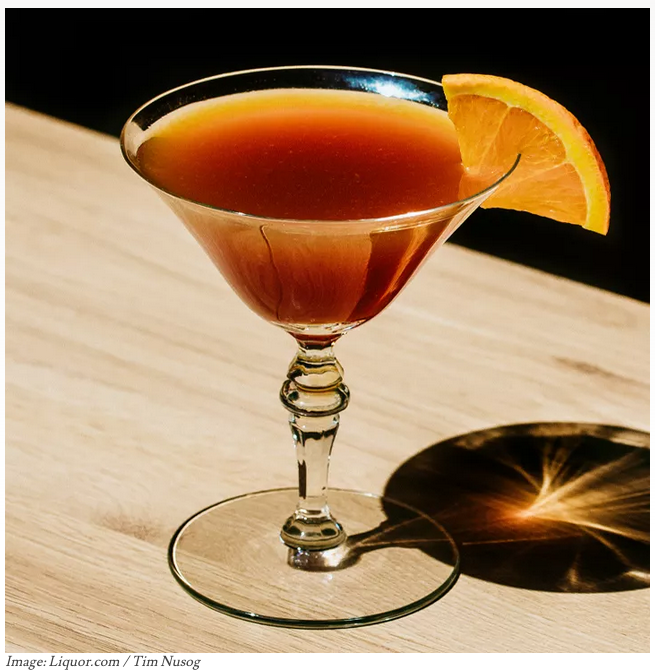 Add the gin, sweet vermouth, and orange juice into a shaker filled with ice and shake until well-chilled.
Strain into a chilled cocktail glass.
Garnish with an orange wedge.
Or of course you could just make a Manhattan.
Cheers!